Newquay Alcohol Seizures
Police in Newquay have made over 250 alcohol seizures from under 18s in the last two weeks.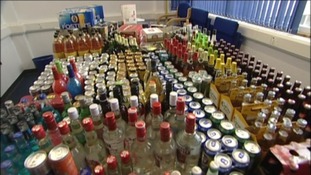 The police confiscated haul, represents two hundred and fifty seven individual seizures, ranging from boxes of beer to strong spirits.
Read the full story
Advertisement
Police in Newquay say they're winning the battle to cut under age drinking and rowdyism in the town.
They say the number of arrests over the past two weeks is down on previous years and overall crime has been reduced.
Officers made 257 separate alcohol seizures from under 18s.
Inspector Ian Drummond-Smith from Devon and Cornwall Police says most of the alcohol is being brought down to Cornwall, although they are investigating one off licence for selling vodka to a 16-year old.
Back to top