Flooding Returns To South West
Heavy rain has brought more widespread flooding to the South West.
Barnstaple to Exeter "Tarka Line": closed and not expected to re-open until after the New Year.
The line was being inspected by helicopter today ahead of a walk-through by track engineers. Ballast has been washed out in several locations.
Exeter to Exmouth Branch Line: closed following problems caused by flooding at Lympstone. It is not known when the line will reopen.
Exeter to Taunton line: hit by flooding at Cowley Bridge, will re-open at noon tomorrow, 18 hours earlier than anticipated. Both up and down main lines will be available.
Liskeard to Looe Branch Line: closed but under repair. Network Rail hopes to reopen it within the next few days.
The railway line between Exeter and Taunton, which had been affected by flooding at Cowley Bridge Junction, is due to re-open at midday tomorrow. That's 18 hours earlier than expected.
We have learned some lessons from the flooding in November and done some things differently.

There's nothing that we could do to prevent the River Exe bursting its banks and causing the track damage.

In November it took three or four days to fix the track but nearly three weeks to repair damage to the signalling equipment.

This time we used temporary dams to divert the flow of the water away from the lineside signalling equipment. This is the first time this technology has ever been used on the railway in Britain and it seems to have helped contain the damage well so far.
– Network Rail spokesperson

Network Rail also removed some equipment such as the point operating equipment at Cowley Bridge Junction and kept it dry ready to be put back once the water's gone down.

Many staff worked over Christmas to help restore the railway as quickly as possible.
Advertisement
Network Rail says the Exeter to Taunton line, which had been hit by flooding at Cowley Bridge, will re-open at noon tomorrow, 18 hours earlier than anticipated. Train operators Cross Country and First Great Western have been advised that both up and down main lines will be available.
The Environment Agency has issued a Flood Warning for the River Cober At Helston.
Flooding is expected in St Johns Road, St Johns Close, Coronation Park and Loe Pool. The locations may include properties around Mill Lane, the A394, B3302 and the skateboard park.
Levels in the River Cober and Loe Pool are currently declining, but still high.
Unsettled weather conditions are set to continue, and with the ground still saturated, there is an ongoing risk of flooding.
The Environment Agency is continuing to overpump from Loe Pool into the sea, helping to reduce flood risk upstream in Helston.
For more information, visit their website, or call the Flood Line on 0845 988 1188.
Cornwall fire service were called to a flooded basement on Brook Street in Mousehole today. The water was a foot and a half deep and crews removed the water using a portable pump.
The Flood Warning for the River Hayle from Relubbus to St Erth is no longer in force.
Advertisement
The flood warning for the River Tone (upper) from Waterrow to Bishops Hull is no longer in force.
A mother and her three children are recovering in hospital from hypothermia after getting into trouble while trying to rescue their pet dogs from the sea.
Coastguards said two brothers, aged nine and 14, had gone into the sea at Carlyon Bay, St Austell, yesterday afternoon to rescue their dogs.
The boys were overcome by the sea conditions and their 16-year-old sister and mother then went into the water to save them. They were taken to the Royal Cornwall Hospital in Truro suffering from hypothermia.
We would recommend that you keep your pet dogs on a lead near the water or cliff edges.

Please do not enter the water after your dogs. More often than not dogs will get themselves out of trouble."
– Fiona Iris, Brixham Coastguard watch manager
The Environment agency has 30 flood warnings and 57 alerts in place for the South West. You can find out what areas are affected by going to their website.
An Exeter boy who has spent past four months undergoing pioneering cancer treatment in Germany is spending christmas at home. Six year old Ryan Edwards was allowed to return after showing progress after a stem cell transplant to try to rebuild his immune system.
Ryan has suffered from Neruoblastoma three times since the age of two . He still requires constant monitoring and hospital treatment and an appeal to pay for the healthcare in Germany is continuing.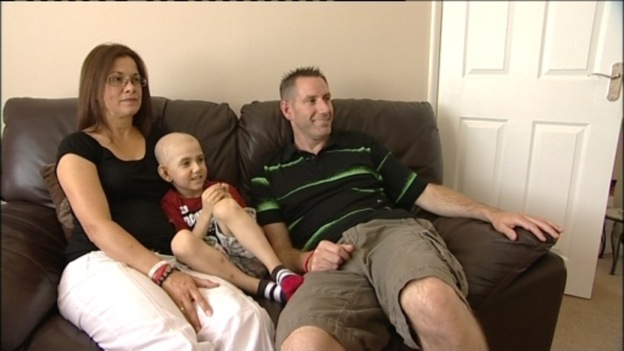 Load more updates
Back to top