Salvage Operation Off Torbay
A salvage operation's underway to prevent a 44 metre tug from sinking off Torbay.
A tug boat carrying 200 tonnes of diesel which was stricken off the coast of Torbay is now sitting off Portland. Salvage experts are assessing whether it's safe to bring the vessel into Portland harbour.
Six people were rescued and Brixham Coastguard says an environmental disaster has been averted. Work has been going on for the last two days to stop the tug from sinking, after it was hit by a ship it was towing.
Six men have been rescued from a tug boat which collided with an old ship it was towing off the South Devon coast last night. The ship has now sunk while all the crew are safe and well.
Divers have spent the day trying to work out how to repair the gash in the hull of the damaged tug. Experts say the risk of pollution from both vessels is very low.
Our Environment Correspondent Duncan Sleightholme reports:
Advertisement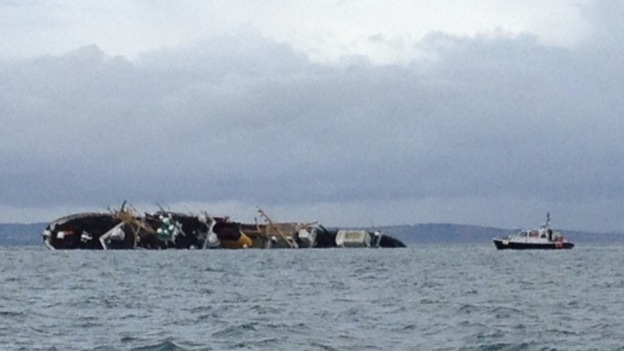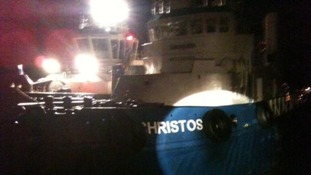 Crew members are rescued from a damaged tug that was taking on water off Torbay
Read the full story
Volunteer crews from Exmouth and Torbay lifeboat stations launched around 9.30pm last night to a damaged tug that was taking on water.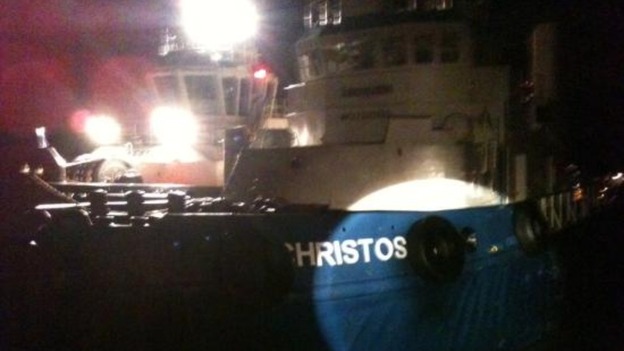 The 70 metre tug Christos XXII was damaged after it slowed to investigate a problem with the hull it was towing, the 80 metre Emstrom. On slowing down, the Emstrom, hit the Tug leaving a 35cm gash in its hull.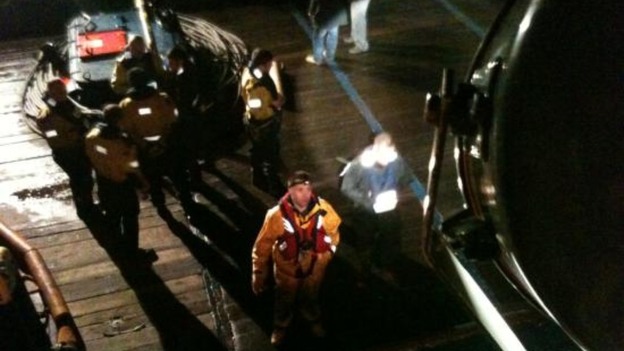 Salvors onboard tug Christos XXII, pumping operations continue to go well. Divers now deployed to inspect and repair.
– MARITIME AND COASTGUARD AGENCY, PRESS OFFICE
Advertisement
The latest from the Maritime and Coastguard Agency:
Pumping out of water continues to go well. Situation is more stable and confirmed at first light no report of pollution. Divers have been requested but no ETA yet.
– Maritime and Coastguard Agency, Press Office
The latest from the Maritime and Coastguard Agency:
RNLI and Royal Navy vessels have now left the scene. Another tug has started salvage operations and is currently pumping water from the stricken tug.

The water level is continuing to fall and now awaiting divers to start repairs. Two more tugs are heading from Falmouth to assist.
– Maritime and Coastguard Agency, Press Office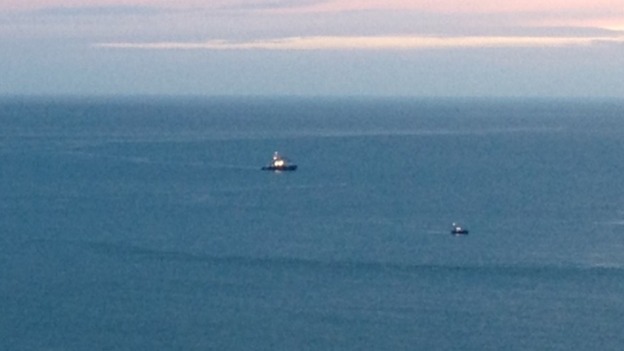 The problem is this is happening quite close to shore and if this boat sinks there could be a big pollution problem.

There is a lot of diesel on the boat, and there's a good chance the diesel would leak if it sinks.

It would contaminate the local beaches - all this part of the coast is a holiday coastline.

It is also a fishing area and would impact on the local birds and wildlife."
– Brixham Coastguard spokesman
Load more updates
Back to top