Mystery remains
Archaeologists excavating the mausoleum at Pentillie Castle in Cornwall think they may have found the missing remains of its eccentric owner Sir James Tillie, who died in 1713.
The likely remains of Pentillie Castle owner Sir James Tillie have been unearthed in the castle mausoluem, 300 years after his death. No one knew he was buried there.
We don't believe there is any need to examine Jimmy's bones, and check his DNA. He's fine where he is, and there is no need to to rummage about in his bones just for the sake of it. We have popped a little time capsule - well, natty tupperware with the History of Pentillie book and a little note explaining what we got up to - for when someone next has to restore the mausoleum and wonders what this funny vault is underneath. Apart from that, R.I.P Sir James. We hope you enjoy the new and improved view!
– Sammy Coryton, Pentillie Castle co-owner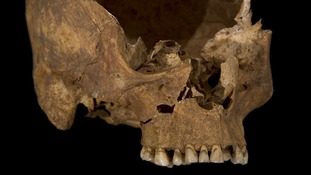 Archaeologists may have found the remains of Pentillie Castle's eccentric owner Sir James Tillie, who has been missing for 300 years.
Read the full story
Advertisement
Back to top