County Council Elections 2013
Voters across the region are at the polls on Thursday 2nd May.
In Cornwall the Liberal Democrats replaced the Tories as the largest party, but once again, the council remains in no overall control, while UKIP won 6 seats, as Steve Hardy reports.
In Cornwall the Liberal Democrats are now the largest party, but the council remains in no overall control.
The Conservatives have lost 19 seats, the Liberal Democrats have lost 2 seats and the Independents have gained 3 seats.
The UK Independence Party has won 6 seats as has Labour. Mebyon Kernow has lost two seat compared with 2009. There are gains too for the Labour and Co-operative Party and the Green Party.
Advertisement
The final results for Devon are in:
The Conservatives have officially retained control with 38 seats. The Liberal Democrats have 9 and Labour have 7.
UKIP managed to take 4 seats with 3 seats going to Independents and 1 to the Green Party.
The Conservatives have retained control of Devon County Council with some results still to be announced. UKIP now have three seats.
The Cornish nationlist party Mebyon Kernow has won two seats - in Callington and Penwithick & Boscoppa.
The Lib Dems and the Conservatives each have one a piece and Independent Joe Ellison has won a seat in Saltash North.
Votes are still being counted in Devon. So far UKIP have taken two seats: Bideford South & Hartland and Exmouth Brixington & Withycombe.
Former Lib Dem MP Richard Younger-Ross has made a return to Teignmouth after winning a seat.
Advertisement
Labour gained five seats in Weymouth & Portland on Dorset County Council. Spokesperson Rachel Rogers says it shows the party is gaining the trust of the public in the south of England.
Ian Bruce, the Conservatives spokesman in Dorset, blamed voters opting for UKIP for allowing Labour to win seats from the Conservatives on the new look County Council..
West Country (E)
John Osman, the Conservative leader on Somerset County Council, claimed the election result was a victory for "common sense and financial prudence" despite a reduced number of seats.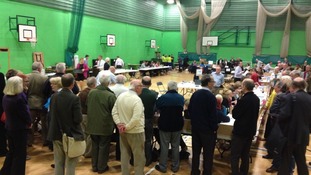 The Conservatives remain in control in Dorset despite some success for UKIP
Read the full story
Load more updates
Back to top