'No money' note revealed
One of the famous handover notes in political history bearing the phrase "I'm afraid there is no money" which was given to the Yeovil MP David Laws at the start of the new Coalition Government will be shown for the first time on ITV News West Country
National
Liam Byrne has admitted to ITV News West Country that his note to his successor David Laws that said "I'm afraid there is no money" was "foolish":
Of course it was a very foolish thing to do.

I left something else at the Treasury, which was a Budget I'd drawn up with Alistair Darling that would have halved our deficit over four years.

That was a good plan, it was a plan that would have worked and I'm afraid it was a much better plan that we've ended up with now.
– Former Chief Secretary to the Treasury Liam Byrne
West Country (E)
Our Political Correspondent Bob Constantine talks exclusively to Yeovil MP David Laws about the infamous treasury note he received. This is the full interview.
Advertisement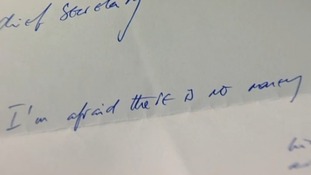 Full analysis from our Political Correspondent Bob Constantine at Westminster.
Read the full story
One of the famous handover notes in political history - bearing the phrase "I'm afraid there is no money" - which was given to Yeovil MP David Laws at the start of the new Coalition Government will be shown for the first time on ITV News West Country tonight.
That note has never before been seen in public but today Mr Laws, the former Chief Secretary to the Treasury, showed it exclusively to our political correspondent Bob Constantine.
For the whole story tune in at 6pm tonight on ITV.
Back to top