GCSE grades fall for second year
The proportion of GCSEs awarded at least a C grade has fallen for the second year running, official figures have revealed.
For GCSE students the wait is over. While nationally the number of top grades has fallen slightly, here there are many schools that have seen better results.
At the West Exe school in Exeter - where the former headmaster was accused of compromising standards - results have also improved.
Richard Lawrence reports: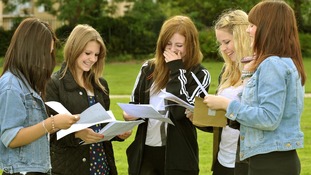 Whether you received the results you expected today or not, there is a wealth of information online to help you plan your next step.
Read the full story
Advertisement
West Country (E)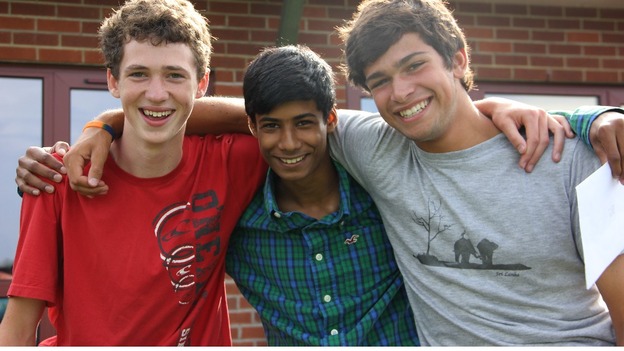 West Country (E)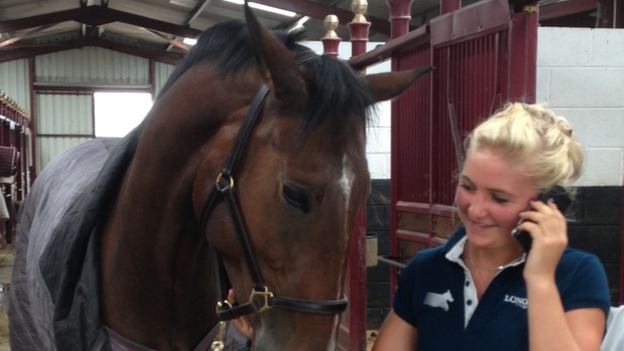 Romily Simmons who attends Queen's College in Taunton received her GCSE results by phone.
That is because the 16 year old is in Ireland competing at the Young Rider Championships.
Employers and Chambers of Commerce in the West Country said there was a big gap between education and employment that needs to be addressed to give young people the chance to find jobs when they leave school.
It has been a day of celebration, relief and even disappointment for households across the west country with GCSE results published.
Nationally, results have fallen for the second year running.
But as Richard Lawrence found out at West Exe College in Exeter, they have been bucking the trend.
Advertisement
Ten year old Monty Rix from St Austell has achieved a grade 'B' in his GCSE Astronomy.
He is the youngest person in the country to study the subject and follows in the footsteps of his father.
Our Cornwall Reporter Steve Hardy visited Monty back in February.
Here is his report again:
The headmaster of one of Britain's top achieving schools has seen his pupils improve yet again, despite what he brands 'political pressures'. Paul Evans, Headteacher of Colyton Grammar School in Devon, saw his school top the national league table for GCSE last January.
It is becoming increasingly difficult to predict the outcome of our public examinations due to the political pressures to tighten standards nationally. In a year when we are told it is more difficult to achieve top grades, we increased the A* and A grades. It is a great relief to see that through hard work and determination, our students have maintained high standards and delivered the results that will set them up well for six form study and beyond.
No one should underestimate the effort required to achieve high numbers of top grades across a range of subjects and the students should be very proud of what they've managed to achieve."
– Paul Evans, Headteacher, Colyton Grammar School

More than half the year group achieved five or more top A* grades in a year when 49.4% of the GCSE grades obtained at the school were A* which was up 4.1% on last year.

He said 83.4% of all GCSEs awarded to Year Ten students taking GCSE at Colyton this summer were graded A8 or A - which was 2.7% higher than last year. Eleven pupils - seven girls and four boys - achieved straight A* in 12 subjects.
National
GCSE grades have fallen for a second consecutive year, with a drop in the proportion of entries scoring at least a C in English, maths and science.
In English, 63.6% of entries gained a C or higher, down from 64.1% last summer.
In maths, 57.6% of entries scored an A*-C grade, compared to 58.4% in 2012.
In Science, there has been a 7.6% fall in the proportion of entries awarded a C grade or higher.
The drop in English comes amid a rise in the number of younger students taking the GCSE exams, the Joint Council for Qualifications said.
The fall in Science follows a move by Ofqual to toughen up the qualifications after a 2009 report by the regulator found that the courses were too easy.
Load more updates
Back to top