Cornwall air link till 2014
The airline Flybe has announced it has done a deal with Newquay Airport to preserve the Newquay-Gatwick service until at least 25 October 2014. Cornwall Council is also applying for central funding to maintain the air link beyond this date.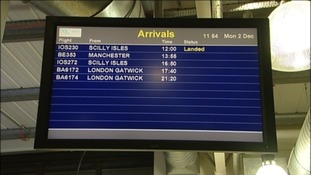 The service from Newquay to Gatwick has now been guaranteed for at least another four years
Read the full story
Flybe has been working hard with Newquay Cornwall Airport over the past couple of months to try and secure a satisfactory resolution for Cornwall to retain a crucial lifeline air link to and from London. This is critical both for leisure and business travellers who also need the security of a schedule that allows the opportunity for convenient day returns. Flybe is therefore very pleased to have agree a commercial deal with the airport that secures the seamless operation of this key route until the end of October next year.
– Paul Simmons, Flybe's Chief Commercial Officer
Advertisement
The airline Flybe is expected to agree a deal with Newquay Airport today which will see it continuing to operate flights to London Gatwick until 25 October 2014 - Cornwall's only air link to the capital.
Meanwhile, Cornwall Council is applying for government funding to preserve the route after that date.
Back to top