Main rail line through Dawlish reopens
The main rail line through Dawlish has reopened. It's been closed since February after the sea wall and track foundations were washed away in the storms.
A few hundred metres up the track from the repaired railway, residents are still facing continued disruption. Repairs continue at the giant hole that opened up in the cliff below their houses.
Ian Axton caught up with home-owner, Charlotte Wilkin, who looks back at those terrifying days.
It's taken more than 300 engineers working around the clock to get the track ready in time for Easter. They've become known locally as the Orange Army, Richard Lawrence reports on their time in the town
Advertisement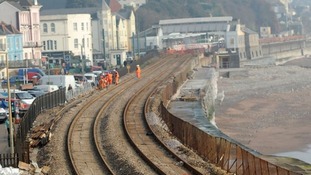 Rail users hailed the reopening of the track at Dawlish in Devon as "absolutely fantastic" ahead of the Easter holidays
Read the full story
The first train along the newly-repaired track at Dawlish swept through just before 6am this morning (Friday).
A camera installed in the cabin recorded the journey through the eyes of the train driver.
Video from South West News Service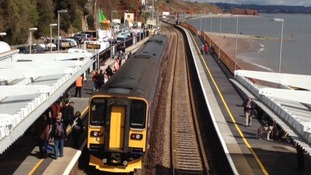 A selection of photographs taken by our reporters at Dawlish on the day the main line through Devon reopened.
Read the full story
Advertisement
David Cameron has praised the 'Orange Army' of workers who have repaired the main rail line through Devon on time.
He also thanked the emergency services and the people of Dawlish:
The Prime Minister has praised workers for getting the main rail line through Devon completed on time and ahead of the Easter holidays.
David Cameron also confirmed a study is underway to look at alternatives to the coastal route and money would be made available.
Ben Bradshaw, MP for Exeter, says the coastal rail line is still vulnerable, and an additional inland line should be considered:
We are delighted that the train line is now re-open through Dawlish.

Devon is one of the UK's top holiday destinations - welcoming over 36 million visitors a year and supporting over 74,000 jobs – and many tourism businesses have suffered as a result of the closure.

Bookings leading up to Easter are estimated as being 23% down and current reckoning is the crisis has cost the county around £31million.

I would urge anyone looking to book a break to support Devon this year, especially in light of the fantastic weather predicted for us.
– Carolyn Custerson, Visit Devon
Load more updates
Back to top