Tonnes of cigarettes wash up on another West Country beach
Hundreds of thousands of packets of cigarettes have washed up on Chesil Beach in Dorset. They were lost from a cargo ship in the bay of Biscay last week.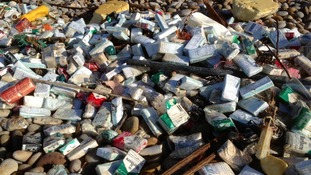 Dorset Police are guarding a two mile stretch of Chesil Beach after thousands of packets of cigarettes washed up from a container ship
Read the full story
Dorset Police are warning people to keep away after another ship's cargo has been recovered on Portland.
The contents of a shipping container were washed up on Chesil Beach. Most of it was destroyed by the authorities.
The majority of this content has been washed up in a destroyed state and members of the public are advised not to attend the beach area.
The councils and emergency services of Dorset, Bournemouth and Poole are united in their plea to the public to think carefully about visiting the shoreline.

The recent influx of cigarettes washed up onto the beaches of Weymouth and Portland may tempt some people to venture out in search of free tobacco but they will be disappointed because the cargo, lost overboard during storms earlier this month, has been badly damaged and is beyond use.

Our main fear is for the safety of the public. Landslips over the past few weeks remain a real risk and people should not put themselves at increase risk.
– Dorset Police's Force Incident Commander Chief Inspector Dean O'Conner
These cigarettes were part of a large legitimate commercial consignment being shipped from Rotterdam to Sri Lanka when they were lost overboard in storms.

Those cigarettes that have been washed up on local beaches will be recovered and sent for disposal. The public are urged to resist the temptation to collect the cigarettes which have been ruined by the sea water.
– Bob Gaiger, Dorset spokesman for HM Revenue & Customs
Advertisement
There's a warning tonight of the vulnerabilty of the West Country's wildlife and coastline as the aftermath of the recent storms continues to be felt. Dorset's historic Chesil Beach is once again covered in litter and dead birds.
A few miles along the shore, coastguards and the police are guarding 14 million cigarettes that washed ashore in Devon yesterday.
Tonight, they've found another shipping container at sea.
ITV West Country's Environment Correspondent Duncan Sleightholme reports:-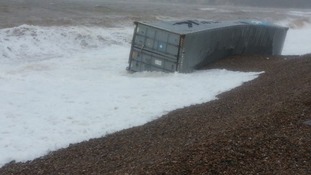 A shipping container carrying tonnes of cigarettes washed ashore at Axmouth, near Seaton.
Read the full story
The Beer Coastguard Rescue Team, police and council officials are currently on scene at Axmouth beach and the container has been cordoned off.

The public is reminded that all wreck material found in the UK has to be reported to the MCA's Receiver of Wreck.

Those who don't declare items are breaking the law and could find themselves facing hefty fines and paying the owner twice the value of the item recovered.
– Simon Porter, MCA counter-pollution and salvage officer.

If you have found wreck material you can declare it on the MCA website.
Police and the Maritime and Coastguard Agency (MCA) have issued a stern warning to treasure hunters after a shipping container thought to be filled with cigarettes washed up in Axmouth.
We have officers there because it has been seized under section 273 of the Merchant Shipping Act.

It is not a free-for-all for the public. There are dangers associated with containers and products which have washed ashore.

The message is, police are seizing them and would ask the public to steer clear. We are not expecting any more.
– Devon and Cornwall Police
Advertisement
A shipping container washed up on a beach in Devon could be one of many.
It is thought it was lost from a Maersk cargo ship as it crossed the northern stretch of the Bay of Biscay in stormy conditions last Friday.
Most of the containers were empty and are believed to have sunk approximately 75 nautical miles south-west of Lands End in French waters.
Police are patrolling a beach in Devon after a shipping container washed ashore.
The huge container, which was spotted at Axmouth, near Seaton this morning is believed to be carrying around 14 tonnes of cigarettes.
Back to top