St Piran's Day celebrated in Cornwall
Events are being held across Cornwall to mark St Piran's Day.
Hundreds of children, musicians and dancers have been celebrating St Piran's Day in Cornwall.
Piran is said to have come ashore at Perranporth and became the patron saint of tin miners after discovering the metal which formed the basis for a whole Cornish industry.
Last night hundreds of people marched through the streets of Perranporth - the parade from the sea is traditionally held on the nearest Friday to the patron day.
Tonight MPs and business leaders are showcasing Cornwall at an exhibition called 'Cornwall Calling' in the Tate Great Britain. It aims to highlight the business and investment opportunities in the Duchy.
Cornwall is open for business, we've had short term problems but we're open for business, we're ready to go. Secondly, we're a very vibrant economy with lots of reasons why this is the place that's a great place to do business, build a business, grow a business.
– Chris Pomfret, Cornwall & Isles of Scilly Local Enterprise Partnership
Advertisement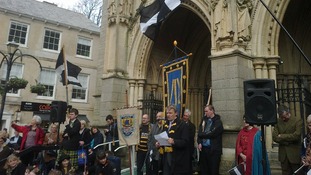 Back to top