Cornwall Council says it's "very disappointed" by controversial plans to create a cross-border constituency between Devon and Cornwall.
Read the full story ›
The latest search for a missing 76 year old man from Bideford, co-ordinated by well wishers on social media, has revealed no sign of him.
Read the full story ›
Advertisement
A man has died after he was found unconscious on a Devon road.
Police were called after the man was discovered in the middle of the road on Pitt Lane in Bideford just after 6am on Christmas Eve.
The 64-year-old sustained head injuries and was taken to Derriford Hospital in a critical condition.
It's unknown how he was injured.
Sadly, the man died at Derriford on Boxing Day.
His next of kin have been informed and a file is to be prepared for the coroner.
Police are currently treating this death as unexplained and are appealing for witnesses.
They're keen to hear from anyone who was in the area of Pitt Lane in the early hours of Saturday 24th of December, and saw anything.
A primary school in Bideford has brought in patrols and written to parents after a pupil said he saw a white-faced clown wielding a mallet
Read the full story ›
The mother of Scarlett Keeling Fiona MacKeown has written to the Prime Minister urging him to re-investigate into her daughter's death.
Read the full story ›
A court in India has acquitted two men of causing the death of 15-year-old Scarlett Keeling eight years ago
Read the full story ›
Advertisement
Former cricketer Tom Allin killed himself after jumping from a bridge in Devon, an inquest heard.
Read the full story ›
A retired scientist has been sentenced to life in prison for battering his partner to death after a row about the duvet.
Read the full story ›
Firefighters have been dealing with a large fire in Bideford.
Crews were called Clippers hair salon in Bridgeland Street just before 3pm this afternoon.
The ground floor of the building has been completely gutted by the blaze.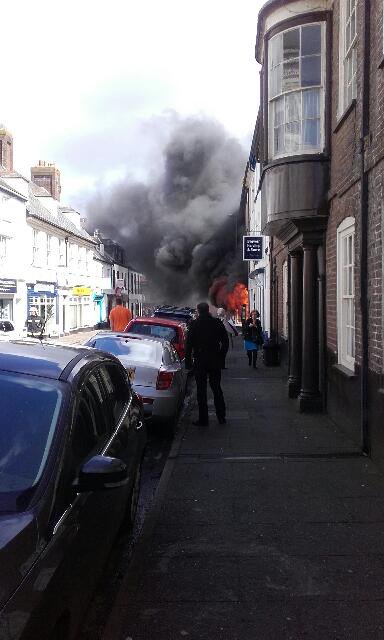 The fire is now under control, but the road is expected to remain closed for several hours.
A court has heard how a so-called seclusion room which should have only been used as a last resort was routinely used at two care homes in North Devon.
It's alleged each of these care homes had a room which was used to falsely imprison some of its residents between 2010 and 2011.
Five staff members, including the founder of the care company, Paul Hewitt - are accused of falsely imprisoning seven adults with learning disabilities.
All the accused deny the charges against them.
Load more updates