A court in India has acquitted two men of causing the death of 15-year-old Scarlett Keeling eight years ago
Read the full story ›
Former cricketer Tom Allin killed himself after jumping from a bridge in Devon, an inquest heard.
Read the full story ›
Advertisement
A retired scientist has been sentenced to life in prison for battering his partner to death after a row about the duvet.
Read the full story ›
Firefighters have been dealing with a large fire in Bideford.
Crews were called Clippers hair salon in Bridgeland Street just before 3pm this afternoon.
The ground floor of the building has been completely gutted by the blaze.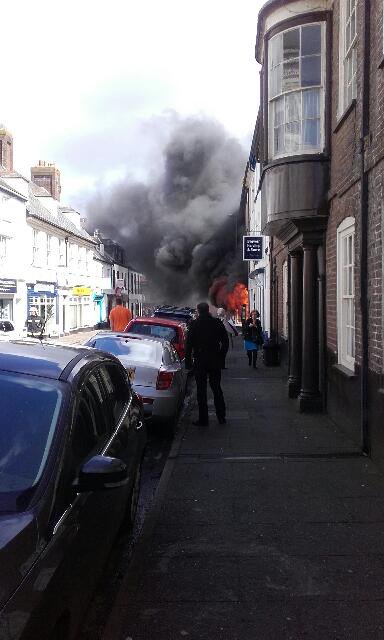 The fire is now under control, but the road is expected to remain closed for several hours.
A court has heard how a so-called seclusion room which should have only been used as a last resort was routinely used at two care homes in North Devon.
It's alleged each of these care homes had a room which was used to falsely imprison some of its residents between 2010 and 2011.
Five staff members, including the founder of the care company, Paul Hewitt - are accused of falsely imprisoning seven adults with learning disabilities.
All the accused deny the charges against them.
Staff at two former care homes in North Devon have gone on trial accused of imprisoning vulnerable people with severe learning difficulties.
Read the full story ›
Advertisement
A driver has been jailed for deliberately running over a woman in a stolen car and leaving her with a broken ankle.
23-year-old James Clarke took his ex partner's car from her home in North Devon, and used it to run over a woman passenger as she got out of the car in Bideford.
A off duty policeman spotted the incident and witnessed Mr Clarke running over passenger Donna Owen, who had just got out.
An elderly man has appeared at Exeter Crown Court charged with the murder of a fellow pensioner.
Read the full story ›
A 74-year-old man has appeared before magistrates charged with the murder of an elderly woman in Bideford.
Police found the body of the 83-year-old when they were called to a house in Riverside Close early on Wednesday 30 December.
Edgar Fairhurst, of Riverside Close, Bideford, was remanded in custody to appear in court again next month.
We would like to reassure the community that this is an isolated incident and we are not seeking anyone else in connection with the case.
– Devon and Cornwall Police spokesperson
A woman from North Devon has denied taking thousands of pounds from a vulnerable pensioner she was supposed to be looking after at a Bideford care home.
Melanie Harris is accused of using Edward Carter's bank account as her own, and taking more than £75,000 from it. The court heard that she used the money to fund shopping trips.
Cerebral palsy sufferer Mr Carter, who also had epilepsy and other serious illnesses, has since passed away, but the court was shown a DVD of his statement.
The trial continues.
Load more updates