There's growing evidence that the fall in the value of the pound is proving good news for our tourism industry.
Read the full story ›
A busker who makes his living in Bath claims he's been heckled over the Eastern European music he's played since the Brexit vote.
Read the full story ›
Advertisement
The International Trade Secretary and North Somerset MP says he'd never felt so proud of the UK as when he learnt of the Brexit vote.
Read the full story ›
Cornwall council could lose £350 million of expected EU funding - despite government assurances over the weekend.
Read the full story ›
North Somerset MP Liam Fox has got a new role in Prime Minister Theresa May's cabinet - heading a department for International Trade.
Read the full story ›
Tourism bodies in Cornwall say they are expecting a huge boost to 'staycations' following the Brexit vote.
Read the full story ›
Advertisement
The Bristol branch of the campaign group Momentum will gather in Bristol in support of the beleaguered leader this evening.
Read the full story ›
The Bristol MP for Labour West Thangam Debbonaire has become the latest to resign from the shadow front bench.
In a statement she said:
"I have resigned today from the shadow front bench."

"I was delighted when Jeremy Corbyn asked me to serve as his Shadow Arts and Culture Minister. I gave the role my all and I know many arts and culture organisations valued the opportunity to be consulted about Labour's position on the arts."

"I have spent the last few months working hard for the constituency; for my boss Maria Eagle, the Shadow Secretary of State for Culture, Media and Sport; and for a vote to 'Remain' in the EU referendum last week."

"In Bristol West, we voted overwhelmingly for 'Remain', and I know that activists worked their socks off for the campaign. I was therefore very disappointed that Jeremy Corbyn did not put his heart and soul into arguing for our membership of the EU."

"Furthermore, David Cameron's resignation is likely to spark a general election. We need to be ready to win it. I believe that, with Jeremy Corbyn in charge, we would not be in a position to win over the general public."

"And I know he is not the right person to show strong leadership through Brexit negotiations."

"My resignation letter makes it clear how sincere my respect for Jeremy is and how difficult this decision has been."

"Many constituents have contacted me over the weekend, both in defence of Jeremy and in asking him to resign. Given that opinion is evenly split, I feel I can confidently follow my own views on this matter. I do understand that some people will be disappointed with my decision."

"I know that in time we can move forward as a strong, united Labour Party, working hard for Bristol and the country."
– Thangam Debbonaire, Lab, Bristol West
Another West MP has added her name to an ever-growing list calling for a new leader of the Labour Party.
Bristol South MP Karin Smyth has joined at least ten shadow cabinet ministers urging Jeremy Corbyn to stand down.
In an open letter to her constituents she wrote:
Elections are the acid test for political leaders and when he became Labour leader I said that Jeremy Corbyn's job was to deliver the best electoral results for the Party he and I represent.

He has now led the Party into two nationwide electoral tests. In May's local elections across the country the Party barely held its head above water.

And in the EU Referendum, the Party failed to connect even with voters in scores of seats that have long been held by Labour.
– Karin Smyth
Karin Smyth has held the post of personal private secretary - a junior post - to Shadow Health Secretary Heidi Alexander, who has resigned from the shadow cabinet.
She concluded her letter by calling for a new Labour leader.
I know Bristol people need help and support in difficult times, perhaps now more than ever.

I also know Bristol needs a Labour government. It is my view we can only realistically deliver this with a new leader.
– Karin Smyth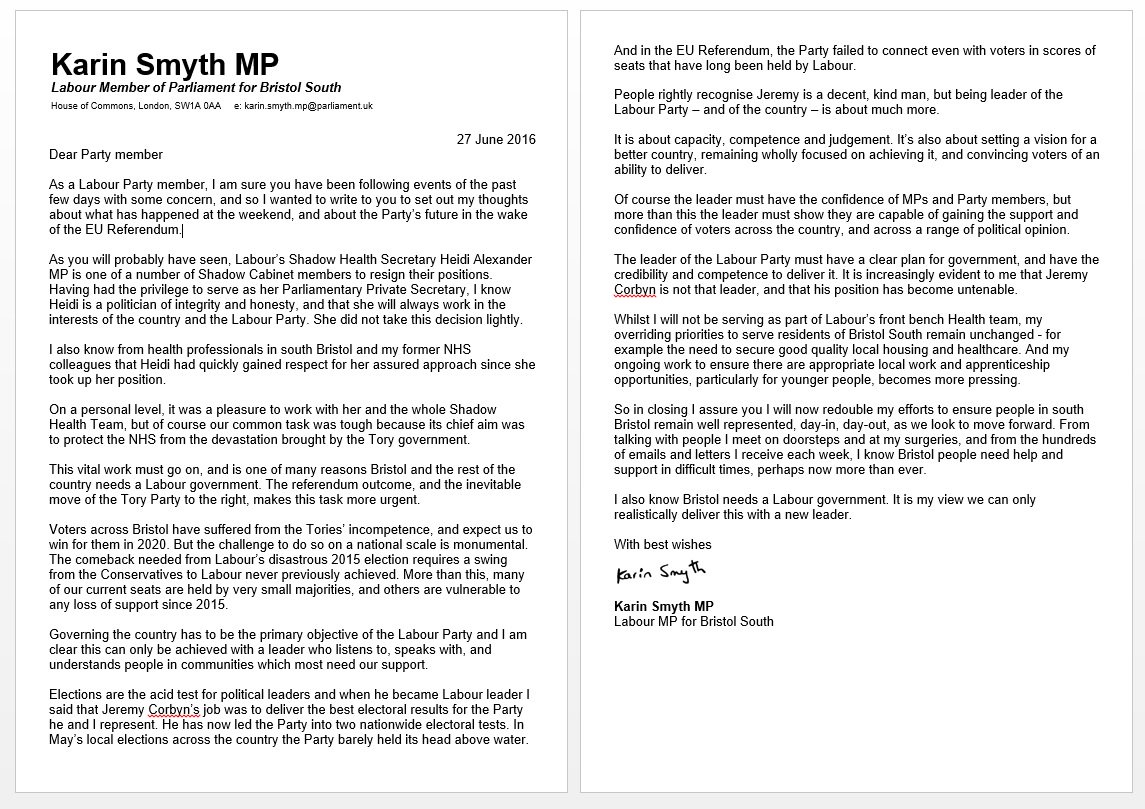 Load more updates