Camborne MP and Fisheries Minister George Eustice will be unveiling plans today to help fishermen prepare for the discard ban.
In January, it will be against the law for them to throw back species like haddock, sole and plaice. The plans include access to funding for new equipment, increased catches and more flexibility over quotas.
The trial has started of three men and a woman accused of murdering a sixty three year old man in Camborne.
Terry Oldham died at his home in April last year after a serious sexual assault.
It was alleged at the trial at Truro Crown Court that the four defendants, who lived at Mr.Oldham's home, subjected him to a campaign of cruelty and bullying. It's also alleged that they stole his money and possessions.
The prosecution described Mr.Oldham as frail, vulnerable and afraid to report his treatment as he was afraid of the consequences.
Mr Oldham was a small frail man, who was routinely bullied. The defendants knew he was a convicted sex offender and thought he was fair game.
– Paul Renton Dunkels QC
The four deny murder.The trial is expected to last for five weeks.
Advertisement
Three men and a woman go on trial today accused of murdering 63-year-old Terry Oldham at his home in Camborne last year.
Police launched a murder inquiry when Mr Oldham was found dead at his home in Dolcoath Road in April last year. He had suffered "serious injuries".
Aaron Mallen, Michelle Casterton and Daniel Quinn, all from Falmouth, and Richard Rosevear from St Austell, are jointly charged with his murder.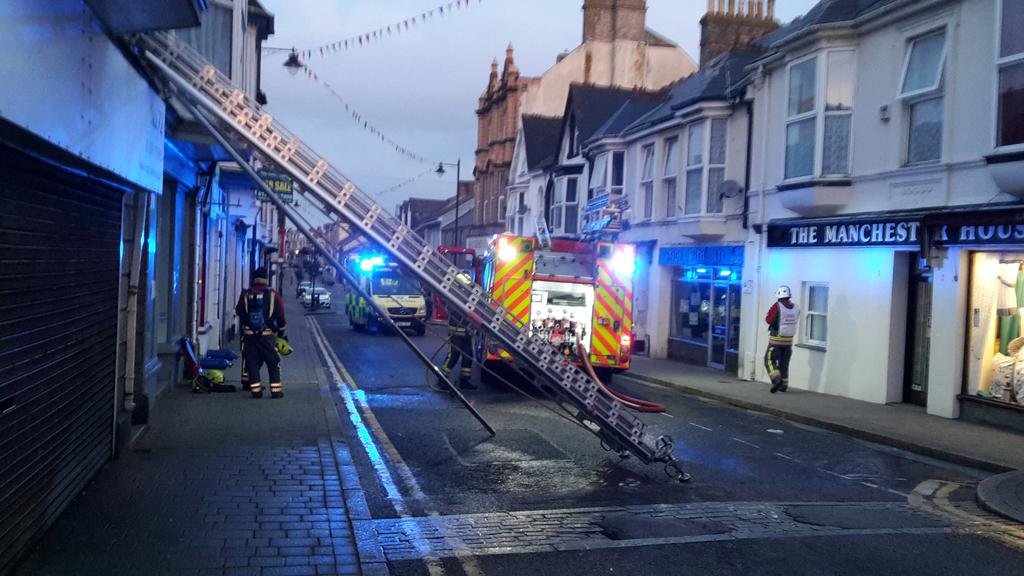 Two people have been rescued from a fire in a first floor flat in Cornwall.
Crews were called to Trelowarren Street in Camborne at 4.30 this morning. They are currently checking neighbouring properties.
The two casualties were treated at the scene for breathing problems.
New plans to build a £15 million residential nursing and care facility on land at South Tehidy near Camborne have been announced.
The state of the art 'care-community' hopes to provide up to 90 specialist nursing beds, consultation rooms, community services and extensive landscaping including a sensory garden.
Part of the 11-acre site would be developed for open-market housing to help fund the project, they said.
Cornwall Care has already received planning permission for a similar project in Wadebridge which is due to start on site this year.
Douglas Webb, Cornwall Care Chief Executive, says the South Tehidy proposals were part of a county-wide strategy by Cornwall Care to invest in new facilities that can meet the increasingly complex needs of older people, especially those with dementia.
The number of people with dementia in the UK is forecast to more than double by the middle of this century and Cornwall will be disproportionately hit because our highest increase in population is in the over 60s age group.

Purpose-built facilities like Tehidy and our care village in Wadebridge can help meet this growing need but with the public purse under huge strain we need to look at innovative ways of funding adult social care facilities.
– Douglas Webb, Cornwall Care Chief Executive
An eleven year old girl was hit by a train yesterday evening after falling onto the tracks at Camborne railway station.
She was taken to the Royal Cornwall Hospital with minor injuries.
The British Transport Police are investigating but officers are currently treating this incident as an accident.
Advertisement
A woman has been rescued from a fire at a house in Camborne in Cornwall. Crews from three stations were called to Trevenson Street just before 3 am.
The casualty was taken to the Royal Cornwall Hospital in Truro, suffering from smoke inhalation.
Four people from Cornwall have been jointly charged with the murder of 63-year-old Terry Oldham in Camborne earlier this year.
Police launched a murder inquiry when Mr Oldham was found dead at his home in Dolcoath Road on 1 April. He had sustained serious injuries.
24 year old Aaron Mallen, 43 year old Michelle Casterton, 23 year old Daniel Quinn, all from Falmouth, and 32 year old Richard Rosevear from St Austell, are jointly charged with his murder.
They've been remanded in custody.
Police in Cornwall are appealing for witnesses to an unprovoked assault on an elderly man in Camborne.
The 68-year-old man was taking items to a charity shop in Trelowarren Street around noon on 22 September when he was knocked off his feet by a male skateboarder.
When he protested, he was punched in the face by the offender and knocked to the floor, receiving cuts to his arms and face, plus a suspected broken nose.
Police have issued a description of the suspect:
White
15-17 years old
Slim build
5ft 10ins - 6ft tall
Dark, shoulder length hair
Wearing a black T-shirt and blue jeans
Investigations are being held into a suspected arson attack at a car workshop and scrapyard in Cornwall.
48 firefighters tackled the blaze at Beacon near Camborne overnight.
A timber workshop building and 12 vehicles were damaged in the fire.
The owners of the business C&J Autos told ITV News they may offer a reward for information that leads to a conviction.
Load more updates