Devon and Cornwall Police has confirmed that it will pool resources with neighbouring Dorset in what is known as a "strategic alliance".
We spoke with the Police and Crime Commissioner for Devon and Cornwall Police, Tony Hogg, who explained what it means in practice:
Hundreds of police jobs are at risk in the region as Dorset and Devon and Cornwall forces agree to pool resources.
Read the full story ›
Advertisement
Two West Country police forces have agreed to work together and share services.
The Police and Crime Commissioners for Devon and Cornwall and Dorset signed the agreement, creating a strategic alliance between the two forces.
The aim is to maintain a high standard of policing at a time when budgets are being reduced. It's predicted that the alliance will save at least £12 million.
I am excited to announce that Dorset Police has formally committed to working alongside Devon & Cornwall Police in a strategic alliance.

They are a high performing force with colleagues who share our values, priorities and absolute determination to deliver the best possible service to local people.

Working in alliance with Devon & Cornwall Police will, I'm sure, provide a golden opportunity to achieve the efficiency savings we must make, while maintaining and protecting vital services.
– Debbie Simpson, Dorset Police Chief Constable
The alliance is not a merger of the two forces and both will remain as separate organisations with two Police and Crime Commissioners and two Chief Constables.
Devon & Cornwall Police and Dorset Police are natural partners for an alliance. Not only are we similar in terms of our geography and communities, but also in our policing styles. I am delighted to have signed this agreement today.

The coming months and years will be challenging as we look to develop services that work more effectively for communities in Cornwall, Devon, Dorset and the Isles of Scilly. We are determined to make the transition as easy as possible for all those affected – and in particular for our communities who rightly deserve the best possible policing service.
– Devon & Cornwall Police Chief Constable Shaun Sawyer
A police officer who defrauded four women out of tens of thousands of pounds to fund his gambling addiction has been jailed for more than five years.
Christopher Higgs was dubbed 'a disgrace to Devon & Cornwall Police' after he admitted 16 counts of fraud, perverting the course of justice, intimidation and blackmail.
Higgs from Helston, who served as a response officer, was arrested and suspended from duties since January 2013.
PC Higgs has acted in a wholly inappropriate and criminal manner for which he has rightly been convicted at court today.

As soon as these allegations came to light, PC Higgs was suspended and a full investigation launched which identified the victims and witnesses who have supported the investigation and criminal case.
– Detective Superintendent Sam De Reya
The offences significantly impacted the victims who were members of the public, colleagues, family and friends and our thoughts and considerations are with them as PC Higgs begins his custodial sentence.
– Detective Superintendent Sam De Reya
Local residents today paid tribute to PC Hocking after his funeral.
He had time for everybody, he made everyone feel special, the quintessential police officer. He found time, he was compassionate and fair, he upheld the law, that's what the community wants, but he respected the community and quite clearly the community respected him. He was the epitome of what policing should be, but a family man who loved people, and people loved him.
– Chief Constable Shaun Sawyer of Devon & Cornwall Police
It's just the way he was, someone described him as Dixon of Dock Green, you know friendly, he always had a laugh and a joke with everybody and I think he used to go in nearly all the shops.
– Local resident
He did his job cheerfully and was sincere.
– Local resident
He was one of the best, he was good at his job and he was a gentleman, he had a laugh and a joke with everybody, he loved my dog and he'll be greatly missed.
– Local resident
Chief Constable Shaun Sawyer of Devon & Cornwall Police told ITV News it was an emotional day for Falmouth.
"I think everybody shed a tear today, including the Chief Constable. He had the love of his family and the love of the town."
– CC Shaun Sawyer
Advertisement
The funeral will take place today today of 52-year-old PC Andy Hocking, the Falmouth police officer who died suddenly nearly two weeks ago.
On Saturday around six thousand people turned up for a memorial walk in his honour. He was widely known in the town and had won awards for his work.
Chief Inspector Ian Drummond-Smith posted this picture of flowers left by the community after PC Andy Hocking's death on Sunday.
Members of public have left these flowers at the nick, in memory of the late PC Hocking. Fantastic community support http://t.co/GnPLfMLjBz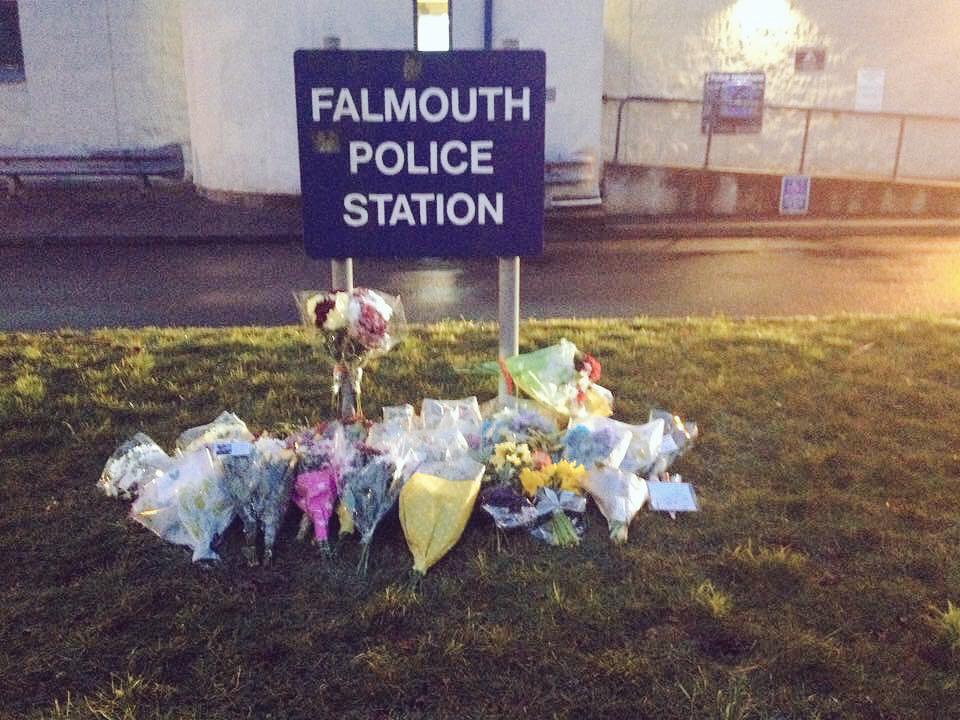 Police in Truro are warning women not to walk alone at night after a woman was attacked in the city.
The 22-year-old local woman realised she was being followed by a man near the Trafalgar roundabout at around 3.30am on Saturday 7 March.
The man grabbed her and attacked her before running away. The woman was slightly injured.
The suspect is described as around 5ft 6ins, with a bald head and a foreign accent. He was wearing jeans and a hooded top. He may have a visible injury to his face.
We would encourage girls and women in the city to be vigilant, and not to walk alone at night. We are keen to speak to anyone who witnessed the incident or has any information that could help with our enquiries. Anyone who is approached by a man matching this description or who sees someone acting suspiciously should report it to police.
– Detective Constable Matthew Cobb, Devon & Cornwall police
Anyone with information is asked to email 101@devonandcornwall.pnn.police.uk, or call 101, quoting reference CR/015726/15. Or alternatively call Crimestoppers anonymously on 0800 555 111.
Devon and Cornwall Police has paid tribute to a serving officer who died on Sunday.
PC Andy Hocking, who served in the Falmouth Neighbourhood Team, died after falling unwell and leaves a wife Sally and two daughters, Gracie and Megan.
A book of condolence will be available at Falmouth Police Station during office hours on Monday and Tuesday.
There is a further book of condolence at the Art Gallery in the Falmouth Municipal Building.
PC Hocking was a printer before joining the force in March 1993. He was stationed at Camborne before being posted to Falmouth. He then became the Neighbourhood Beat Manager for Penryn before becoming the Falmouth Town Neighbourhood Officer.
Andy will be sorely missed by his family, colleagues and the community which he served with a smile for many years. For many Andy is the face of Falmouth and the town has lost one of its greatest icons.
– Falmouth Inspector Ian Thompson
Load more updates