Jacquie Bird meets 3 of the six candidates campaigning to become the next Police and Crime Commissioner in Devon and Cornwall.
Read the full story ›
Police are digging up the garden of two convicted paedophiles, David and Pauline Williams.
Read the full story ›
Advertisement
The wall box phone from Devonport Police station has been stolen.
The crime was publicised by local PC, Dan Box, on Twitter - who urged those who knew anything to contact police.
This is not a wind up! The Devonport police station wall phone has gone missing. Any sightings give us a call....just not at Devonport!
The phone is on the side of the station and allows passerby's to contact staff quickly.
The station in Fore Street is home to officers from all the main strands of policing, including emergency response officers, the local neighbourhood team and the crime investigation department.
A file of evidence against a dead man suspected of killing schoolgirl Genette Tate nearly 40 years ago has been submitted to prosecutors.
Scottish serial child killer Robert Black died in jail in January – and he was the only suspect in the murder of the 13 year old Devon girl in 1978.
Devon and Cornwall Police have sent a file to the Crown Prosecution Service.
There was some talk of it being submitted last autumn, then the CPS would have had several months to decide whether to prosecute Black.

That would have meant that Black would have died in January knowing that he was going to put on trial for Genette's murder.

I await the result of the CPS decision with interest.

But I cannot see the CPS in these cash strapped days putting a dead man on trial. You cannot add yet another life term to a dead serial child killer.

Black was not going anywhere but he has denied us our day in court. That is hugely disappointing for the family and the police.
– John Tate, Genette's father
Genette's body has never been found. She vanished while delivering newspapers one sunny afternoon in August 1978 in her home village of Alyesbeare near Exeter.
Her case remains the longest running missing persons inquiry in British history.
Former detectives were called in to work on the cold case and were devastated that Black, 68, died in an Northern Ireland jail when they were close to charging him.
The major part of a file concerning this matter has now been sent to the CPS for a charging decision.

This has been a long and complex enquiry and we have kept the family of Genette Tate informed throughout.

We now await further direction from the CPS on how this may progress in the coming weeks.
– Devon and Cornwall police
A woman has been seriously assaulted in the street in Torquay.
Police were called to Hartop Road at 5:50am on Wednesday 23 March after reports of a serious assault involving a man and a woman who were known to each other.
She was taken to Torbay Hospital with life-threatening injuries and has since been transferred to Derriford.
A local man, also in his 40s, has been arrested on suspicion of attempted murder - he was also taken to Torbay Hospital with life-threatening injuries sustained during the incident.
I would like to reassure residents that we are not looking for anyone else in connection with the incident.

We would like to hear from anyone who witnessed the assault or the moments before it happened.
– Superintendent Dave Thorne, Senior Investigating Officer
The Chief Constable of Devon and Cornwall is backing a campaign to get people to speak out against child sexual exploitation.
Read the full story ›
Advertisement
Did you see a large fight break out outside a pub in Plymouth on Sunday?
A man was hospitalised with serious injuries to his face after the midnight clash outside The Windmill pub on Thurlestone Walk, which police believe was between two large groups of around 20 men and women.
The victim was a 20-year-old local who had tried to intervene, but was punched repeatedly by three of the men. He has since been discharged from hospital.
Police are appealing for witnesses or anyone with information to come forward.
Swanning around was all part of the job for one police officer when he found himself in a real-life Hot Fuzz rescue.
Reminiscent of the 2007 movie, which starred Simon Pegg and Nick Frost, police officers from Newquay were called to rescue a distressed swan.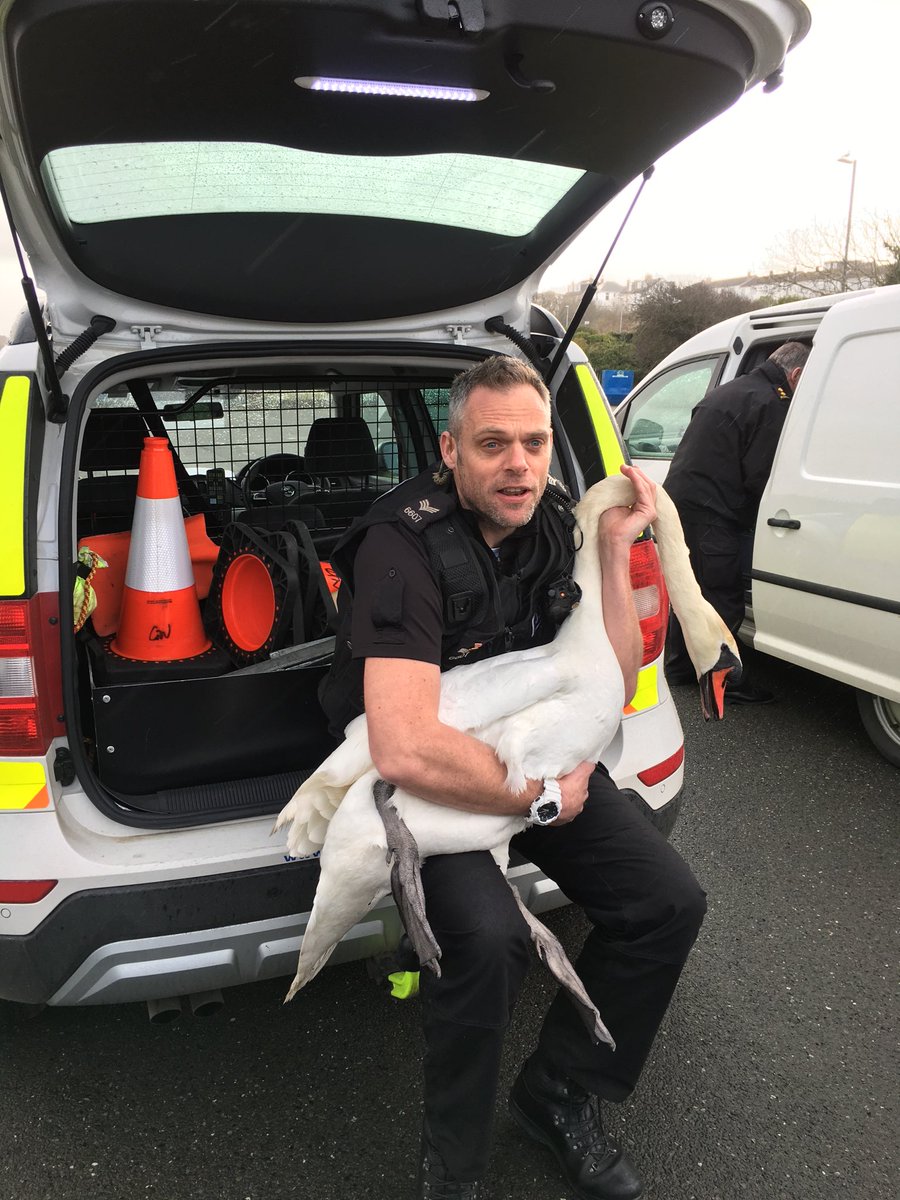 Posting the escapade on Twitter Sergeant David Nielson is seen calming own the swan in the back of a police car.
It was later taken to a safe location and released back into the wild.
A man who begs for money in Newquay says he's received death threats after being filmed getting behind the wheel of an expensive sports car.
Read the full story ›
Police are warning people to be careful when buying items from free advertising sites such as Gumtree.
It comes after several incidents were reported to police from Exeter, Lympstone and Brixham.
Suspects have been advertising white goods for sale and delivering the items to customers. However, when the items are delivered they don't match the description of the adverts.
One woman had ordered a fridge from Gumtree - she was left distressed after a man delivered an item wrapped in black plastic and drove off before she had a chance to unwrap and inspect the package.
When the victim removed the black plastic, the item was old, broken and worthless; possibly from a recycling centre.

The suspects are keen to deliver goods right into the homes of victims and then leave quickly before the condition of the item can be seen.
– Police Constable Keith Bradshaw
Reports have also been made of similar scams on Facebook 'buy and sell' sites. Police are asking people to report anything suspicious.
Load more updates