Chief Constable Shaun Sawyer of Devon & Cornwall Police told ITV News it was an emotional day for Falmouth.
"I think everybody shed a tear today, including the Chief Constable. He had the love of his family and the love of the town."
– CC Shaun Sawyer
The funeral will take place today today of 52-year-old PC Andy Hocking, the Falmouth police officer who died suddenly nearly two weeks ago.
On Saturday around six thousand people turned up for a memorial walk in his honour. He was widely known in the town and had won awards for his work.
Advertisement
Chief Inspector Ian Drummond-Smith posted this picture of flowers left by the community after PC Andy Hocking's death on Sunday.
Members of public have left these flowers at the nick, in memory of the late PC Hocking. Fantastic community support http://t.co/GnPLfMLjBz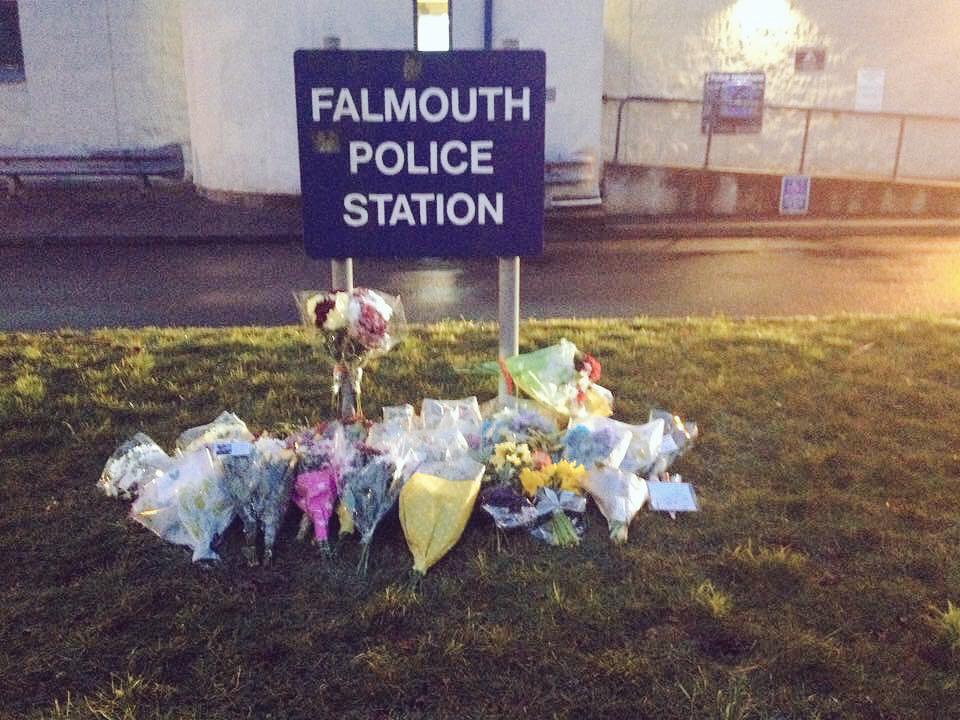 Police in Truro are warning women not to walk alone at night after a woman was attacked in the city.
The 22-year-old local woman realised she was being followed by a man near the Trafalgar roundabout at around 3.30am on Saturday 7 March.
The man grabbed her and attacked her before running away. The woman was slightly injured.
The suspect is described as around 5ft 6ins, with a bald head and a foreign accent. He was wearing jeans and a hooded top. He may have a visible injury to his face.
We would encourage girls and women in the city to be vigilant, and not to walk alone at night. We are keen to speak to anyone who witnessed the incident or has any information that could help with our enquiries. Anyone who is approached by a man matching this description or who sees someone acting suspiciously should report it to police.
– Detective Constable Matthew Cobb, Devon & Cornwall police
Anyone with information is asked to email 101@devonandcornwall.pnn.police.uk, or call 101, quoting reference CR/015726/15. Or alternatively call Crimestoppers anonymously on 0800 555 111.
Devon and Cornwall Police has paid tribute to a serving officer who died on Sunday.
PC Andy Hocking, who served in the Falmouth Neighbourhood Team, died after falling unwell and leaves a wife Sally and two daughters, Gracie and Megan.
A book of condolence will be available at Falmouth Police Station during office hours on Monday and Tuesday.
There is a further book of condolence at the Art Gallery in the Falmouth Municipal Building.
PC Hocking was a printer before joining the force in March 1993. He was stationed at Camborne before being posted to Falmouth. He then became the Neighbourhood Beat Manager for Penryn before becoming the Falmouth Town Neighbourhood Officer.
Andy will be sorely missed by his family, colleagues and the community which he served with a smile for many years. For many Andy is the face of Falmouth and the town has lost one of its greatest icons.
– Falmouth Inspector Ian Thompson
Devon and Cornwall police call handlers are being given extra training to deal with suicidal callers.
It follows an increase in the number of distraught callers threatening to harm themselves.
It is aimed at giving the staff a better understanding and knowledge so they can deal with difficult phone conversations.
Advertisement
Devon & Cornwall Police are urging people to think before dialling 999 or 101 both during the festive season and throughout the year.
It says the force's two contact centres in Plymouth and Exeter receive more than a million calls a year and while many use the service responsibly, there are still a significant number who waste police time.
Here are some of the inappropriate calls received on the non-emergency number, 101.
Reporting that a budgie had escaped and was in a tree, and could police get it.
Complaining that some public toilets were closed.
Asking if it was illegal to urinate in their own garden - if spotted by a drone
Clearly none of these are police matters. While these examples may raise a smile they are unacceptable uses of the 101 service and underline an issue which is increasing call waiting times for callers who genuinely need help.
– Chief Superintendent Jim Nye, head of Operations
Other situations when the police are not the best people to call in a non-emergency situation include noisy neighbours, abandoned vehicles, parking issues and dangerous dogs.
You can find out more about who to contact here.
Devon and Cornwall police are asking children to help name their new litter of police puppies.
Competition entrants are being asked to submit their name suggestion along with a Christmas card design - which must begin with the letter 'C'.
The winner will get to meet the puppies. and spend time with a police dog handler.
A 26-year-old man has been arrested in Hayle on suspicion of preparing for an act of terrorism, under Section 5 of the Terrorism Act.
The man, who was arrested last night (Monday), is being questioned by officers from the South East Counter Terrorism Unit (SECTU) at a police station in the Devon and Cornwall area.
The arrest relates to an investigation by SECTU in relation to conflicts overseas and police say it is not linked to any immediate threat to local communities or anywhere in the UK.
I would like to reassure the community that this investigation should have very little impact on local residents.

The arrest was pre-planned and was not made in response to any immediate threat to public safety in Hayle. Our officers will continue to maintain a presence in the area, offering reassurance to the local community.
– Supt Jim Pearce, Devon & Cornwall Police
Staff will continue to work at Penzance Police Station but there'll be no counter for reporting crime or asking about lost items. Officers say they are aware of people's concerns about a lack of face to face police contact.
Over the past couple of weeks I have been made very aware of the sense of feeling around Penzance and Penwith itself and so I how important it is to them to have face to face contact with us. Obviously yesterday was a sad day for the public enquiry office but can I say it was a really sad day when that decision had to be made.
– Inspector Jean Phillips
Load more updates