A major gorse fire in Devon had closed a road near the scene.
The B3180 is closed between Four Firs and Halfway Inn on the A3052.
More that 20 fire engines were called to the scene on Woodbury Common yesterday afternoon.
Smoke could be seen for miles across Exeter and Haldon Hill.
One firefighter was taken to hospital, and several others needed medical treatment at the scene as they tackled the fire.
Crews arrived in Uplyme on the Devon Dorset border to find a detached house well alight, and called for help from other stations.
Read the full story ›
Advertisement
Devon and Somerset Fire and Rescue Service say that the fire in the commercial unit measures approximately 40m x 10m.
Read the full story ›
The South West sees more than 100 tumble dryer fires in a year, with 61 attended by the Devon and Somerset Fire Service alone
Read the full story ›
Emergency services have spent the night tackling a large house fire on Dartmoor. One elderly woman was treated for smoke inhalation.
Read the full story ›
The fire service in Devon and Somerset has begun using specially adapted oxygen masks to help save family pets in house fires.
Read the full story ›
Advertisement
Emergency services were called to Tiverton Business Park this afternoon, where they found half a building "well alight".
Read the full story ›
A woman has died after a house fire near Redruth.
Fire services were called to Tolgus Mount at 10:45am after reports of a person inside a property on fire.
An elderly woman was the only person inside and the fire was contained within the one room.
An investigation is now underway between the fire service and police.
The woman has not been formally identified though her immediate family have been told.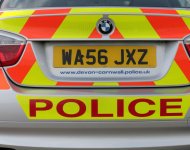 Devon and Somerset Fire Service is urging the public to be more vigilant around derelict buildings during the school holidays - after two recent deliberate fires at an abandoned hotel in Plymouth.
Fire crews have been called out several times to the former Quality hotel in the city.
The fire service says young people are putting their lives at risk with the current trend of setting fire to empty buildings.
It also warns that fires spread much more quickly in derelict structures, that firefighters' lives are being put at risk - and that the fires tie up valuable resources that could be used elsewhere.
"The fire and rescue service is encouraging parents to be aware of where their children are and what they are up to during the summer break. Derelict buildings can be seen as playgrounds and young people do not understand the danger they are putting themselves in."
– Paul Bray, Fire Protection Manager, Devon & Somerset Fire & Rescue Service
Fire crews will be offering safety advice to residents of a Somerset village following a fatal house fire earlier this week.
Investigations are continuing into the cause of the blaze at Long Sutton, but there have been several recent fire-related deaths in Devon and Somerset where the victim lived alone.
They will be knocking on doors and will also be outside the post office 9am-5pm and at the village hall from 3.15pm until the weekend.
Load more updates