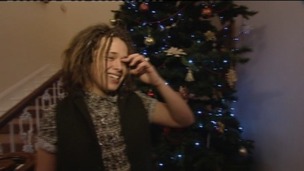 Luke Friend, the Devon singing sensation who's in Saturday's final of the X-Factor is tonight playing a concert in Exeter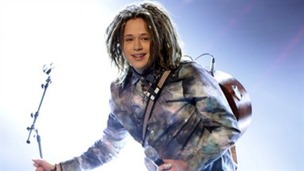 A Devon teenager makes the big time with a place in the final of this year's X Factor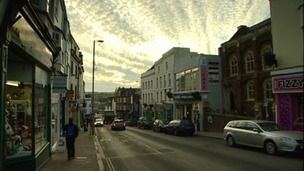 A campaign has started to draw more people into our smaller retailers. It's called Small Business Saturday.
Live updates
Greenpeace protesters to stay in Russia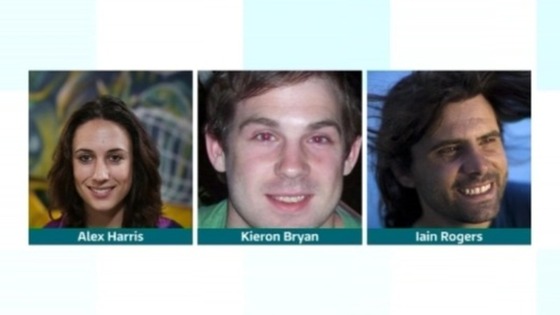 Greenpeace activists Alexandra Harris, Kieron Bryan and Iain Rogers, who are all from Devon, are unlikely to be home for Christmas.
The three are among 30 protesters, known as the Arctic 30, who were arrested and held in Russia during a protest against oil drilling in the Arctic. They have all been granted bail but are not allowed to leave the country.
The Russian authorities has written to a protester from Denmark indicating that she cannot leave and it is likely that this will apply to all the defenders.
Greenpeace says the decision by the Russian authorities defies the ruling of an international court
Greenpeace protesters to stay in Russia
There's growing speculation that the 30 Greenpeace activists being held in Russia may be allowed home for Christmas - and possibly even pardoned altogether.
Tomorrow is Constitution Day there and it's thought the Russian President Vladimir Putin may use it as an opportunity to free the protestors - which includes three from Devon - or grant them exit visas.
Film-maker Kieron Bryan and environmentalists, Alexandra Harris and Ian Rogers, are among the activists facing charges of hooliganism over a Greenpeace protest against Arctic oil drilling.
Ben Ayliffe from Greenpeace says they're hoping visas will be issued soon...
Advertisement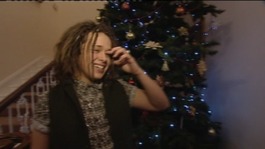 Luke Friend, the Devon singing sensation who's in Saturday's final of the X-Factor is tonight playing a concert in Exeter
Read the full story
A 14 year old boy arrested by police after an alleged stabbing at a Plymouth School has been detained under the Mental Health Act.
It follows an incident yesterday at at Eggbuckland Community College in Plymouth. A 15 year old boy was taken to Derriford hospital with a back injury. His injuries are not thought to be life threatening.
Greenpeace say they are not "getting there hopes up" amid reports in Russian media that the 'Arctic 30' will be pardoned.
Some newspapers in the country say the an amnesty by the government would see legal proceedings against the activists dropped.
Three people from Devon were among 30 people arrested during a protest at an oil rig in the arctic. They were released on bail after spending two months in jail.
Nobody here is getting their hopes up just yet. This is just one of many media reports, with some saying legal action against the Arctic 30 will be dropped and others saying they will not be included in theamnesty. Until the Duma adopts an amnesty that includes the Greenpeace activists and freelance journalists, everything is speculation.
The Arctic 30 should never have been detained in the first place. They were seized in international waters, then jailed and charged with a crime they didn't commit. The charges against them should be dropped, they should be allowed home to be with their families and the ship the Arctic Sunrise should be returned to its crew.
– Ben Ayliffe, Greenpeace
Police have arrested a 14 year old boy after reports of a stabbing at Eggbuckland Community College in Plymouth. A 15 year old boy was taken to Derriford hospital with a back injury this morning.
His injuries are not thought to be life threatening. The 14-year-old male suspect has been arrested on suspicion of causing grievous bodily harm with intent and has been taken into police custody. He's a student at the college.
We are investigating the circumstances of this incident and would like to reassure people that there is no danger to anyone else. The alleged weapon that was used has been seized and the suspect has been arrested.
– SUPERINTENDENT CHRIS SINGER, DEVON & CORNWALL POLICE
Advertisement
Devon town backs Luke for X Factor
Luke Friend's parents say they're over the moon that their son has made it to the X Factor final
Sue Potts and Steve Friend, who are from Teignmouth, say Luke's been enthusiastic about performing music since he was 11.
They've told RIchard Lawrence they're proud he has kept his integrity ...and his hair which the production team had urged him to have cut!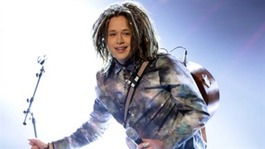 A Devon teenager makes the big time with a place in the final of this year's X Factor
Read the full story
BT broadband promise
BT has announced that high-speed fibre broadband will be available to 44,000 Devon and Somerset homes and businesses within 4 months.
Michael Dunn, regional Manager at BT, says customers will get a much better experience.
A 47 year old man has been arrested following a gas main fire in Devon.
Fire crews were called to an alleyway in Cross Street in Seaton yesterday evening. A joint investigation between the fire brigade and the police is now underway.
Load more updates
Back to top