Staff at a greyhound rescue charity near Bath say they desperately need a home for one their most loved dogs.
Murdoch, a three year old lurcher, was found abandoned as a puppy.
He's been at the centre for 12 months, but no one has taken him in.
The charity says there's been a significant drop in the amount of dogs being re-homed.
Fox, a five month old Chihuahua cross puppy who was taken from Bristol Dogs and Cats Home during the early hours of Sunday, 20 September has been returned to the centre.
Staff believe her safe return is down to the power of Social Media.
Thank you to everyone who has made little Fox too hot to handle! All 705,000 of you who have viewed her post, all 17,000 of you who have shared it and all 2000 of you who have commented on out page alone.

FOX IS BACK!!!!

She has been returned to us and is not harmed. We cannot give anymore details at present as this is still a police matter. But thank you so so much for all you support through these very difficult few days.

The power of social media wins again.
– RSPCA Bristol on Facebook
Advertisement
A five month old Chihuahua cross puppy has been stolen from Bristol Dogs and Cats Home during the early hours of Sunday, 20 September.
Staff at the Bristol rescue centre feared the young female dog, named Fox, may have been stolen to be used for breeding, although she has only just been spayed.
Fox was stolen during the night and police are investigating.
Jodie Hayward, the centre's manager said that, despite the charity being staffed 24/7 the robbery had been a highly skilled operation. She said they used professional tools and knew which kennel she was in.
It is sickening to think that these heartless people have planned this operation so carefully, and now one of our special dogs has been stolen and we are terrified for her safety.

We have done everything possible to prevent this from ever happening, but as you will all know, no place, property or area is ever completely safe from these criminals.

Please share this story far and wide, she could be anywhere by now
– Jodie Hayward, Bristol Dogs and Cats Home
If anybody has any information about where Fox could be, they can contact Avon and Somerset Police on 101 quoting reference 318 of 20 September 2015.
Bristol Dogs and Cats Home has taken one of their homeless dogs on an extra special long walk to try to get her adopted.
Staffordshire bull terrier Anne has been with the charity for the last eight months. So they've taken the three year-old to visit all 70 of the Shaun in the City sculptures around Bristol to help her find a "forever home."
We sent our "lead" correspondent Matthias Kurth to find out more.
Avon and Somerset Police were forced to break into a car after spotting a dog had been locked in.
The pooch was seized from a car in Patchway and cops took to Twitter to warn other owners against the perils of pets in hot cars.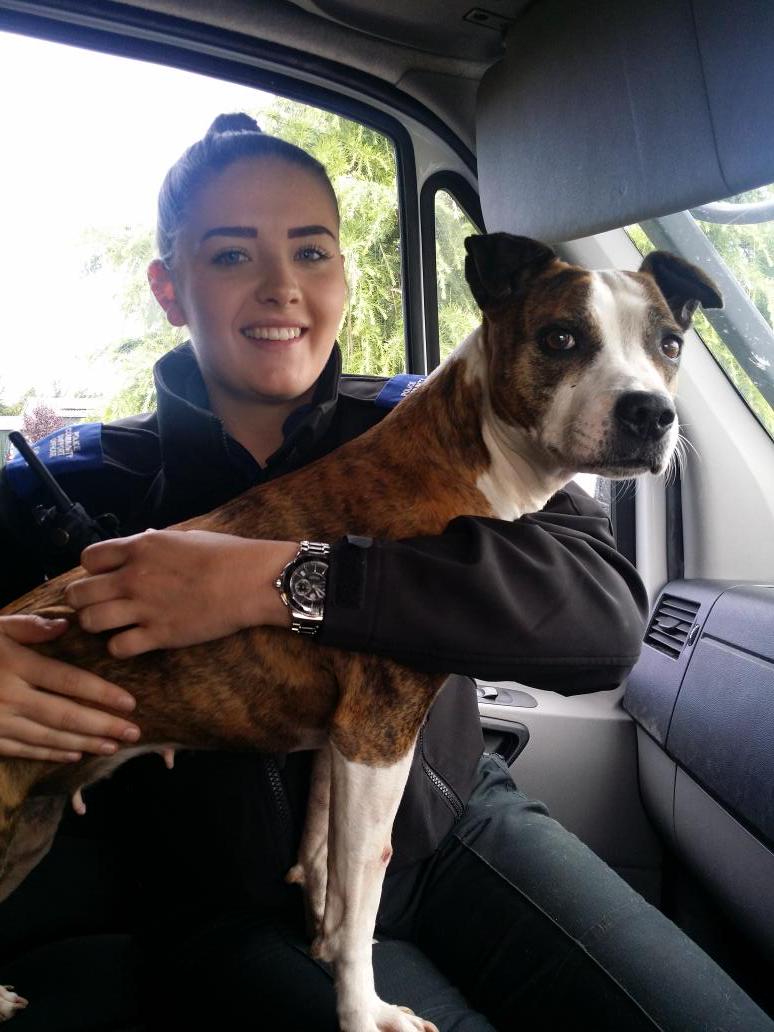 A North Devon woman is calling for action after her niece was apparently bitten by a dog from a temporary travellers camp in Bideford.
11-year-old Erin Foyle was left badly bruised after the alleged attack at the Springfield cattle market on Monday (10 August). Police are investigating the incident.
"I understand their dogs are there to help guard them and they're part of their life but they do need to be on a leash, really".
– Lydia Benn, Erin's aunt
Advertisement
0652hrs Warminster have attended an incident in Boreham Field, Warminster to release a pet Labrador with its head stuck in a pram
Wiltshire Fire and Rescue Service have tweeted that they were called to rescue a pet Labrador who had got its head stuck in a pram.
The incident happened in early this morning at around 7am in Warminster.
The dog has been released and is uninjured but he might not be going near a pram again anytime soon.
The Devon and Cornwall police dog display team, together with a selection of police puppies will be showcasing their skills which they learn as part of their police training in the main arena at the Devon County Show.
The police dog display team will be will be used in a firearms scenario with gun fire where the dogs will be used to detain an armed person.
They will also demonstrate a search situation and emergency recall where a dog is sent in error to a detained person.
The puppies will be showing the crowds their newly learned skills in the agility and obedience classes.
Police dog Brodie will also be attending as the Devon and Cornwall Police guest of honour.
Brodie, from the police puppy scheme who had both hips replaced earlier this year will be on hand to meet the public at the police stand with his puppy walkers and Police Canine Development Officer, Paul Glennon.
Brodie was brought into the world by the breeding programme run by Devon and Cornwall Police.

'Bionic Brodie' as he has affectionately been known, captured the hearts of the public when it was confirmed the only way that Brodie could lead a pain free life was if both hips were replaced after a diagnosis of chronic hip dysplasia.

He healed nicely after the first operation and is expected to be fully recovered in about eight weeks.
– Paul Glennon, Police Canine Development Officer
Avon and Somerset Police duo PC Andrew Jerreat and four year old Police Dog 'Elmo' are representing Tri Force Operations at the National Police Dog trials today.
The four day event is in Stirling where 21 police dog teams from various forces across the UK put through their paces to identify who are the top dogs in the country.
The dogs and their handlers will be assessed on the full range of police dog duties including tracking, obedience, criminal work and crowd control.
PC Jerreat entered the South West and Wales Regional Dog Assessments in March. He fought off stiff competition from 12 officers and qualified to attend the nationals.
This will be my first time in the nationals and I am really looking forward to the challenge. I am very proud of Elmo, he is an outstanding partner.

Elmo has been with me for 3 years and he came to me as a puppy from our breed scheme.

We have worked hard to become a team and continually strive for excellence.
– PC Andrew Jerreat
A pensioner has been blackmailed with cruel phone calls threatening to cut up her beloved dog unless she pays hundreds of pounds.
Vivienne Garton began to receive the vile messages after he West Highland Terrier Ben disappeared from her garden on April 12.
The worried 65-year-old put up posters over her home of Knowle, appealing for her pooch's return.
But one of the numbers was called twice by an anonymous 'middle-aged man' who threatened to harm the family pet unless Vivienne pays £500.
He left an address of an empty house in Bristol, which frail Vivienne has now handed over to police.
Ben is ten years old, partially sighted, partially deaf, and struggles to walk for long distances.
Avon and Somerset police have confirmed they are now investigating an incident of blackmail. Anyone with information is asked to contact police.
Load more updates