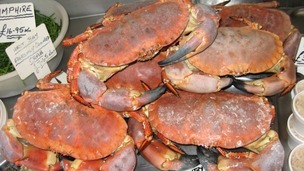 Fish caught off the Dorset coast is to be labelled by the county's biggest seafood wholesaler to boost consumer confidence.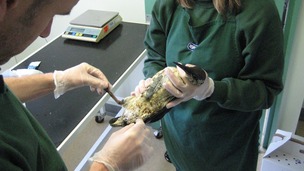 A change in wind direction could have killed thousands more birds after scores were found washed ashore along England's south coast.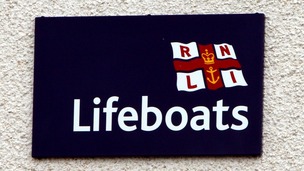 RNLI volunteers are on stand by as the region braces itself for more rain. Winds of up to 70mph are also expected.
Live updates
Appeal after 'hit and run' in Weymouth
Police in Weymouth are appealing for witnesses after a 'hit and run' incident in the Westham area of the town.
Yesterday morning at approximately 8.40am, a mother and her 6-year-old son approached the pedestrian crossing outside the Londis store on Abbotsbury Road.
A car stopped allowing them both to cross, but then pulled away striking the young boy. The vehicle failed to stop and drove off without checking on the welfare of the child.
Luckily the young victim only suffered minor injuries in the incident and did not require hospital treatment.
I am appealing for anyone with information about this incident to contact Dorset Police urgently.

The driver will undoubtedly be aware they struck the young boy and drove off without any regard for his welfare, and I would urge them to do the right thing and speak with the police.

The victim is extremely lucky to have only suffered minor injuries, but nevertheless, this has been a very frightening experience for him and his mother.

The car was a blue coloured hatchback and the driver a middle aged woman with short dark hair and glasses.

All calls will be treated in the strictest of confidence.
– PC Kelvin Edge, Dorset Police

Witnesses and anyone with information should call Dorset Police in confidence on 101 or anonymously by calling Crimestoppers on 0800 555 111.
Olympic sailor dies
FULL REPORT: Death of Olympian Andrew Simpson
Tributes have been paid to the Dorset-based Olympian Andrew Simpson who's died after his catamaran capsized off the coast of California. The 36 year old, who lived in Sherborne, was training on the Artemis - Sweden's entry in the America's cup - when it overturned.
Advertisement
Olympic sailor dies
"Hearts of everyone in Sherborne go out to the family"
The Revd Canon ERIC WOODS, Vicar of Sherborne has paid tribute to Andrew Simpson and says the thoughts of the community are with his family.
Books of condolence will be opened at Sherborne Abbey so that people can pay their respects.
Olympic sailor dies
More reaction to the death of Andrew Simpson
John Tweed is the Chief Executive of the Weymouth and Portland Sailing Academy:
Olympic sailor dies
Reaction to Andrew Simpson's death
Olympic Sailor Lucy MacGregor from Dorset spoke to ITV News West Country:
Olympic sailor dies
Reaction from Dorset to Andrew Simpson's death
ITV News West Country Reporter Martin Dowse spoke to John Tweed, Chief Executive of the Weymouth and Portland Sailing Academy:
Advertisement
Olympic sailor dies
Meridian
Sailor tweeted about America's Cup safety fears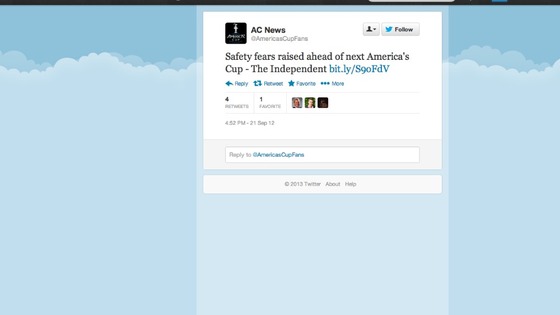 Last September Andrew 'Bart' Simpson retweeted a link to an article by The Independent, which discussed safety fears ahead of the America's Cup. You can see the original tweet on Andrew's Twitter page.
Olympic sailor dies
Book of Condolence to be opened in Sherborne
The community of Sherborne in Dorset will be able to pay their respects to Andrew Simpson, who has been killed in an accident in America.
A Book of Condolence will be opened in the town on Friday.
Olympic sailor dies
Tribute to Olympian from fellow Dorset Medallist
Olympic shooting champion Peter Wilson has paid tribute to his friend and fellow Sherborne resident Andrew Simpson.
The 2012 gold medal winner expressed his shock at the tragedy which claimed the life of his British team mate.
36 year old Simpson died after his yacht capsized during training for the America's Cup race in San Fransisco Bay, California.
In an exclusive interview with ITV News, Wilson recounts meeting Simpson at a local supermarket shortly before he departed for the States:
Olympic sailor dies
National
London 2012 executive pulls out of honours ceremony
A yachting boss and senior London 2012 executive has pulled out of an honours ceremony at Buckingham Palace today following the death of Olympic gold medal-winning sailor Andrew Simpson.
Sir Keith Mills, the deputy chairman of Locog (London Organising Committee of the Olympic and Paralympic Games) was due to be made a Knight Grand Cross - the highest grade of knighthood.
A London 2012 spokesman said: "We are all deeply saddened by the news of Andrew's death and, as a result of this tragic accident, Sir Keith will no longer be attending his investiture at Buckingham Palace today."
Load more updates
Back to top