Two people were injured after their car left the road and crashed into the side of house on Castle Road in Sherborne. It happened yesterday (Sunday August 9th) just before midday.
Firefighters used blocks and a winch to stabilise the car and release the two casualties. Their injuries were not thought to be life-threatening.
Advertisement
Now it seems we're not the only ones enjoying the lovely weather.
This bottlenose dolphin was filmed just off Looe Harbour, playing alongside the boats, to the evident delight of people on board:
The dolphin chased the boats, ducking and diving between them and playing in the wash for at least an hour.
Anthony Bettinson from Boatzer Glass-Bottom boat trips said:
You don't often see them come up alongside again and again like that ... that's quite rare. We dosometimes see the bottlenose dolphins around here but this one really seemed to want to play.
– Anthony Bettinson
Have you spotted any sea creatures off our coasts? We've been asking you to send in your pictures of marine wildlife this summer.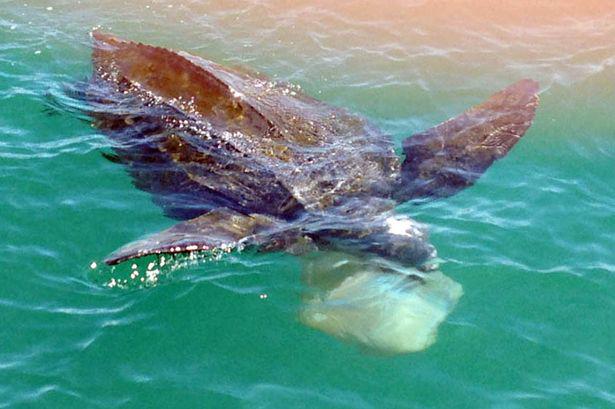 A fisherman in Dorset has managed to capture a picture of a rare leatherback sea turtle, eating a jellyfish in the waters of Lyme Regis.
The endangered species is from the Caribbean and have been spotted before in the area but it's rare to see them so near the shore.
The Leatherback is the largest of all living turtles and they are able to raise their own body temperatures, which allows them to swim in cooler waters.
Have you spotted any amazing sea creatures off our coasts? Send us your pictures!
Tweet us: @itvwestcountry
Email us: westcountry@itv.com
Officers are appealing for witnesses after a fatal collision near Bridport, which left a 75-year-old man from Torquay dead.
At around 5am today a serious collision occurred between a white lorry and an orange Daewoo Matizt car on the A35.
The lorry was heading toward the Crown roundabout when it collided with the car, which was heading in the opposite direction.
The driver of the car died at the scene but the lorry driver was uninjured.
The A35 is closed in both directions to allow collision investigators to carry out an examination.
I am appealing to anyone who witnessed this collision, or the manner of driving of either vehicle, prior to the incident, to please call me on 101. All calls will be treated in strict confidence.
– Police Sergeant Dave Stroud, Dorset Police Traffic Unit
The police have confirmed that a 75-year-old man from Torquay has died following a collision between a car and a lorry on the A35 in Bridport.
The road will remain closed in both directions for at least another hour, as investigations continue.
Diversions via a local route using the B3162 are causing long queues around the town.
Advertisement
#BREAKINGNEWS Road closures on #A35 between Crown RAB and #Bridport town centre following a serious RTC. Public advised to avoid the area.
Police, ambulance services and fire crews were at the scene of a serious collision on the A35 in Bridport town centre earlier today.
The A35 has been closed in both directions from Crown Roundabout to the Mitsubishi Garage.
The road is expected to remain closed until later this morning, while investigators examine the scene.
The A35 is shut in both directions in Bridport following a collision between a car and a lorry.
It happened just after 5am in Sea Road South.
The road is expected to be shut for most of the morning.
Traffic is being diverted via a local route using the B3162 through Bridport.
Police in Dorset are cracking down on rural crime. It cost the county £720,000 last year - a rise of 12% compared to a 10% drop in Somerset.
Cowden Farm near Dorchester now resembles a fortress with extra security, alarms and CCTV after it was hit. Owner Anna Hall spoke to us about how powerless she feels despite that.
Load more updates