Sir Elton John has taken to the stage in front of thousands at the Eden Project, the first time he has performed in Cornwall for 30 years
Read the full story ›
The excitement is building as Cornwall prepares to welcome one of the biggest names in rock to its biggest music venue, the Eden Project, tonight.
It will be the first time Sir Elton John has performed in Cornwall in 30 years, and it's no surprise the event's 6,000 tickets were snapped up in minutes when they went on sale last December.
He's at the Eden Project for two nights as part of the attraction's summer session of concerts. Last time it was the Cornwall Coliseum, which has since been demolished.
We'll be at Eden live tonight, bringing you all the excitement from what is set to be one of the highlights of the Eden Sessions' 13-year history.
Sir Elton joins an illustrious list of more than 70 acts who have performed here since they began in 2002.
Advertisement
Sir Elton John will be playing his first performance in Cornwall tonight for 30 years.
He is at the Eden Project for two nights as part of the attraction's summer session of concerts. Sir Elton last appeared at the Cornwall Coliseum which has now been demolished.
The Eden Project has unveiled plans to build a hotel. It follows the opening of a youth hostel on the site. It's submitted proposals to Cornwall Council for the development, which will cost six million pounds and have a hundred and fifteen beds.
Motorhead will play at this year's Eden Sessions when they return to Cornwall for the first time in 32 years.
The Grammy winners have been announced as the latest headliner act for the Eden Project festival, joining Elton John and Ben Howard on the bill.
We are thrilled beyond words to be able to announce a band that will rock the Biomes in a way the Sessions have never heard before. This is a totally unique show and our first-ever hard rock Session.

Lemmy once said that if Motorhead moved in next door, your lawn will die. We'll have to counsel the plants before he breaks into Ace Of Spades.

To have the Stranglers as special guests promises a loud, proud and never-to-be-forgotten Session.
– Rita Broe, Eden's marketing director
An award celebrating a centuries-old British delicacy has been won by a Chilean miner who can not speak English.
Jorge Pereira, who was attending the World Pasty Championships at the Eden Project in Cornwall as part of a two-month visit to the UK, won the open savoury amateur category with an empanada Chilena, a traditional Chilean pasty made with beef, onion, hard-boiled egg, olives and sultanas.
The origins of the pasty are themselves disputed between those from Cornwall and Devon, and date back to the 14th century when miners used to graze on the pastry-based finger food while working underground. A traditional Cornish pasty features chuck steak, potato, turnip and onion and is crimped on the side, while the Devon variety is crimped on the top.
Mr Pereira said through his wife Gail Cleverdon: "I feel very excited and happy to be so far from my country to win such a prize. It's all about getting recognition for my country rather than winning."
88 year old Betty Lethbridge mother of Fisherman's Friends singer John Lethbridge, won the amateur title.
The veteran crimper, from St Kew, said: "I've been making them for years and years. I started when I was eight years old. Mother used to make pasties so I used to roll the pastry out on a bench. You need to get really good meat to make a pasty and the seasoning is important."
The highest marks in the competition were awarded to professional winner Andy Heath from Bodmin, who scored 96 out of 100, and open savoury professional winner Luisa Ead from Padstow, who scored 97 with a smoked haddock, white wine and mustard pasty.
In the company categories, West Cornwall Pasty Company was victorious for the second year running. The event attracted around 150 pasty entries, a similar figure to last year, which was the highest to that point.
The fourth World Pasty Championships was a very memorable one for sure. Mrs Lethbridge's win was such a heart-warming story. We commend the entrants who took so much pride in their pasties.
– Eden Project spokesman David Rowe
The Cornish pasty has had protective status since 2011, a distinctive sign used to identify it as originating from a certain place.
The following year, scores of bakers and consumers joined forces with politicians and regional newspaper the Western Morning News in a successful bid to force a Government U-turn on the controversial pasty tax.
Advertisement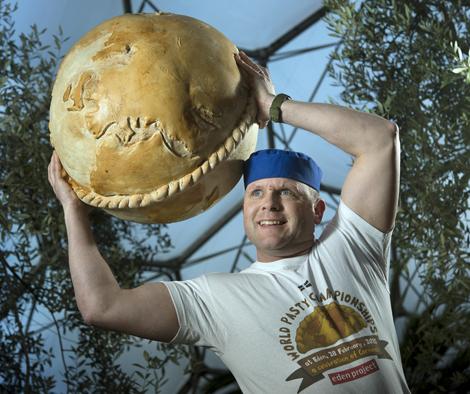 The head chef at the Eden Project in Cornwall has cooked up a novel way to mark the beginning of the World Pasty Championships - by creating an enormous Cornish pasty in the shape of the earth.
Tony Trenerry spent more than eight hours slaving over the colossal snack. It's 70cm in diameter, and needed an extra large oven.
He said it was the toughest, and heaviest, baking challenge of his career.
He said: "I was inspired by the amazing collection of competitive pasties at last year's World Pasty Championships and wanted to do my bit to inspire entrants to this year's competition.
"Word about the competition is spreading and, as well as local bakers, we have had interest from around the world, including enquiries from the US and Canada."
I was inspired by the amazing collection of competitive pasties at last year's World Pasty Championships and wanted to do my bit to inspire entrants to this year's competition.
– Tony Trenerry, Eden Project Head Chef
The Government's Culture, Media and Sport Committee will be at the Eden Project later as part of a study into tourism.
Representatives will take a tour around the project before meeting key figures in the industry. The aim of the visit is to encourage tourism outside London - and discuss the future of the industry in Cornwall.
The Eden Project in Cornwall has come up with a rather unusual way of housing tourists; packing them in shipping containers.
Read the full story ›
Cornwall's Eden Project unveils its biggest ever apprenticeship scheme today.
More than 20 apprentices will be taken on at the end of the month. They'll work in a variety of areas including horticulture, vehicle maintenance and hospitality.
The scheme is being run in partnership with Cornwall College and the Edge Foundation.
Load more updates