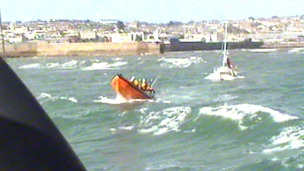 The Penlee RNLI inshore lifeboat has come to the rescue of sailors whose yacht went aground in Penzance harbour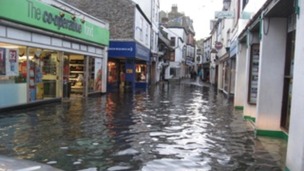 A combination of high tides and strong winds has led to flooding in coastal towns across the region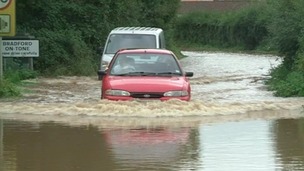 Up to 62 mm of rain fell in 12 hours in parts of Devon overnight and the rest of the region was also affected. Roads and homes were flooded
Live updates
A flood alert has been issued for the North Cornwall coast.
The Environment Agency says it could affect Lands End to Hartland Point and include St Ives Bay, Perranporth, Padstow and Bude.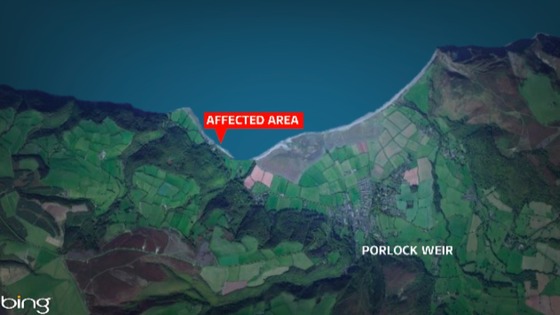 The Environment Agency has issued a flood warning for the Somerset coast at Porlock Weir.
Flooding is expected for the coastline between Gore Point and Hurlstone Point including properties on the lockside, businesses around the Harbour Masters office, Gibraltar Cottages and other low lying properties on the B3225 at Porlock Weir, at high tide on Tuesday evening and Wednesday morning.
Advertisement
Tests to show how clean bathing waters are in the South West start today.
The Environment Agency will be taking samples and telling people where is safe to swim. Last year 98 per cent of beaches in our region reached current standards.
The Agency will be taking samples from today until the end of September.
The Environment Agency has issued a flood warning for the River Wey from Upwey to Weymouth. Flooding is expected for the River Wey from Upwey to Weymouth. Residents are advised to take immediate precautions. Further details here.
A flood warning has been issued by the Environment Agency for the River Char at Dolphins River Caravan Park at Charmouth in Dorset. Flooding is expected with rising river levels following heavy rain. More details here.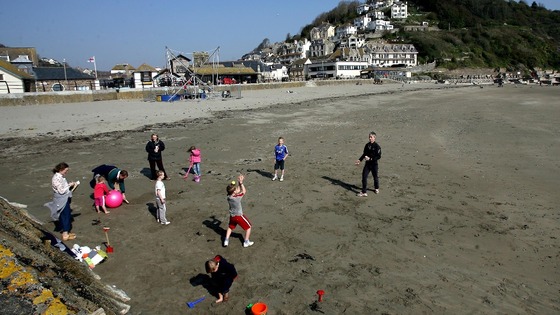 People living around Looe in Cornwall are being invited to two public meetings today to discuss water quality on local beaches. It follows fears that Seaton and East Looe beaches may not meet more stringent water quality tests being introduced by the EU in 2015.
Jonathan Ponting from the SW Environment Agency, said: "Bathing water quality has improved significantly over the past two decades but more needs to be done by water companies, businesses, farmers, local authorities and communities to help at risk bathing waters pass the new standards"
The meetings are taking place at the Rusty Bucket Cafe in East Looe from 10am-1pm and the Downderry Working Men's Club at Seaton from 2.30pm-5.30pm.
Advertisement
Plans to turn parts of the Clyst valley near Exeter into a new habitat for wading birds are under fire from locals. The Environment Agency and the RSPB say there's no threat from the scheme, and rising sea levels make it a useful plan for residents and wildlife.
Birds released after clean-up
An investigation is continuing into how more than a hundred birds came to be covered in a mysterious sticky substance on a 200-mile stretch of coastline in Dorset.
The Royal Society for the Protection of Birds (RSPB) were called to the south coast yesterday after the troubled guillemots, a member of the auk family, were discovered on Lyme Bay near Weymouth.
Environment Agency staff have taken samples of the affected water in an attempt to discover what the mysterious substance is.
Flooding Returns To South West
The Environment Agency has issued a flood warning for the River Wey in Dorset. It covers the area from Upwey to Weymouth. People living in areas at risk are advised to take immediate precautions.
There are also three flood warnings in place in Somerset. The first is for Salt Moor and North Moor, including East Lyng, Burrowbridge, West Yeo, Moorland and Fordgate. There is also one for the A361 East Lyng to Burrowbridge and Curry Moor and Hay Moor.
More rain also expected across the region overnight. You can check the latest updates on the Environment Agency website.
Lyme Regis water quality
The Environment Agency has admitted it made a mistake in water tests in Lyme Regis which led to one beach in the town being recorded as failing basic water quality standards.
The town council is angry at the results and is worried they could put tourists off booking for next season. Richard Lawrence reports.
Load more updates
Back to top