Volunteers who helped at the Rugby World Cup in Exeter have been invited to a reception with England players to thank them for their work.
Read the full story ›
Two men have been charged following arrests made at the Plymouth Argyle Exeter City derby match last weekend.
Read the full story ›
Advertisement
Five police officers were injured while on duty at the Devon football derby between Plymouth Argyle and Exeter City this weekend.
Devon and Cornwall Police's Superintendent Ian Drummond-Smith used social media to report a handful of officers suffered minor injuries during disorder. 6 people were arrested.
PAFC vs ECFC update 6 arrests 7 ejections from stadium 5 Police officers injured in disorder. Minor injuries. https://t.co/Pwlofgakls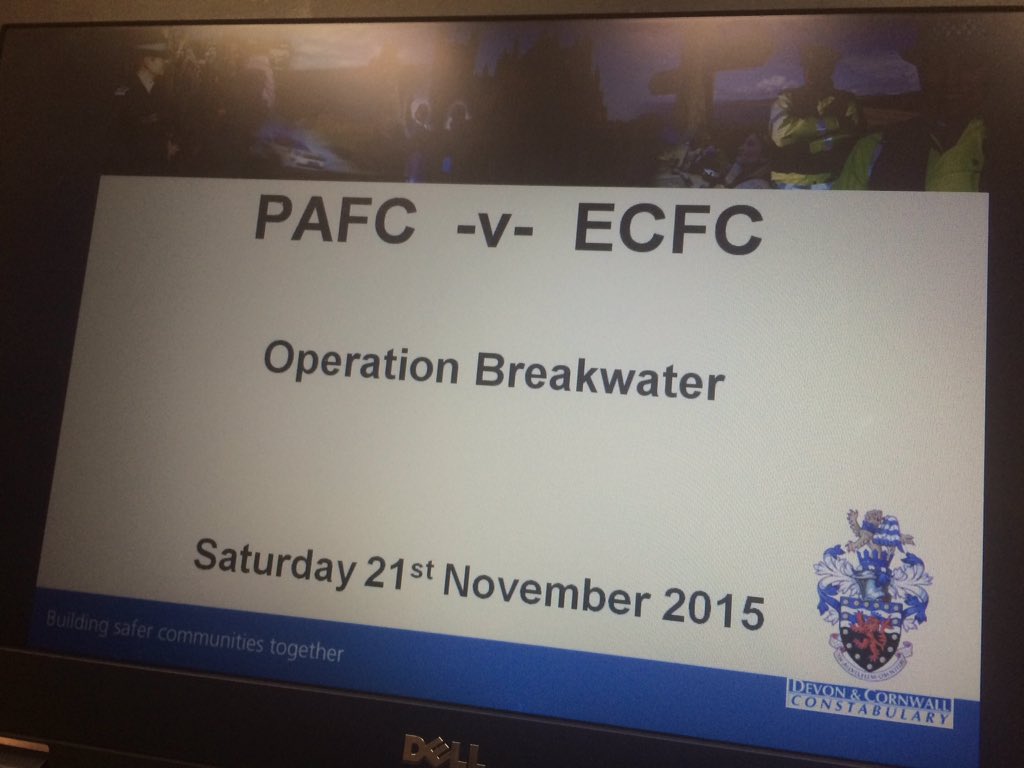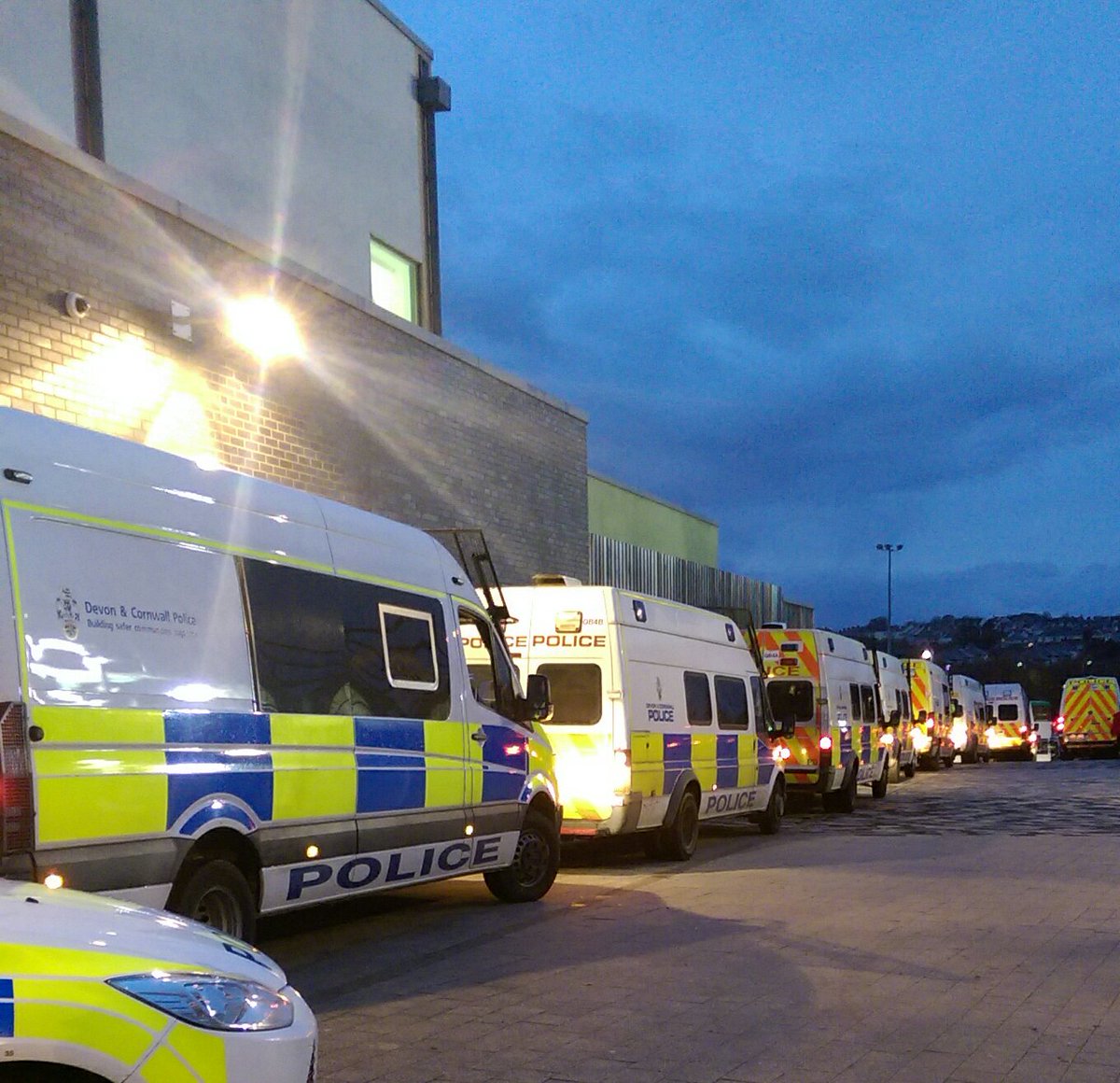 A mum's bad day has gone viral after her son posted a clip of her taking a tumble while walking her dogs on Twitter.
Read the full story ›
Hundreds of people turned out in Exeter last night for a vigil to remember the victims of the terror attacks in Paris.
Read the full story ›
Devon and Cornwall Police say they are increasing patrols following the tragic events in Paris.
Police say that although the threat level remains 'severe' there is currently no specific intelligence to suggest a threat to the UK or locally.
They are also asking people to be vigilant and to report anything suspicious.
"To help maintain public reassurance and confidence the force is increasing visible patrols, particularly at sensitive sites and key areas of the force to ensure that people feel safe to go about their daily lives.

We are working closely with our communities and partners to offer reassurance and advice following the attack in Paris.

We greatly value our relationship with our public and the trust that exists to enable us to work together. We are dependent on information from our communities, whether it concerns suspicious persons or activity.

We can all play a role in making our communities safer by remaining vigilant and informing the police immediately of any activity that arouses suspicion."
– Assistant Chief Constable Russ Middleton
Advertisement
A British businessman has spoken of his terror at hearing gun shots from just a street away while he was out in Paris.
Talent agent Terry Mills was on a business trip to the city and having drinks in a bar when he heard loud bangs just a few hundred metres away.
Shocked Terry, from Exeter, saw up to 30 police cars rush by and headed out into the street to find he was "in the centre of it".
"I've never experienced anything like it. We heard bangs, which were gunshots, but I'm used to being London, where it's loud so we didn't think too much of it.

25 to 30 police cars rushed by earlier, but I didn't realise what was going on. People were panicking and we couldn't get a taxi.

We were stranded and scared. Our apartment was blocks away and was right in the centre of it all.

My business meetings have obviously been cancelled. I'm not sure when I'll be able to get home. It's been such an awful, awful experience.

My heart goes out to the victims and their families."
– Terry Mills, businessman
Flybe that flies from Exeter to France is offering customers due to fly today or tomorrow the chance to rebook at a later date if they don't wish to travel.
The airline says it will continue to closely monitor the situation.
As a result, any customer who is travelling today or tomorrow (i.e. 14th/15th November 2015) and who doesn't wish to now do so may rebook a later date to any alternative destination or obtain a credit note for future travel by the calling Flybe Customer Contact Centre on 0371 700 2000.
You can get more information here
A £13.5 million scheme to widen and improve one of Exeter's busiest commuter routes has been approved by Devon County Council.
The County Council's Cabinet today backed the scheme to widen Bridge Road to two continuous outbound lanes between Countess Wear roundabout and Matford roundabout.
With around 30,000 vehicles using the road each day, the route suffers from tailbacks at peak times which block the Countess Wear junction and its approach routes.
This scheme is vital to the continued growth in Exeter.

Upgrading this route will reduce traffic queuing at the Countess Wear roundabout which will help keep traffic moving, reduce delays and ensure reliable journey times – all of which is key to support the housing and employment development planned in and around the city.

The improvements will also improve sustainable travel options.
– Councillor Andrew Leadbetter, Devon County Council
Around £2 million of the project costs have already been invested in the scheme design and on installing concrete piled foundations in the piers of the historic Grade II Listed Countess Wear Bridge, to support a new cantilevered cycleway and walkway.
This will provide the space needed on the road over the bridge to be widened to two lanes in both directions, while also improving pedestrian and cycling infrastructure.
The aim is for the scheme contract to be awarded in January 2016.
The parents of a man left in a coma after being assaulted & hit by a car have spoken of their joy at hearing their son talk again.
Read the full story ›
Load more updates