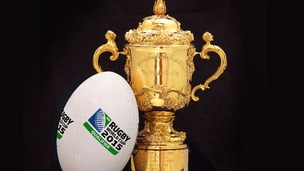 Rugby posts have started springing up around Exeter in the build up to the Rugby World Cup 2015.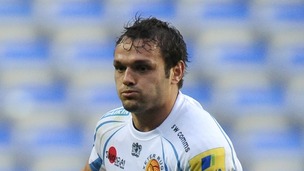 Exeter Chiefs saw their run of five-straight defeats in the Aviva Premiership come to an end as they completed the double over London Irish.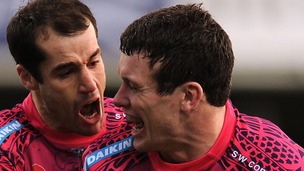 Bath were trailing by six points early in the second half, but battled back to win a nail-biting West Country derby at Sandy Park.
Live updates
Folk star's impromptu performance in Exeter
One of Britain`s top folk artists, Seth Lakeman, gave an impromptu performance in Exeter this lunchtime after signing copies of his latest album, Word of Mouth.
The Devon-born star is performing at the cathedral tonight and in Truro ahead of an international tour.
Richard Lawrence reports:
South West battered by more storms
First Great Western are advising passengers not to travel west of Exeter St Davids.
Major damage has been caused by the poor weather and rough seas to parts of the track and sea wall at Dawlish. Also, a tree is on the line between Liskeard and Bodmin Parkway and there is poor weather in the Penzance area.
Advertisement
South West battered by more storms
First Great Western say there will be no trains between Exeter St Davids and Newton Abbot until Wednesday 5 February. Major damage caused by poor weather to parts of the track.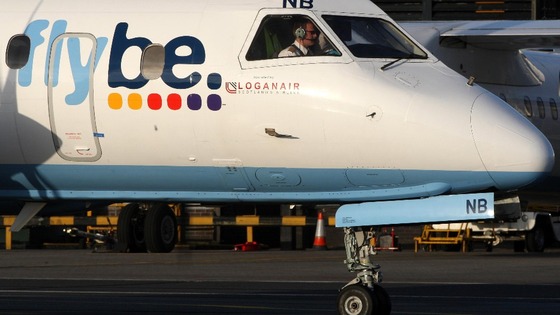 Exeter-based airline Flybe says it's on course to return to profit following its third quarter trading results. UK scheduled revenue per seat was up 2.3 per cent, while costs per seat (excluding fuel and restructuring costs) were down 5.2 per cent.
Last year the airline posted losses of £41m and announced 500 job cuts - more than 100 of them in Exeter. In November it announced a new management team. It now says job losses will be down to 450.
Raw sewage misery for Stoke Canon family
A family at Stoke Canon near Exeter has suffered more than a month of misery after raw sewage started bubbling up into their garden.
The problem started on Devember 18th, and then got worse two days before Christmas when the waste got into the outhouse where they keep their fridge, freezer and washing machine.
Sarah and Lee Poole haven't been able to use the garden and their ten year old daughter Hebe's play house is surrounded by slurry.
The couple say they had to tell guests who were coming for Christmas to stay away, and cancelled a New Year party.
South West Water say they have two tankers on site pumping away the excess sewage, but a long term solution to create extra capacity for the village of Stoke Canon cannot be finished before May.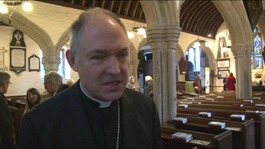 From Stockport to Devon, and with 10 year's experience as a monk: here are a few key facts about Exeter's new bishop, Robert Atwell.
Read the full story
Advertisement
Queen approves Robert Atwell as next Bishop of Exeter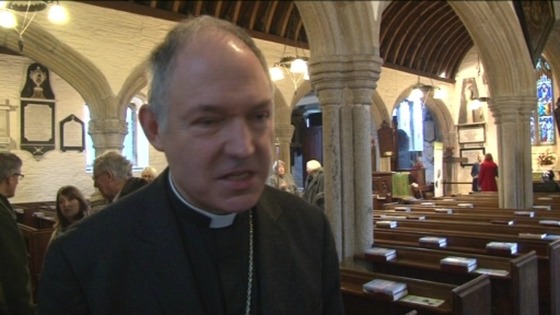 The newly-appointed Bishop of Exeter, Robert Atwell, says that many Devon communities face hardship. Speaking to ITV West Country reporter Francesca Carpenter, he said:
"The picture-postcard image of Devon is only half the story. There are many communities that our facing considerable hardship, whether that's through long-term unemployment or through poverty or, most recently, as a result of the devastating flooding."
Queen approves Robert Atwell as next Bishop of Exeter
The Queen has approved the nomination of a new Bishop of Exeter.
Right Reverend Robert Atwell, 59, has been chosen to succeed the Right Reverend Micheal Langrish who resigned in August.
Several sets of traffic lights have failed in Exeter:
A3015 Magdalen Street at the B3212 junction. It's on the approach to and through the gyratory system.
B3212 Western Way at Barnfield Road.
Shoppers in Exeter will be able to see plans for the Guildhall's £7 million refurbishment today. A public exhibition takes place in the Market Arcade, where artists impressions will be on show. It's the first significant investment in the Shopping Centre since it opened in the mid 1970s.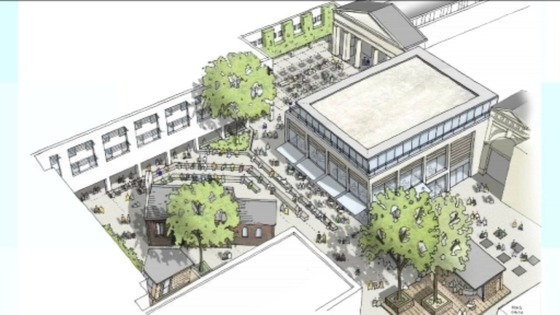 Load more updates
Back to top