Fire brigades are tackling a blaze in Exmouth after a tanning shop caught fire.
Smoke can be seen for miles across the West Country, with many tweeting about the fire.
Devon and Somerset Fire Service was called at around 7am this morning to reports of smoke.
They quickly requested backup and asked police to close the road as they dealt with the tanning studio which was "well alight".
The Parade is closed in both directions between The Strand and Albion Street.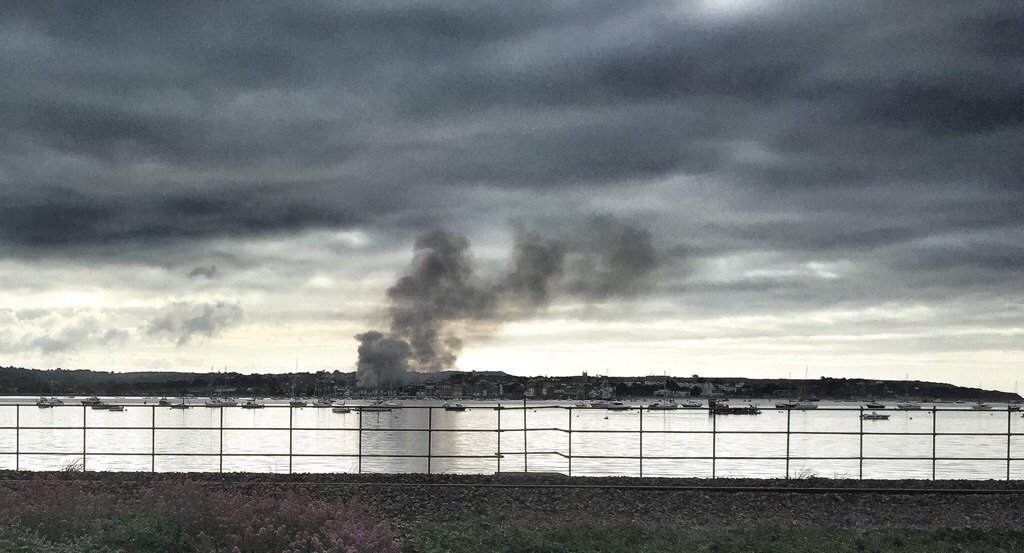 A burst water main in Exmouth is affecting supply to properties in the Colyton area.
We don't have details of how many properties are affected but South West Water say a repair team has been despatched.
Advertisement
A community based company is bidding to buy the former Rolle College In Exmouth to create a new work and learning hub in the town.
The campus, which used to serve 3,000 students and 400 staff was closed by Plymouth University.
Rolle College Exmouth is the community based enterprise which is seeking to raise £5m to take take control of the site.
Using the Twitter hash tag #wasteofspace (referring to the empty buildings) its offering community shares and hoping to draw down from a government fund set up from banking fines to achieve its goal of creating a new hub, which will include new work spaces for start up businesses, seminars, performance rooms and a cafe.
Chairwoman Deborah Hallett explains how the money could be raised:
A fundraising campaign to save the former Rolle Centre in Exmouth has begun.
The centre provides facilities for small and growing businesses and aims to increase vocational educational.
The Rolle Centre owner, Plymouth University, wants to sell the site, on Douglas Avenue, and has applied for outline planning permission to build up to 120 homes.
The campaign to save the centre will feature the premiere of 'Waste of Space', a short film staring three Devon-based actors and shot at the Owen Building.
Rolle Exmouth Limited (REL), the community benefit society behind the campaign hopes that people will be inspired to get behind community efforts to secure the former teacher training and Plymouth University education campus for the good of Exmouth and East Devon.
The university has already pledged the Owen Building for community use.
Time is running out. If people want to save the site for Exmouth and East Devon, we need to rally support, show Plymouth University that people across East Devon and beyond are determined that this wonderful resource is used to provide much-needed educational, community and business opportunities.

We hope that people will be inspired by the Waste of Space campaign and get involved, be that by pledging support, buying community shares, becoming a volunteer, or telling us how they think the site should be developed.
– Deborah Hallett, Chairman of REL
Hundreds of people around Exmouth are able to watch Freeview channels after being without television for four days.
Read the full story ›
Campaigners fighting plans to redevelop Exmouth seafront plan to stage a demonstration outside East Devon District Council's offices.
Read the full story ›
Advertisement
Bradham Lane is closed in both directions due to burst water main between St John's Road and the B3178 (Salterton Road).
The road is likely to remain closed for some time, and traffic is being diverted via Marpool Hill, Hulham Road and Pound Lane.
The Stagecoach 57 bus service is affected.
Are you brave enough for the Exmouth Christmas day Swim?It's been a tradition since the 1970s to take a dip into the water on Christmas day.
Read the full story ›
Firearms officers in Exmouth have arrested a man and confiscated a number of weapons and cannabis plants after a two and a half hour stand-off.
Armed officers were called to Exeter Road at 7:55pm yesterday to reports of man showing threatening behaviour carrying a knife. Police arrested a man on suspicion of affray.
A teenager's body has been recovered from the water by Exmouth Marina.
A passer by spotted the body on Saturday 17th October. Police, ambulance and coastguard attended the scene at 1.15pm.
The body is believed to be that of a 19 year-old man from Exmouth. Next of kin have been informed.His death is not being treated as suspicious.
Load more updates