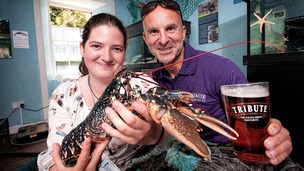 The fish in Falmouth Aquarium have been flailing in the summer heat. But help has come from an unlikely source...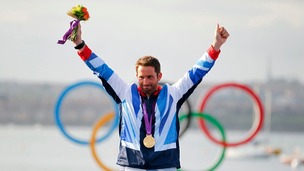 Four-time Olympic gold medal winner Ben Ainslie, who grew up in Cornwall, has announced his retirement from Olympic sailing.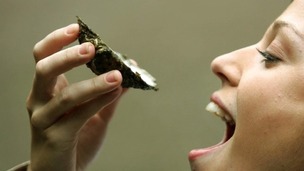 Falmouth Oyster Festival opens today, featuring cookery demonstrations by leading chefs.
Live updates
Body found in Falmouth search
An air and sea search of the River Helford near Falmouth overnight has so far failed to find a missing swimmer. The alarm was raised at 11.30 last night when the man, who's in his 20s, failed to return from a snorkelling expedition. Police and coastguard teams remain at the scene.
A woman had to be airlifted to hospital after suffering an allergic reaction to a weever fish sting at a beach in Cornwall.
The 20 year old woman collapsed after stepping onto the venomous spikes of the animal whilst paddling at Gyllyngvase beach in Falmouth this weekend. She was then was airlifted to Royal Cornwall Hospital. Although the animals are common in the area, allergic reactions to it are rare.
Advertisement
Payout battle after pensioner nearly killed by falling sign
A grandmother has been speaking of the moment she was almost killed by a falling shop sign. 79-year-old Patricia Tutton was shopping in Falmouth when a sign weighing four stone knocked her to the ground, causing numerous injuries.
She's says she's disappointed that the sign fitter has avoided prosecution. Kathy Wardle reports:
Payout battle after pensioner nearly killed by falling sign
It was horrendous, it really was, and when my daughter came straight to the hospital, she couldn't come in the ward; she just saw a glimpse of me and she just broke down. [...] I'm really quite angry about it all. I think it's taken unnecessary time and we're still getting all the correspondence. It's still ongoing, I'll just be glad now when it's all just finished."
– Patricia Tutton
Payout battle after pensioner nearly killed by falling sign
Patricia Tutton, 80, was nearly killed when the 4-stone sign broke free from the Mountain Warehouse shop in Falmouth, three years ago. The firm responsible for fitting the sign, New Life Signs Installations, was due to be prosecuted this week.
However, they have accepted a caution and agreed to pay their legal costs, thereby avoiding prosecution. Mrs Tutton, who has been left with long-term spinal injuries, believes that penalty is not enough.
A spokeswoman for the Maritime and Coastguard Agency confirmed Falmouth Coastguard had been involved in the rescue operation.
From our conversations with the members of Team Pacific Rowers over the previous 24 hours we understand that Britannia 4 had been gradually taking on more and more water and that despite the crew's attempt to stem the ingress, the water level became insurmountable and an evacuation was deemed necessary.

Our support yacht was despatched to their location earlier in the day and arrived on scene shortly before dusk. However due to dangerous weather conditions they were unable to attempt rescue themselves without risking the lives of the crew.
– Chris Martin, Race Director
The US Coast Guard rescued four males off an ocean rowing boat this afternoon,. They do not have any injuries and were safely recovered.
– Maritime and Coastguard Agency Spokesperson
Advertisement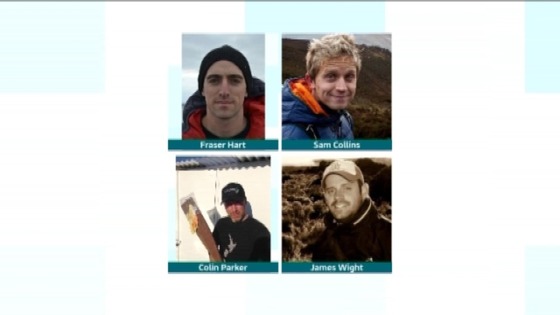 Four rowers have been airlifted to safety after their boat began sinking during a race across the Pacific.
Fraser Hart, 33, from Tunbridge Wells, Sam Collins, 24, from Cornwall, James White, 35, from London and Colin Parker, 35, from New Zealand, were taking part in the Great Pacific Race.
The crew set off to row the 2,400 nautical miles from Monterey, California to Honolulu, Hawaii on Wednesday.
Their boat began taking on water and despite their efforts to stem it, evacuation was deemed necessary when they reached 77 nautical miles due west of Morro Bay.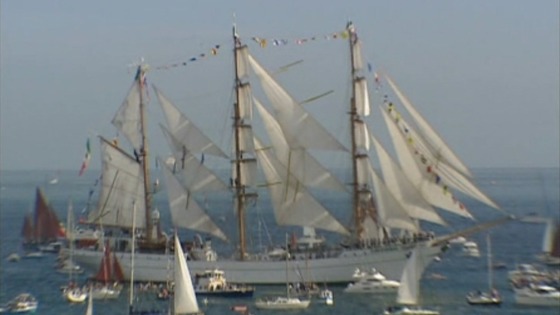 More details have been released today about the Tall Ships Regatta which takes place in Falmouth at the end of August.
47 vessels will visit the port, compared to just nineteen when the regatta was last held in Falmouth in 2008.
More than a hundred thousand people are expected to visit the event which will be held over four days before the ships head for Greenwich.
RNAS Culdrose helicopters in major exercise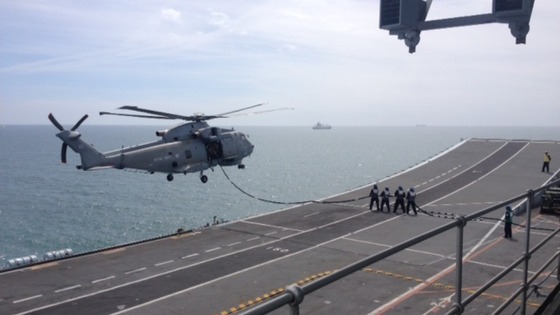 Helicopter crews from RNAS Culdrose are taking part in a major exercise off Falmouth on board aircraft carrier HMS Illustrious.You can see a full report on ITV West Country tomorrow from our Cornwall correspondent Steve Hardy.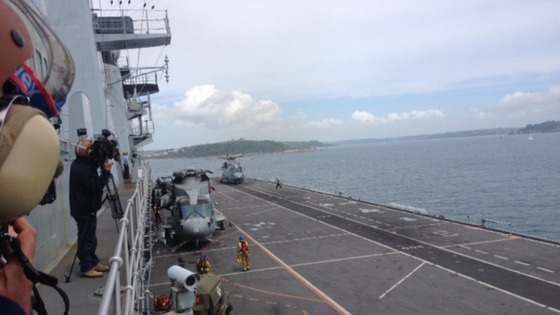 Police are warning Falmouth business owners to be vigilant and security-conscious after a spate of burglaries in the town. 30 small businesses and clubs have been targeted over the past six months.
Police advise that cash should be kept in a safe, tools and ladders locked away, CCTV installed and adequate, and that any objects near the premises that could be used to force entry should be removed.
Anyone with any information is asked to contact the police on 101, quoting police reference GP/14/818, or call Crimestoppers anonymously on 0800 555111.
Whilst this is a particularly rare occurrence in Falmouth and the town is still a safe place to live, it would be wrong for the police not to inform the public about what has been occurring. I would therefore ask, that if anyone sees anything suspicious or if businesses or clubs have customers or visitors who appear to be paying particular attention to the premises, then please report this to the police as soon as possible. Any information, no matter how small, may just add the missing link which will then greatly assist our investigations into the current series of burglaries.
– DS Trott, Falmouth CID
Load more updates
Back to top