A military hospital ship which left Falmouth in September to help combat the Ebola crisis in West Africa is to receive a special award.
The RFA Argus will receive an Admiralty Board Letter of Commendation. It's thought this is the first time the award has been granted to an operational unit.
During her deployment to Sierra Leone Argus has made a significant contribution to the UK's effort to halt the spread of Ebola.

She has helped to establish the crucial medical treatment centres and has provided vital transport capability allowing medical workers to reach the areas most affected by the disease and by providing medical reassurance to the British personnel deployed to the region.
– Defence Secretary Michael Fallon
An exhibition opens at Falmouth's maritime museum today showing the impact the Vikings had on Britain when they invaded more than twelve hundred years ago.
The south west was their first port of calls and they frequently raided settlements on the north Cornish coast.
Artefacts on display include the swords and axes they used in battle.
Gareth Williams is a Viking Expert.
Advertisement
Local residents today paid tribute to PC Hocking after his funeral.
He had time for everybody, he made everyone feel special, the quintessential police officer. He found time, he was compassionate and fair, he upheld the law, that's what the community wants, but he respected the community and quite clearly the community respected him. He was the epitome of what policing should be, but a family man who loved people, and people loved him.
– Chief Constable Shaun Sawyer of Devon & Cornwall Police
It's just the way he was, someone described him as Dixon of Dock Green, you know friendly, he always had a laugh and a joke with everybody and I think he used to go in nearly all the shops.
– Local resident
He did his job cheerfully and was sincere.
– Local resident
He was one of the best, he was good at his job and he was a gentleman, he had a laugh and a joke with everybody, he loved my dog and he'll be greatly missed.
– Local resident
Chief Constable Shaun Sawyer of Devon & Cornwall Police told ITV News it was an emotional day for Falmouth.
"I think everybody shed a tear today, including the Chief Constable. He had the love of his family and the love of the town."
– CC Shaun Sawyer
The funeral will take place today today of 52-year-old PC Andy Hocking, the Falmouth police officer who died suddenly nearly two weeks ago.
On Saturday around six thousand people turned up for a memorial walk in his honour. He was widely known in the town and had won awards for his work.
Chief Inspector Ian Drummond-Smith posted this picture of flowers left by the community after PC Andy Hocking's death on Sunday.
Members of public have left these flowers at the nick, in memory of the late PC Hocking. Fantastic community support http://t.co/GnPLfMLjBz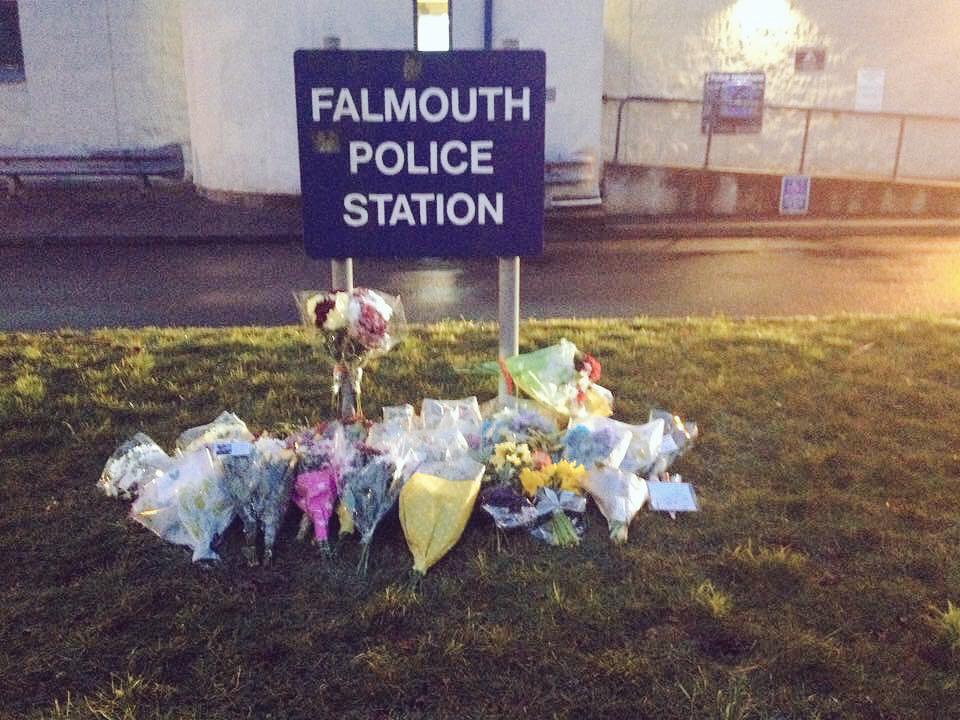 Advertisement
Devon and Cornwall Police has paid tribute to a serving officer who died on Sunday.
PC Andy Hocking, who served in the Falmouth Neighbourhood Team, died after falling unwell and leaves a wife Sally and two daughters, Gracie and Megan.
A book of condolence will be available at Falmouth Police Station during office hours on Monday and Tuesday.
There is a further book of condolence at the Art Gallery in the Falmouth Municipal Building.
PC Hocking was a printer before joining the force in March 1993. He was stationed at Camborne before being posted to Falmouth. He then became the Neighbourhood Beat Manager for Penryn before becoming the Falmouth Town Neighbourhood Officer.
Andy will be sorely missed by his family, colleagues and the community which he served with a smile for many years. For many Andy is the face of Falmouth and the town has lost one of its greatest icons.
– Falmouth Inspector Ian Thompson
A flower breeder from Falmouth says a cold and dry January means his daffodil crop has failed to flower in time for the first days of spring.
Ron Scamp,72, who has the world's largest collection of novelty daffodil varieties with 2,700 different types, says it is a marked contrast from last year where he had more than 250 varieties in full bloom. This year he has only about 10.
Commercial growers would normally expect their fields to be full of yellow blooms when 'meteorological spring' began on March 1st. Daffodil farmers believe the recent cold weather will delay the burst of colour by up to two weeks.
The 12.15pm and 12.45pm crossings have been cancelled on the St Mawes Passenger Ferry in Cornwall.
The services between St Mawes and Falmouth will not run because of poor sea conditions.
A war veteran from Falmouth and his family, who were denied social housing, are having their case reviewed - following pressure from forces charities.
Father-of-four Jamie Streets had to leave the army and couldn't work due to a brain tumour. His family were turned down as they were classed as having made themselves homeless.
Kathy Wardle has been to meet them.
We asked the Prime Minister what the government is doing to help Mr Streets. Here is his response:
Load more updates