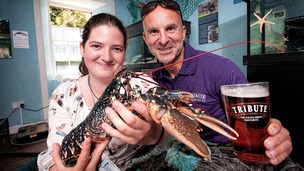 The fish in Falmouth Aquarium have been flailing in the summer heat. But help has come from an unlikely source...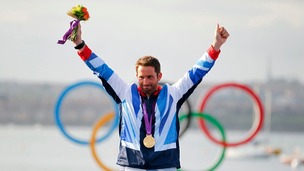 Four-time Olympic gold medal winner Ben Ainslie, who grew up in Cornwall, has announced his retirement from Olympic sailing.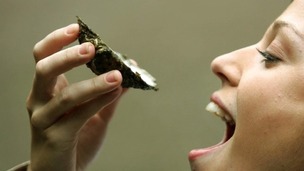 Falmouth Oyster Festival opens today, featuring cookery demonstrations by leading chefs.
Live updates
Two West Country sailors have completed the first leg of a gruelling yacht race off the coast of France.
23-year-old Sam Goodchild from Falmouth finished 8th after sailing the 500 and 36 miles from Bordeaux to Porto.
22-year-old Henry Bomby from Dartmouth finished in 28th place. 41 sailors are taking part in La Solitaire du Figaro - a month-long, 4 leg, single-handed sailing race.
Cornwall's first university
Cornwall can now officially boast it has its own university. The historic moment was marked today at a ceremony in Falmouth where the university is based.
As well as opening up more opportunities for investment, the step up to university status gives students in Cornwall the chance to study for degrees in their home county.
Advertisement
Cornwall's first university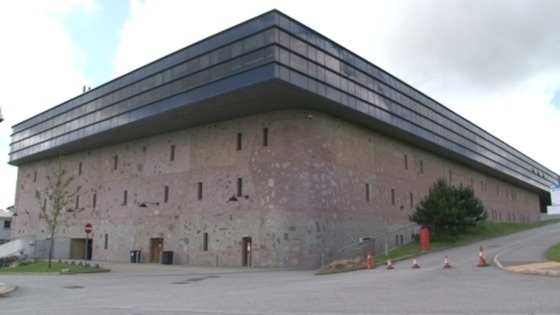 Falmouth can officially boast it has a university today with an inauguration ceremony taking place this afternoon. It's the first that Cornwall has ever had.
University College Falmouth was granted the status last December after a rigorous appraisal process.
People living near a dockyard in Cornwall say they are worried that fertiliser stored nearby could cause an explosion.
More than 4,000 tonnes of ammonium nitrate is kept at Falmouth docks, which can explode if heated or ignited. The company which manages the area, says that although there are potential risks, they are well managed. Mark Reynolds, Managing Director of A&P Falmouth explains.
A free-diver from Cornwall has plucked out a 16cm mussel while searching for shellfish in the Helford Estuary.
The species is usually found in the Mediterranean and experts say his discovery could mean the river's water is getting cleaner.
Here's Francesca Carpenter:
Stranded pilot whale
Crowds gathered to watch as rescuers attempted to help the young pilot whale stranded on Falmouth's Castle Beach. Unfortunately the animal had to be put down.
Advertisement
Stranded pilot whale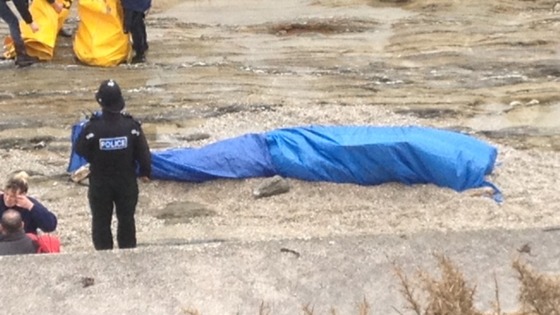 The whale's corpse remains on the beach while a decision is made on removal. Rescuers have now left Castle Beach at Falmouth after a vet put the mammal down.
Stranded pilot whale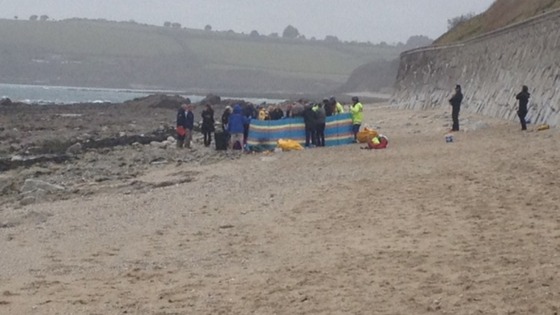 The young pilot whale found stranded on Falmouth's Castle Beach has been put down by a vet after examinations showed it was too poorly to survive.
Stranded pilot whale
Marine life rescue teams are battling to keep a whale alive after it was found stranded on a beach in Falmouth.
Initial reports suggested it was a dolphin but marine mammal medics have identified it as a young pilot whale.
Volunteers formed a human chain to pass buckets of water along Castle beach to pour over the animal to keep it cool. The whale has also been covered in wet towels and surrounded by a screen.
Experts from British Divers Marine Life Rescue (BDMLR) are monitoring the animal's breathing while they wait for a vet to say whether it is healthy enough to be refloated.
However they fear the worst because the whale's body condition is said to be "poor".
"We've got about 15 volunteer marine mammal medics on scene with specialist equipment.

They are monitoring its breathing, keeping it damp and trying to minimize the stress of the animal.

We are in consultation with a vet at the moment and it's up to the vet to say what the condition is and to decide whether we can attempt to refloat it.

At the moment I'm not sure if that's going to be possible."
– Julia Cable, BDMLR spokeswoman
Stranded pilot whale
A pilot whale has been washed up on Castle Beach at Falmouth.
It is hoped the stranded animal, which is still alive, will be able to be re-floated at high tide. Volunteers are currently trying to keep the whale wet with buckets of water.
Load more updates
Back to top