The fire at St Michael on the Mount destroyed a third of the unoccupied church's roof yesterday morning.
Read the full story ›
10 people had to be evacuated from a block of flats - and 6 had to escape through a window - after a fire was started deliberately.
Firefighters were called at half past midnight this morning (8/10) to The Court, Victoria Street, Taunton.
Ambulance and police also attended as people were reported as being trapped inside.
10 persons were evacuated from the property and 6 escaped through a ground floor window.
9 of them were treated for slight smoke inhalation and the fire was put out safely.
Police say the fire was started deliberately and an investigation has been launched.
Advertisement
What was left at Highbridge Caravan Centre after fire crews tackled a massive blaze - the fire caused more than £1m worth of damage.
Read the full story ›
A fire which tore through a family-owned caravan centre in the early hours has destroyed more than a hundred caravans worth over £1 million.
More than 60 people called the emergency services and a fleet of 10 fire engines were mobilised to Highbridge Caravan Centre in Somerset - where the blaze was eventually brought under control.
Philip Davies, Director of Highbridge Caravans, praised the quick-thinking actions of a security guard who raised the alarm.
We are devastated that this has happened...More than 100 caravans have been destroyed and as each has a value of around £10 to £15,000 the overall figure will be around £1million.

I'm thankful that our security guard spotted the fire early and thank the emergency services for their work - we had ten fire engines at the peak of the incident.
– Philip Davies
The cause is not yet known but it is originally through to have started in a shed or fence on the perimeter of the site.
No one was hurt, and since no buildings were damaged the workshop, sales area and awnings shop are still open for business.
Firefighters working to contain a huge fire which tore though a caravan centre in Somerset have confirmed that around 160 caravans have been damaged.
Crews are still damping down hot spots at the Highbridge Caravan Centre on Bristol Road.
No one was injured - investigations into the cause of the fire are underway.
Firefighters have spent the night tackling a huge fire at a caravan centre in Somerset which caused a series of explosions.
Read the full story ›
Advertisement
Emergency services were called to Tiverton Business Park this afternoon, where they found half a building "well alight".
Read the full story ›
Eight fire engines have been called out to a fire in a commercial building in Tiverton.
It's at the Tiverton Business Park.
Crews from Tiverton, Cullompton and Witheridge were originally mobilised - they called for assistance from another three trucks.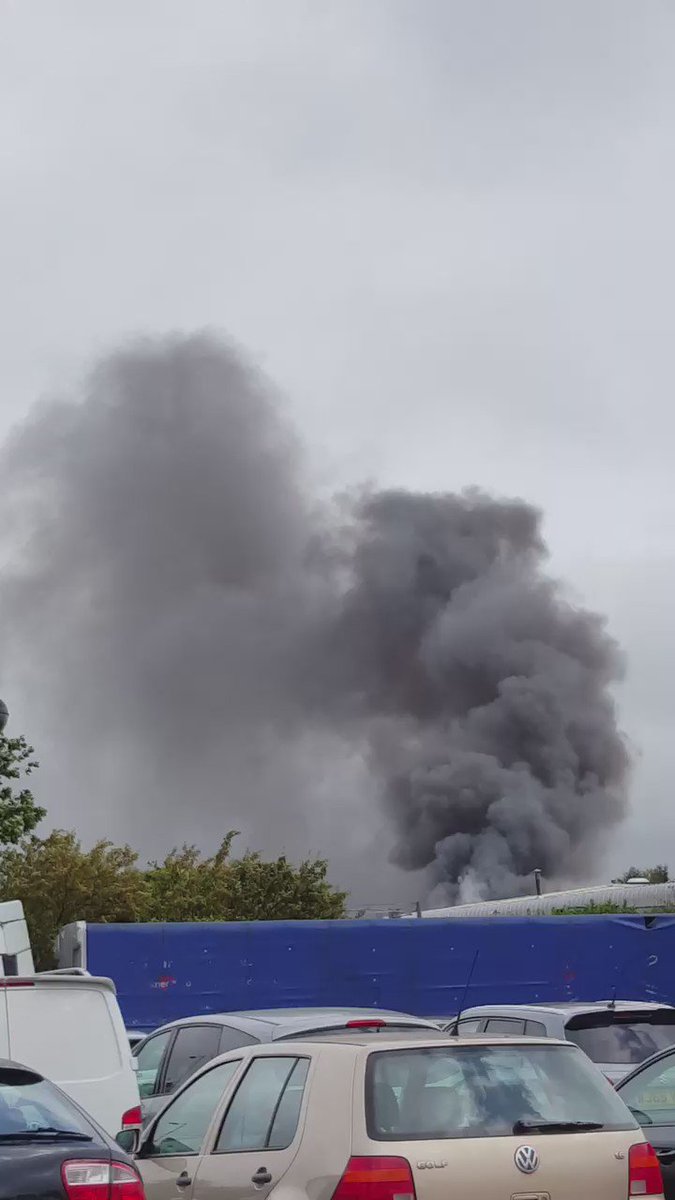 Fire fighters say that in a building measuring 100m by 40m over half the industrial units inside were well alight on arrival.
The Aerial Ladder Platform is also being used to tackle the fire.
Further updates to follow...
Two two-day-old puppies have been treated with oxygen after being rescued from a barn fire in Devon.
Read the full story ›
Nearly 60,000 birds had a lucky escape after a fire in a chicken shed.
Firefighters in Gloucestershire were called to a fire in Badgeworth near Cheltenham.
A farmer reported that the roof of his chicken shed was well alight, with more than 58,000 chickens inside.
Seven fire engines were called out to tackle the roof fire, and although a third of it was badly damaged, all the chickens inside were saved after an extractor fan was used to keep the smoke high up, close to the roof.
Due to the quick thinking and intuition of our firefighters we were able to rapidly extinguish the fire and minimise the damage caused, which successfully ensured the safety of 58,000 chickens. The welfare of the livestock and the business continuity were a key priority and we are pleased with the successful outcome
– Stewart Edgar, Gloucestershire Fire and Rescue Service
Load more updates