Nearly 60,000 birds had a lucky escape after a fire in a chicken shed.
Firefighters in Gloucestershire were called to a fire in Badgeworth near Cheltenham.
A farmer reported that the roof of his chicken shed was well alight, with more than 58,000 chickens inside.
Seven fire engines were called out to tackle the roof fire, and although a third of it was badly damaged, all the chickens inside were saved after an extractor fan was used to keep the smoke high up, close to the roof.
Due to the quick thinking and intuition of our firefighters we were able to rapidly extinguish the fire and minimise the damage caused, which successfully ensured the safety of 58,000 chickens. The welfare of the livestock and the business continuity were a key priority and we are pleased with the successful outcome
– Stewart Edgar, Gloucestershire Fire and Rescue Service
A huge fire which broke out at the start of the month and could be seen from across Cornwall is not being treated as suspicious.
Read the full story ›
Advertisement
Firefighters have successfully put out a giant fire at a recycling plant that caused mass disruption in Cornwall. Crews were called to the recycling yard next to St Erth station just after 8pm on Monday 8 August.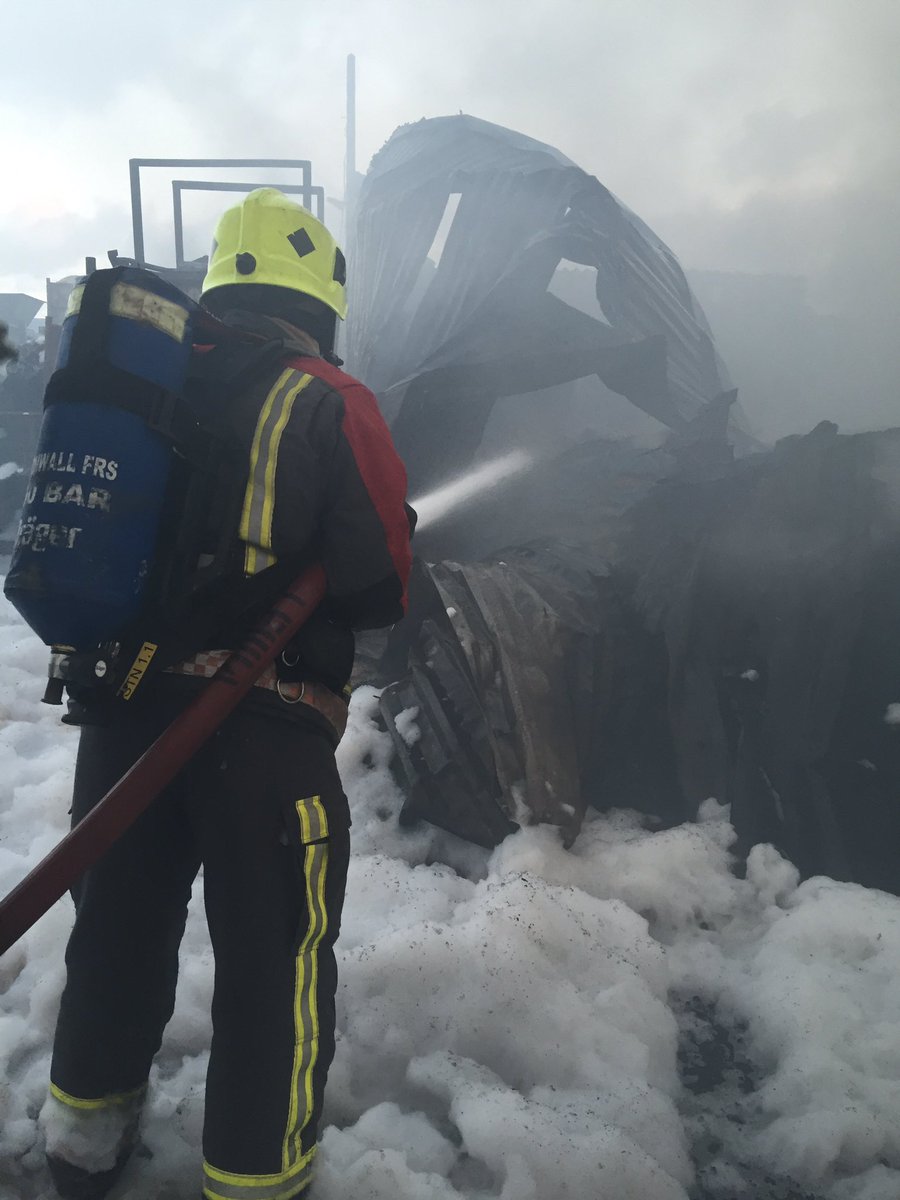 The owners of a recycling firm at St Erth, which has been burning all week, have thanked emergency crews and the community
Read the full story ›
Thousands of travellers have faced a day of disruption in Cornwall as roads and rail lines have been closed by a huge black cloud of smoke from burning tyres.
Here are the affected lines:
No service on CrossCountry between St Erth and Penzance. Tickets being accepted on Great Western Railway services.
Passengers may alternatively use bus routes 14,17 and 18. Services between Truro and Plymouth are not affected.
Replacement bus service running on Great Western Railway between St Erth and St Ives (Cornwall), and between St Erth and Penzance.
Sorry, this content isn't available on your device.
Advertisement
Crews are still fighting a huge fire at St Erth in Cornwall, which has caused major problems on rail and roads this morning
Read the full story ›
Firefighters are dealing with a "significant" fire at St Erth recycling centre. Smoke could be seen for miles across Cornwall.
Read the full story ›
Police are urging parents to remind their children of the dangers of starting fires after 60 tonnes of straw were set alight - it's thought on purpose.
Crews were called to land between Bratton Road and Lower Bratton Road in Westbury yesterday.
We are currently investigating reports that two youths, aged approximately 15-years-old were seen running from the area around the time of the blaze, in the direction of Westbury Road.

Fortunately, nobody was injured during this incident, but fires can very quickly get out of hand and could cause a huge amount of damage.
– PCSO Mat Katsande
Anyone with information should call PC Steve Porter at Warminster Police Station on 101 or Crimestoppers anonymously on 0800 555 111.
Richer Sounds in Exeter was destroyed in a major fire near Exeter city centre yesterday.
Read the full story ›
Load more updates