It was wet, it was muddy but it was typically Glastonbury. Take a look back at the best moments of Glastonbury 2016 with Ian Axton.
Read the full story ›
A selection of images from Glastonbury Festival where the music has begun and weird and wonderful things are going on
Read the full story ›
Advertisement
The Pee Power urinal designed by researchers at UWE is at Glastonbury Festival for the second year running. It turns pee into electricity
Read the full story ›
Glastonbury Festival founder Michael Eavis wowed the Thursday night crowds at Worthy Farm by performing karaoke.
It's something he's been known to do in recent festivals and this year he took on an Elvis Presley classic - 'Can't Help Falling In Love'.
The moment was recorded on Periscope by a festivalgoer. You can catch it her
Singer Billy Bragg led the crowd in a moving rendition of We Shall Overcome, in tribute to MP Jo Cox.
Read the full story ›
Glastonbury Festival has tweeted this warning to people queuing to come on site.
Carparks are open and traffic is coming onto site. If you are in a queue, please stay in your vehicle. It is not safe to stand on the road.
It follows long queues earlier today, after mud caused problems accessing the festival site at Pilton, although some late sunshine quickly dried much of the ground.
Advertisement
Organisers of Glastonbury Festival say the site is now fully open but to expect the usual queues. But the traffic congestion is still causing trouble for people trying to get about their daily business. Somerset County Council say some school buses have been cancelled but they are trying to keep parents updated with contingency plans.
"A number of school buses have been caught up in the traffic, and are running late or not at all. As the situation has unfolded, we have been contacting affected parents who have signed up to our text alerts system since 7.30am to keep them updated.

"We share parents' frustrations over this disruption and have staff working alongside festival organisers on site to help them implement their contingency plans.

"We would advise all members of the public to await official updates from the festival before making plans to travel."
– Spokesperson, Somerset County Council
Those people who have got on to the Glastonbury Festival site are now trying to get their belongings through the mud:
Three revellers stuck in traffic on their way to the Glastonbury Festival share their stories of frustration and optimism with ITV News.
Read the full story ›
Emily Eavis has apologised for the traffic congestion as thousands of people try to get onto the Glastonbury Festival site.
David Warburton, MP for Somerton and Frome took to social media to say the traffic was worse than it had been for years, while a school in Shepton Mallet posted on Twitter that all it's teachers had finally arrived at school by 10:30am.
#GlastonburyTraffic Not been so bad for years. Took the kids to school via a million back roads. Got there unfortunately for them. #Somerset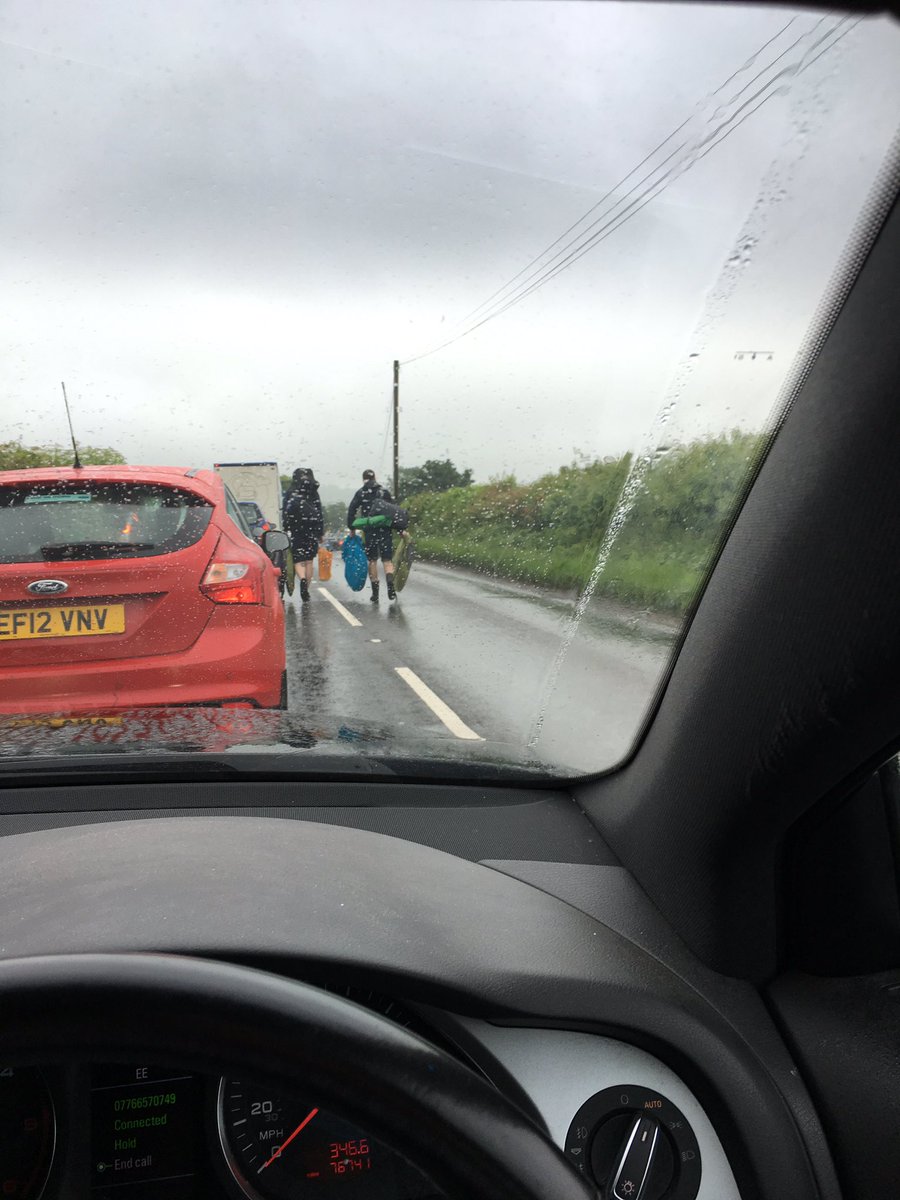 Leaving your Glastonbury Festival packing a little late? Don't worry, Kylie's got her top-five festival must haves.
Read the full story ›
Load more updates