With about 170,000 people at Worthy Farm in Somerset at the height of the five-day festival in June last year, Glastonbury is recognised as one of the biggest music gatherings in the world.
It may be the country's biggest festival, but most of Glastonbury's record-breaking revenues last year were absorbed by sizeable charitable donations and upkeep costs.
Pre-tax profits fell from £764,000 in 2013 to just £86,000 last year, new accounts show.
Despite a £25.9 million gross-tax profit, the proceeds were almost all used to cover administrative costs and to honour a commitment to donate a sizeable slice of the proceeds to charity.
Big fire somewhere in Glastonbury, it smells like burning plastic, hope no-one is hurt. http://t.co/mGT6lTNzjb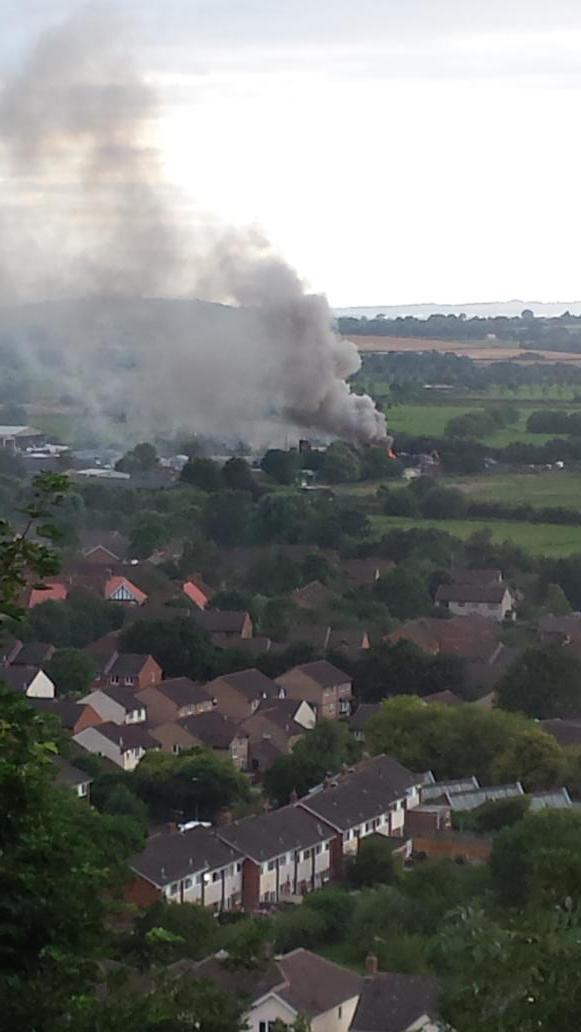 Firefighters are battling a large blaze at a scrap yard in Glastonbury.
Large plumes of smoke could be seen rising from the Thomas Way Industrial Estate at around 7.20 this evening. It is believed a large stack of scrap metal, around 10 metres high, is involved in the fire.
People living nearby are being advised to stay indoors with the windows shut.
There is a fire on the outskirts of Glastonbury can residents please remain indoors and shut windows
Advertisement
An impatient driver started his holiday off on the wrong foot when he tried to overtake a truck - and destroyed his £10,000 caravan.
This horrifying footage of the event was caught on lorry driver Nick Townley's dashcam, as he drove between Glastonbury and Street on Tuesday.
Nick says the motorist had been stuck behind the HGV driver for several miles after leaving the M5 in Somerset, but when he finally attempted to pass him at a set of lights he badly miscalculated.
As the road narrowed he lost control at 50mph and swerved in front of the lorry, sending his caravan into a lampost, smashing it to pieces and spilling the contents across the road.
The car crashed on the opposite side of the road - narrowly missing oncoming traffic - with what remained of the caravan still attached.
The 49-year-old driver who had been slowly accelerating his 22-tonne truck to nearly 30mph, hit his brakes and managed to perform an emergency stop in just 20 yards.
The founder of Glastonbury Festival has unveiled plans to build a £3 million heritage centre to celebrate the history of the town.
Michael Eavis wants to build the attraction at the listed 18th century St Dunstan's House, which is currently lying empty in the town centre.
It would tell the stories of Joseph of Arimathea bringing Christianity to Somerset, the history of Glastonbury Abbey, and the battles of King Arthur and Camelot.
Building houses on a flood plain is always a contentious issue, especially after what happened on the Somerset Levels last winter, but it's nothing new. Archaeologists have been looking at a site at Glastonbury where they did just that, more than 2000 years ago.
Glastonbury Lake Village was built on a man made island in the wetlands and it's been very well preserved.
Archaeologists Bob Croft and Richard Brunning told us more:
Archaeologists have been digging at the site of a 2,200 year old Iron Age settlement in Somerset.
Glastonbury Lake Village is one if Britain's best preserved sites from the era. It was last excavated over a hundred years ago.
Advertisement
The Glastonbury Festival is up and running. 175 thousand people are expected to descend on Michael Eavis's famous farm over the next three days.
As ever, one of the big talking points will be the weather and there is a threat of heavy showers over the Pilton site in the next 24 hours or so.
Our Somerset Correspondent David Woodland, who has experienced many festivals, will be enjoying - and enduring - the festivities along with everyone else.
Load more updates