The first of Great Western Railway's (GWR) new high speed trains failed to run on time this morning due to a train fault.
The Hitachi train was meant to carry passengers from Bristol to London Paddington this morning at 6am, but left 26 minutes late.
Our reporter on scene was told staff had difficulty coupling the carriages.
93 new Intercity Express Trains are expected to replace GWR's existing services by the end of 2019.
The upgrade project was reported to have been delayed and over-budget, but the new trains are expected to ease overcrowding.
The closure is due to a project to upgrade the Great Western mainline, for their new intercity trains to run.
Read the full story ›
Advertisement
The line is closed on Great Western Railway's services between Westbury and Chippenham due to a staff shortage.
Train services running through these stations are cancelled - the disruption is expected until 18:15.
A replacement bus service is running to take passengers between the two towns via Trowbridge and Melksham.
Passengers hoping to travel from or to Bath Spa are warned to check last train times before they travel - all lines closed after 9pm today.
Read the full story ›
Work on Bath Spa station will disrupt rail travel over the weekend. Some trains will be diverted and many will be replaced with buses.
Read the full story ›
No trains will stop at Bath Spa on the 8th and 9th April, as work takes place to get the station ready for new trains later this year.
Read the full story ›
Advertisement
From Saturday 8 April until Sunday 23 April, a major programme to modernise the Great Western Mainline will cause disruption at Bath Spa Station
The track is being realigned to allow the platforms to be widened ready for the introduction of longer trains later this year.
Many services between London Paddington and Bristol Temple Meads will be diverted and not call at Bath Spa.
Commuters are advised to check before travelling.
In Wiltshire, there are delays of up to 30 minutes on Great Western Railway between Westbury and Trowbridge. It's due to a broken down train.
Great Western Railway is advising passengers not to travel after a power failure earlier this morning caused a signalling systems failure between Bath Spa and Bristol Temple Meads.
Train services are being disrupted with no direct train service between Swindon and Bristol Temple Meads via Chippenham and Bath Spa.
It's the same story between Westbury and Bristol Temple Meads.
We are unable to source replacement road transport and advise customers not to travel
– GWR
Queuing systems are in place and journey times will be extended from following stations:
Chippenham
Bath Spa
Oldfield Park
Keynsham
Freshford
Avoncliff
Bradford-on-Avon
Trowbridge (for travel to Bath Spa and Bristol Temple Meads only)
The major disruption at London Paddington is expected to last until end of service on Saturday 18 June - that's the message from Network Rail. It means rail services travelling to and from our region are either cancelled or altered.
It comes after a train derailed in London on 16 June. The empty train caused damage to the signalling and the overhead wires after it derailed just outside Paddington station leading to mass disruption.
#LondonPaddington - Major disruption at London Paddington until end of service Saturday 18 June
The following alterations have been put in place:
Services from London Paddington to Bristol Temple Meads at 30 minutes past the hour will not run.
Services from Bristol Temple Meads to London Paddington on the hour will not run.
Services between London Paddington and Cheltenham Spa will run between Swindon and Cheltenham Spa.
Here's the amended timetable in full: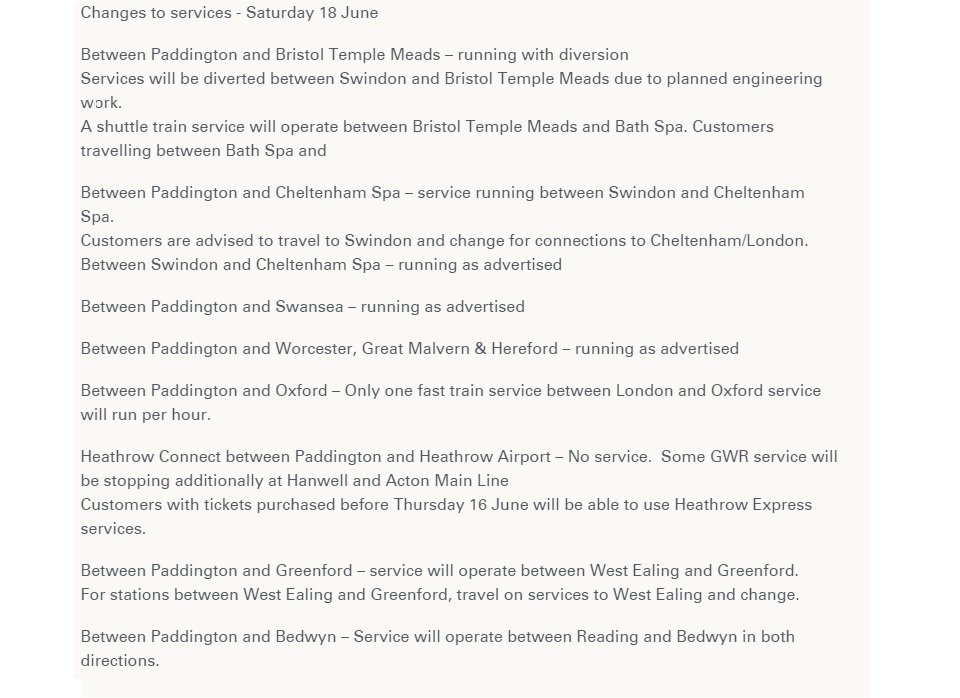 Load more updates