It is Flora Day in Helston when men and women and boys and girls take to the streets in a series of dances to bring on the summer.
It seems the whole town comes out to celebrate - whether dancing, playing or just watching from the sidelines.
The Liberal Democrats may have been facing a wipe-out across the West Country but it didn't stop former St Ives MP Andrew George taking part in one of Cornwall's most popular customs.
Andrew George has had a role in the celebrations for many years and today - even though he was still waiting for the result in his constituency - stepped up for the Midday Dance.
Later, Mr George was to find that he had indeed lost his seat - to the Conservative Derek Thomas by 2,469 votes. It was the last result declared in the General Election and completed the transformation of Cornwall from a Lib Dem stronghold since 2005.
A farmer has been ordered to pay more than £20,000 after a walker was seriously injured when she was trampled by cows.
Emma Smith was walking on a public footpath in Helston when she was run down by the animals. She managed to get to a nearby property where she was rushed to hospital.
The 40-year-old suffered punctured lungs, broken ribs and spinal and facial fractures. She was also left with deep cuts, wrist fractures and extensive bruising to her face and body. She spent five weeks in critical care and nine weeks in hospital.
At Truro Magistrates Court farmer Jonathan Bryany pleaded guilty to a breach of the Heath and Safety at Work Act and was fined £12,000 and ordered to pay £8,885 in costs.
Emma has been left with permanent injuries and was very fortunate not to have been killed in this totally avoidable incident. Cows with calves are naturally protective and can see people as a threat.

Farmers must be aware of the risks to people who are entitled to use a public footpath. Farmers and landowners should consider how this risk can be reduced such as using fencing, signs, temporary bypasses or moving cows with calves away from fields with public rights of way.
– Georgina Speake, HSE Inspector
Advertisement
A man has appeared in court accused of murdering a plumber from Cornwall with a crossbow.
Daniel Schofield has been charged with killing Roy Hanson at a remote farmhouse in Helston in October.
The 28 year old appeared at Exeter Crown Court and wasn't required to enter a plea. He spoke only to confirm his name at the preliminary hearing.
The case has been adjourned until next year.
Watch a video of Landewednack Primary School in Cornwall transformed to a winter wonderland.
It has that eerie quiet of snow before the first person sets foot on it.... let alone a whole class!
Pupils from Landewednack primary school on the Lizard have had a day to remember after snow fell overnight.
The winter wonderland came courtesy of Twitter's @thetwofairies, who go around the country carrying out random acts of kindness. In this case, snow is very unlikely to fall near the school, which is at the most southerly tip of the UK and the air is too salty.
See the children's reaction to their snow surprise:
Children arriving at Landewednack primary in Cornwall had the surprise of their lives today - snow had fallen overnight transforming the Victorian building into the perfect Christmas card.
The magical transformation is the work of a Twitter group @thetwofairies who specialise in random acts of kindness. You can see their mark on the side of the school.
By the wonders of modern technology, sorry, the wave of a wand, it was actually snowing as the pupils arrived.
It's a big surprise. Our school is the most southerly in the country and the air is very salty so we never get snow. Some of the younger children have never seen snow but this is the real thing - you can even throw snow balls.

The children will come back from half term ready to start their winter project. Short of a trip to the North Pole this is the next best thing.
– Louise Jones, Head teacher, Landewednack CP School
Advertisement
Two fairies who have taken to spreading their magic across the country have turned their attention to Landewednack CP School, the southernmost school in Britain where it never snows - except today.
The sea, the hills; Cornwall, you're enchanting! But no time to surf - your wishes need granting! #FollowTheFairies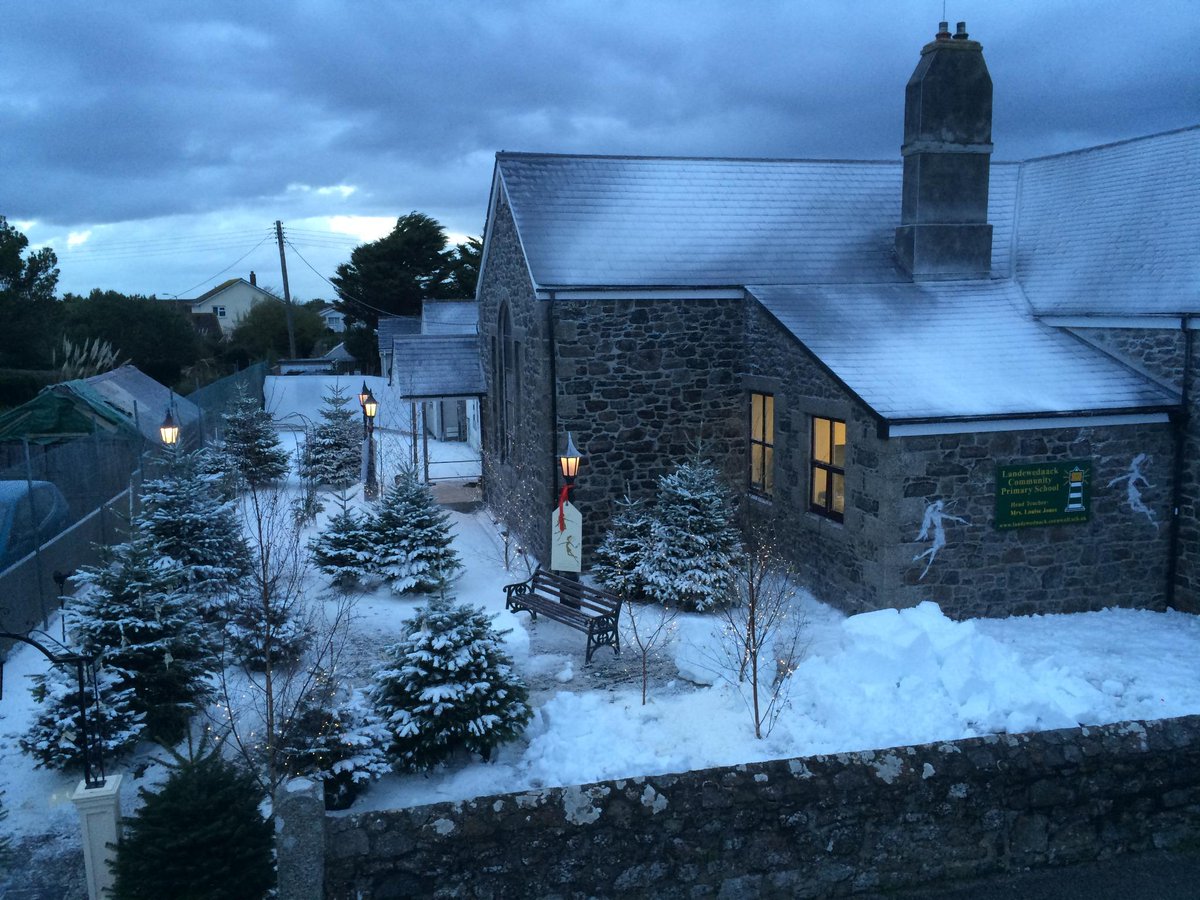 A man has appeared in court accused of murder yesterday for allegedly blasting another man in the chest - with a crossbow.
Paramedics were unable to revive 50-year-old Roy Handson after they were called out to a remote farmhouse in Helston, Cornwall on Saturday morning.
Devon & Cornwall Police said Mr Hanson was struck with a bolt from a crossbow.
Daniel Schofield, 28, of St Keverne, Cornwall, has been arrested and charged with murder. He appeared at Truro Magistrates Court today (Monday) and has been remanded in custody to appear at the city's crown court on 18 November.
A 28 year old man has been charged with the murder of another man near Helston yesterday. Police were called to a rural property outside the village of St Keverne yesterday morning. 50-year-old Roy Hanson died from fatal chest injuries. Daniel Schofield is due to appear in court tomorrow.
Police have launched a murder investigation following an incident near St Keverne, Helston this morning.
Officers were called to a rural property outside the village just after 9am after being alerted by the ambulance service that a man had suffered a serious chest injury.
The injured man was treated by paramedics but died at the scene.
A 28-year–old man was arrested at the scene on suspicion of murder and taken into police custody.
Load more updates