Holsworthy Hospital in North Devon has temporarily closed its inpatient services, following concerns over patient safety.
Read the full story ›
A Devon teacher who had a tumour the size of a melon removed after developing a rare cancer shares her story in the hope of helping others
Read the full story ›
Advertisement
A consultation is underway on proposals to halve the number of community hospital beds in North Devon to help save £11 million.
The Northern Devon Healthcare NHS Trust has come up with options, including losing two of the four community hospitals at Bideford, Holsworthy, Ilfracombe and South Molton.
It says it can look after significantly more patients at home than in hospital.
Six homes had to be evacuated after a tanker carrying 10,000 litres in Devon this morning.
Crews were called to the A388 at Holsworthy just after 8am, when the tanker, containing 10,000 litres of red diesel and 600 litres of kerosene went up in smoke. Overhead phone lines were also damaged.
The fire service is working with the Environment Agency to minimise any problems caused by the fuel, however no injuries have been reported.
Janet Acres sent us this video of the flames.
A tanker carrying 10,000 litres of diesel and 600 litres of kerosene has caught fire on the A388 near Holsworthy in Devon.
At least six fire engines are on the scene and residents living nearby have been evacuated. Nobody has been hurt.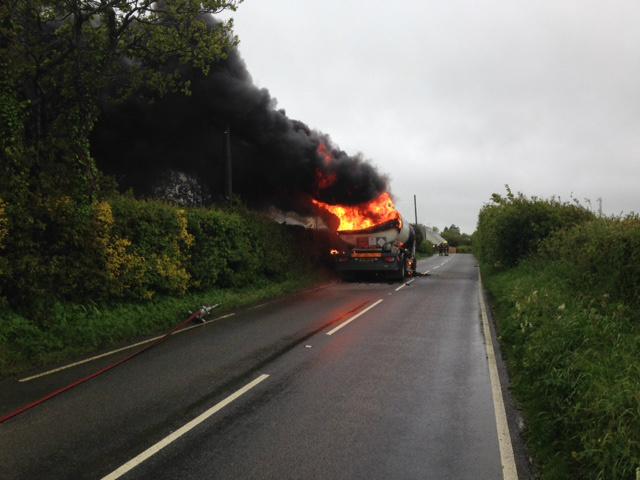 Hundreds of farmers across the West Country had cause to celebrate today, as a new livestock market opened in North Devon.
Most of the money for the building in Holsworthy came from a supermarket that bought the old town centre site.
Advertisement
A woman from North Devon is suing a hospital in Leeds after a four inch plastic tube was left inside her lung after an operation.
Read the full story ›
Police in North Devon are appealing for witnesses following two suspicious fires in Holsworthy.
A shed was destroyed yesterday evening in Quarry Park shortly before 8pm. The fire spread to a house, which was unoccupied at the time.
Early this morning emergency services were called to a caravan on fire in Chapel Street. The blaze spread to a house and three vehicles.
The fires are being treated as suspicious and police are considering the possibility that they may be linked.
They'd like to hear from anyone who witnessed the fires or has any information.
A four year old boy is being treated at Frenchay Hospital near Bristol for serious head injuries after a crash on the A3072 near Holsworthy.
He and a 32 year old woman were in a car, which overturned on the road. She sustained back injuries.
Police would like to hear from anyone who saw the accident, which happened between Weekstone Cross and Weekstone Cottage just after 1pm on Saturday afternoon.
A five year-old boy has been left with life threatening injuries following a car crash near Bude. The A3072 at Launcells was closed for several hours yesterday afternoon following the accident which involved just one car, a blue Honda.
The boy was airlifted to Plymouth's Derriford Hospital before being transferred to Frenchay Hospital in Bristol. Frenchay specialises in treating head injuries. Another child was in the car along with a female driver. The driver was taken to hospital, but it's not thought her injuries were serious.
Load more updates