The dismal weather didn't deter the crowds at the Cornwall Spring Flower Show this weekend.
The two day show, at Boconnoc House, near Liskeard, attracts around 8,000 visitors.
It has been held on the estate for 14 years and this year's event went ahead despite the death last year of the estate's owner Anthony Fortescue, the High Sheriff of Cornwall.
A large-scale search and rescue operation is underway in Cornwall after a man from London went missing from his holiday home in Liskeard.
Daniel Horton, 19, was last seen leaving his property near Kilham Farm on foot on Thursday afternoon. Officers say they are extremely concerned for his welfare.
This morning a police helicopter, dog unit and search and rescue teams are conducting extensive searches around the nearby woodland and River Fowey areas.
Daniel is described as 6ft 2ins tall, with short brown hair, clean shaven and he was wearing a blue FILA top.
Advertisement
Replacement bus services are running on Great Western Railway between Liskeard and Looe due to flooding at Looe.
The bad weather has meant that trains will be unable to run between Liskeard and Looe until approximately 12:45. Buses are replacing trains between these stations.
There is also a 50mph speed limit across the whole of the GWR network. Source.
The service between Par and Newquay is also affected by flooding at St Columb Road, which is expected to last until 14:00.
A woman is in hospital with serious injuries after a crash at Horningtops, near Liskeard.
The accident, which involved two cars, happened last night at a junction on the B3252. A man and a woman were taken to Derriford Hospital in Plymouth.
Police are appealing for any witnesses to get in touch.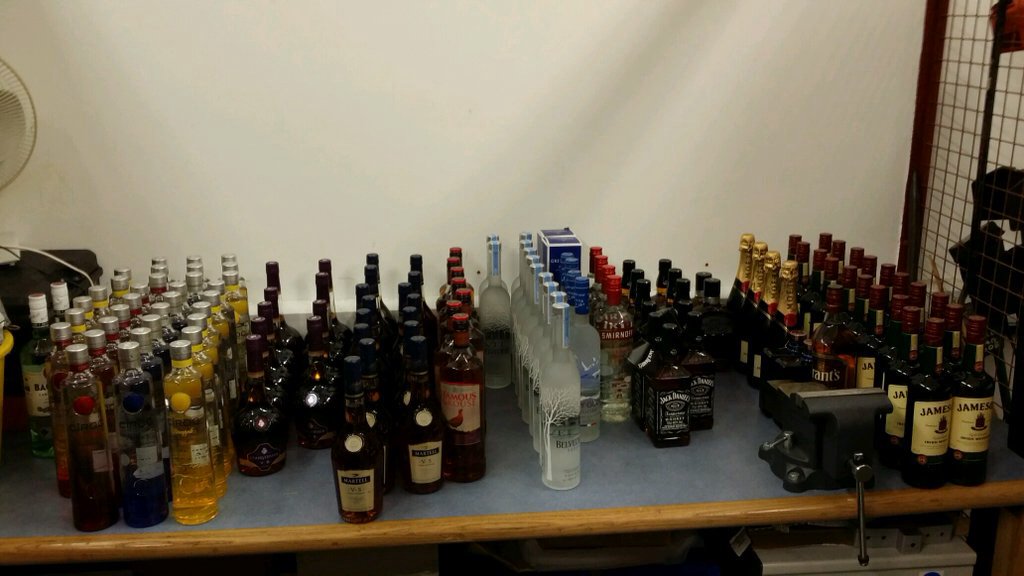 Three people have been arrested after a large of amount of alcohol, believed to have been stolen, was found in a car they were driving in Cornwall.
The car they were travelling in was stopped by police on the A38 near Liskeard shortly after 5pm yesterday (Dec 1).
Over 100 bottles of alcohol, including spirits and champagne, were seized by officers, along with the silver Nissan Qashqai they were driving.
Two men, aged 34 and 36, and a 19-year-old woman, all believed to be Lithuanian and from the West Midlands area, were arrested on suspicion of theft and taken to Newquay police station where they remain.
Missing Ronald Carter who disappeared from Liskeard has been found.
The 63-year-old was found by Cornwall Search and Rescue group and is being treated by Ambulance.
**APPEAL UPDATE** Ronald Carter found in Liskeard nr Copperfield Lane by Cornwall Search and Rescue group.... http://t.co/adjfQyYLDe
Advertisement
Police have launched an urgent appeal to help trace a missing 63-year-old man who has gone missing from Liskeard Hospital.
Ronald Carter is described as 5'9" tall with greying short hair who was wearing a red jumper over a white t-shirt. It is possible he is still wearing checked pyjamas with grey trousers over the top.
He does not drive but it is thought he may have got a taxi home. He may also be in the Torpoint area where many of his family live.
**URGENT APPEAL** Torpoint local Ronald Carter 63yrs old missing from Liskeard hospital last night. Log 857... http://t.co/ol7l7lAa9F
A Liskeard woman has told ITV News West Country of the 'devastating' moment she found a seagull attacking her pet tortoise.
Stig and his brother George were both in the family's garden, where they spent most of their days happily munching on the grass and wild flowers. Jan Byrne, 43, said she returned from work to find a large gull "pecking a lump" in the garden. To her horror, it was her beloved pet, Stig.
We kept them in the garden by day as vets said it was best for them to roam free and eat grass. I came home to find a Seagull attacking Stig. He'd been flipped on his back and was being pecked so viciously. It was horrible - I was shaking with shock.
– Jan Byrne
Stig died from his injuries two days later. Mrs Byrne told us about the attack, which happened three weeks ago, after seeing yesterday's news story about a pet dog that had died after a seagull attack.
Mrs. Byrne says there is no evidence of any seagull nests at their property, but is concerned that litter and rubbish left on streets in the area has been attracting the gulls to come and look for food.
Police are looking for information to help find 62 year old Lorraine Richens who is missing from Liskeard in Cornwall.
She walked out of her home at about 11 o'clock yesterday morning (May 14th) and may be intending to travel to Abingdon in Oxfordshire by train.
Lorraine has mousey blonde shoulder length hair and is described as being very thin.
When she left she was wearing her anorak over a pink and white sweatshirt and blue jeans
First Great Western's service between Liskeard and Looe is suspended due to a broken down train.
Replacement buses have been requested.
First Great Western have no estimate for when a normal service will resume.
Load more updates