A crew from Lostwithiel Fire Station struggled to get around two parked cars on their way to put out a vehicle fire on Sunday morning.
Read the full story ›
Firefighters used mud mats and lines to rescue a father and son, who got stuck in the mud. The duo had run aground in their kayak.
Read the full story ›
Advertisement
Organisers of a carnival in Cornwall have been told colourful bunting could be banned over health and safety fears.
Read the full story ›
The High Sheriff of Cornwall, Anthony Fortescue, has been pronounced dead at his home following a shooting incident.
Police were called to the Boconnoc estate in Lostwithiel yesterday.
They say they are currently investigating, but are not treating the death as suspicious.
Cornwall Council Chairman Ann Kerridge paid tribute to Mr Fortescue today.
"I am saddened to learn of the death of Anthony Fortescue, the High Sheriff. I have been fortunate to spend time with him at many civic events during the year at which he was always gracious and welcoming – a true gentleman.

On behalf of Cornwall Council I send our heartfelt condolences to his wife Elizabeth and their family at this extremely sad time."
– Cornwall Council Chairman Ann Kerridge
Police have been called to the Boconnoc estate in Cornwall after reports of an incident.
The police say they received the report just before midday at the estate near Lostwithiel. Police and ambulance are currently at the scene.
A source told ITV News that the incident involved a firearm.
A pickup truck was torn in half in an accident in Cornwall this morning.
The back of the truck was ripped off in a crash with a van near Lostwithiel.
Fire crews attended the scene at 6am. No one was trapped, although the van driver was reportedly taken to Derriford Hospital as a precaution.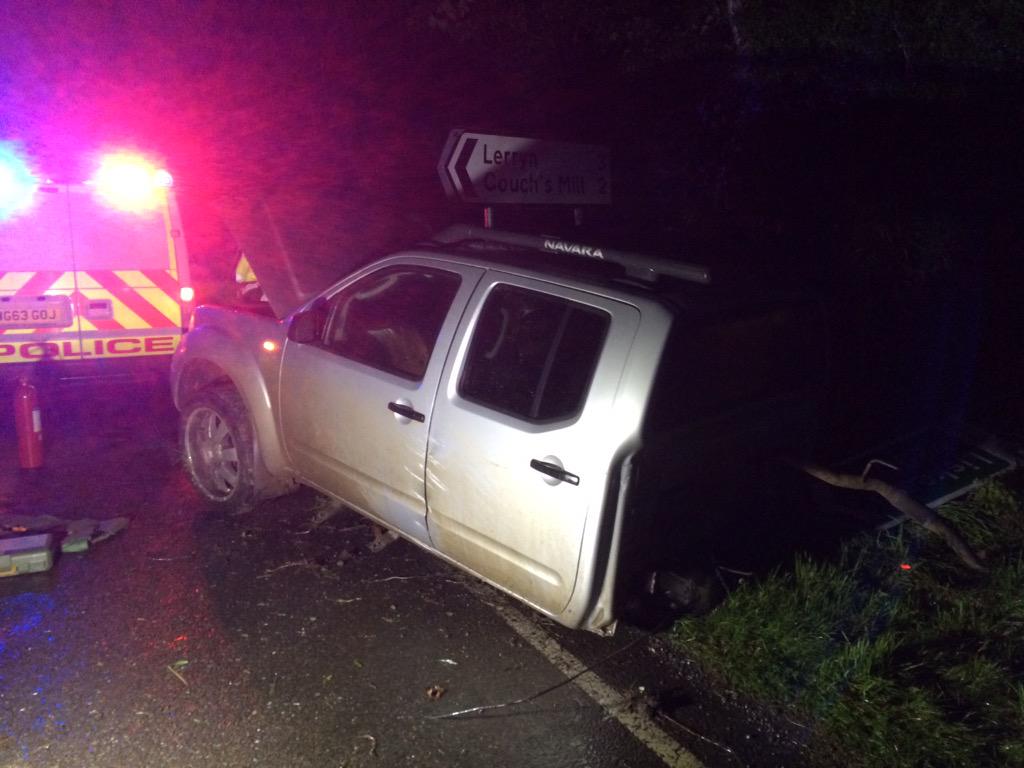 Advertisement
A project that uses ex-offenders to prevent flooding has proved such a success that it is going nationwide
Read the full story ›
A project pioneered in Cornwall in which ex-offenders help protect communities at risk of flooding is set to be rolled-out across England. John Pegg from the National Flood Forum says the project which began in Lostwithiel has been a huge success:
A five-year-old girl was killed by a vintage truck as she ran towards a helter skelter at a steam rally, an inquest heard. The coroner ruled a verdict of accidental death.
Tayla Saunders was knocked down and pinned under the wheels of an old-fashioned military Land Rover as it reversed in a field.
The youngster was with her foster parents who had lost sight of her for a few seconds at the Lanlivery Vintage Rally in Lostwithiel, Cornwall.
Tayla, a cystic fibrosis sufferer, was hit and suffered major injuries as she stopped to stare up excitedly at the helter skelter.
Paramedics were standing yards away and began treating the little girl within a minute, an inquest was told. Tayla, from Honiton, Devon, was airlifted to hospital but died shortly after the accident on 8th September last year.
A mother who lost her son to meningitis just two weeks before his wedding has launched a roadshow in Cornwall. Shane White from Lostwithiel was rushed to hospital after originally complaining of a sore throat and stomach ache. Just eight hours later he died.
Now Ros White is taking to the road to raise awarenesss of the signs and symptoms of a deadly disease.
Ros will be joined on her roadshow by Steve Dayman, the founder of Meningitis UK. To see our recent interview with him, click here.
To find out more about meningitis, click here.
Load more updates