A stranded sea turtle that was rescued and rehabilitated at Newquay's Blue Reef Aquarium has been released back in to the wild.
Read the full story ›
Business and political leaders urge final decision on airport expansion and reinstating Newquay air links with Heathrow
Read the full story ›
Advertisement
A lifelong Newquay resident and newspaper columnist has complained about what he calls "grot spots" in his home town.
Read the full story ›
An elderly woman and her blind dog have been rescued after being cut off by the tide in an estuary in Newquay.
Read the full story ›
Swanning around was all part of the job for one police officer when he found himself in a real-life Hot Fuzz rescue.
Reminiscent of the 2007 movie, which starred Simon Pegg and Nick Frost, police officers from Newquay were called to rescue a distressed swan.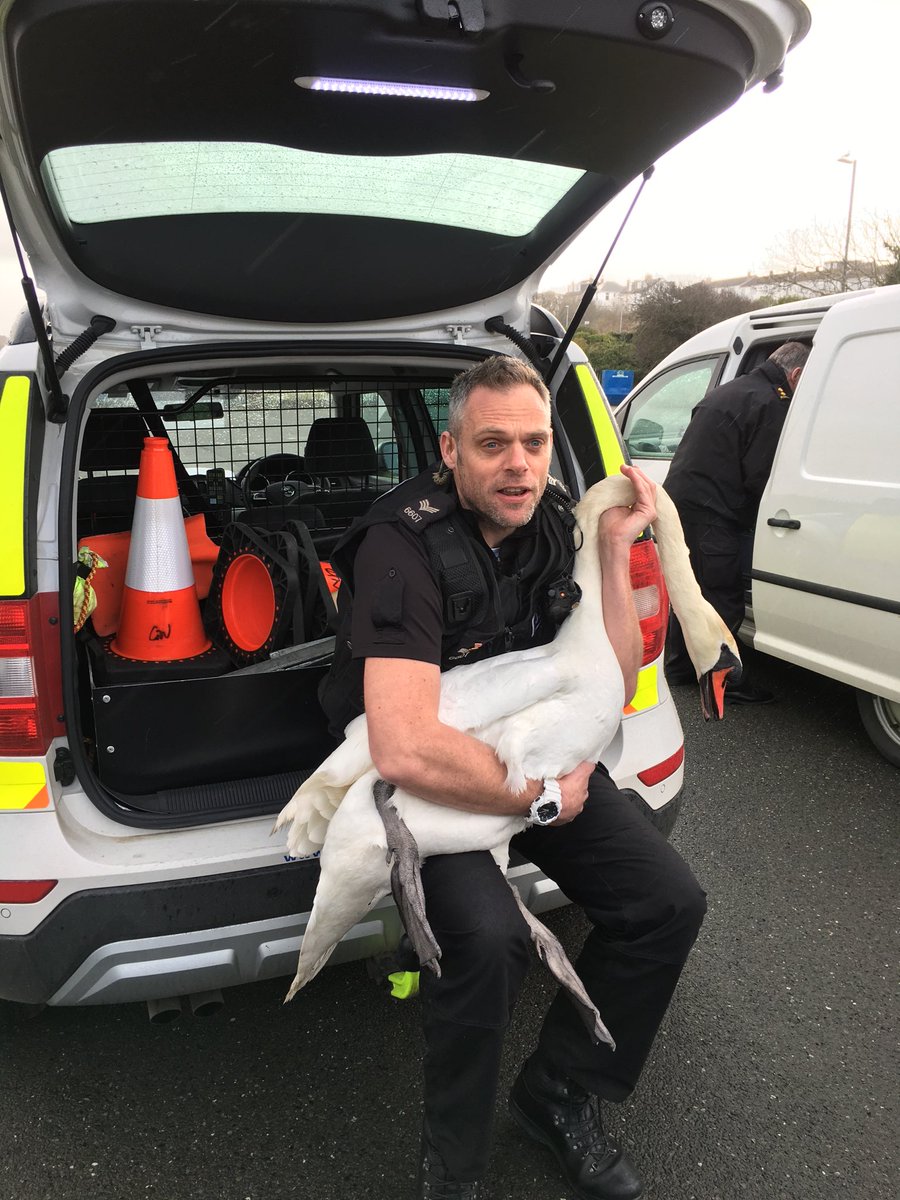 Posting the escapade on Twitter Sergeant David Nielson is seen calming own the swan in the back of a police car.
It was later taken to a safe location and released back into the wild.
Advertisement
This investigation is at a very early stage and enquiries continue to establish the circumstances around the deaths.

However at this time we are not looking for any other person in connection with this incident.
– Detective Inspector Ian Ringrose
Police have found a 70-year-old man and 69-year-old woman dead inside a house in Quintrell Downs in Newquay.
The woman's death is being treated as suspicious and an investigation has been launched.
A man who begs for money in Newquay says he's received death threats after being filmed getting behind the wheel of an expensive sports car.
Read the full story ›
A message in a bottle has been found on Lusty Glaze beach in Newquay, after travelling nearly 2400 miles from Canada.
The note was sent on 1st August 2014 by holidaymakers from Pouch Cove in Newfoundland, Canada.
The message was tracked across the ocean by Your Message in a Bottle and was discovered by Neil Purdy who has shared the following message:
"Hello, This bottle was given to me by my lovely wife Jen. We vacationed in Pouch Cove, NL in late July, 2014. I hope the one who finds this is as fortunate as I to have such an awesome and wonderful spouse."
– Robert Killoran
Load more updates