Two properties had to be evacuated after fire broke out underground in Trebarwith Crescent in Newquay. Some homes are still without power
Read the full story ›
A baby male crowned lemur - named Lakobee - is the newest arrival at Newquay Zoo and was born at the end of June.
Read the full story ›
Advertisement
Click on the tweet to watch the video: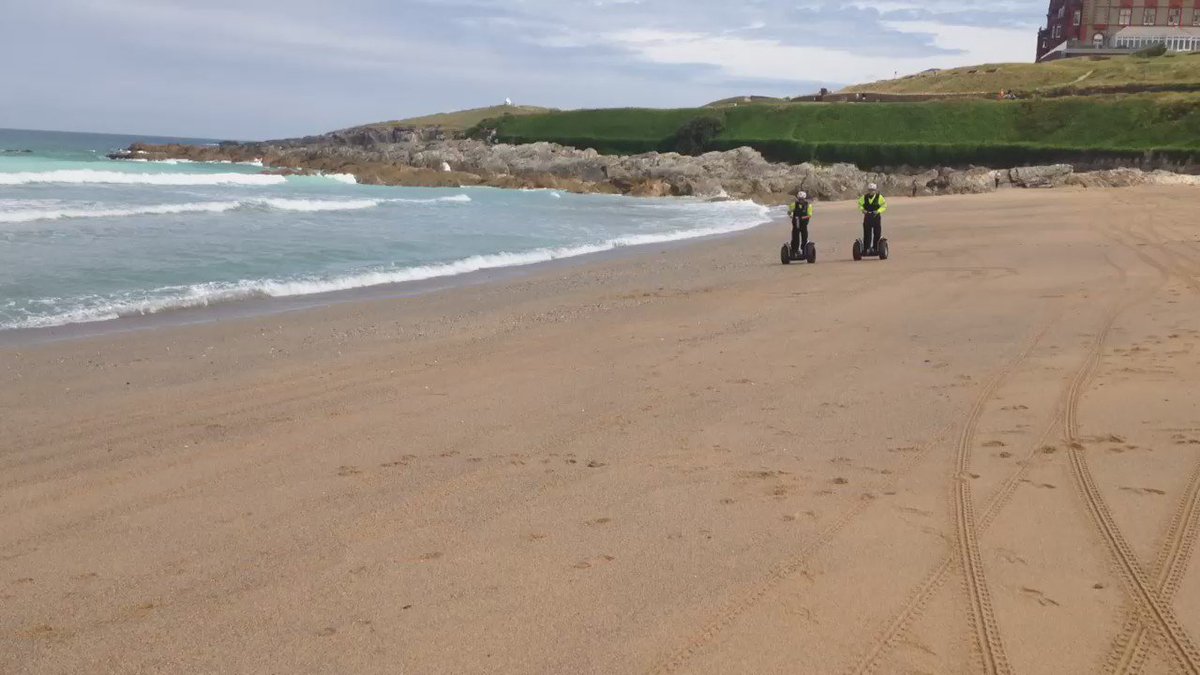 It's all part of Devon and Cornwall Police's campaign to keep the peace in the town.
Newquay police are to patrol beaches on a segway this summer.
Specially trained officers will use it on the sand to allow them reach anyone who needs help in a speedy fashion.
Officers say it will primarily be used for searching for missing people on the beaches around the resort and for patrols by neighbourhood officers.
The electric vehicle is being loaned to the force, free of charge, by a national segway company.
It won't be used to patrol pavements, roads or the town centre.
This is a new approach to policing our beaches and I am delighted that Newquay police have embraced the use of a Segway to enhance our patrol cover of the town's beaches. The Segway supports the force's green agenda and gives local officers the ability to search and patrol large beach areas that would otherwise be challenging to access. It will enable officers to talk to visitors and residents throughout the beach areas, and have a positive impact on public confidence.
– Inspector Dave Meredith, Devon & Cornwall Police
Keepers at Newquay Zoo are bidding a fond farewell to their beloved baby red panda.
Eight-month-old Hu, who was born at the zoo in November, is to go to Bojnice Zoo in Slovakia where he will join conservation efforts to save his species from extinction, staff say.
The red panda's status on the International Union for the Conservation of Nature's Red List of Threatened Species has been classified as "endangered. It's hoped that Hu will become part of a breeding pair.
Hu was the first red panda that we have bred at Newquay Zoo and we were delighted when he was born, but we are even more pleased that he will now go on to hopefully become a father to his own offspring.
– John Meek, Newquay Zoo
A stranded sea turtle that was rescued and rehabilitated at Newquay's Blue Reef Aquarium has been released back in to the wild.
Read the full story ›
Advertisement
Business and political leaders urge final decision on airport expansion and reinstating Newquay air links with Heathrow
Read the full story ›
A lifelong Newquay resident and newspaper columnist has complained about what he calls "grot spots" in his home town.
Read the full story ›
An elderly woman and her blind dog have been rescued after being cut off by the tide in an estuary in Newquay.
Read the full story ›
Load more updates