A team of marathon runners from Cornwall are celebrating after their syndicate scooped an incredible £1,000,000 on the EuroMillions
Read the full story ›
A firm in Cornwall has created a Cake-o-Matic machine inspired by Wallace and Gromit. And yes it really does produce tiny cakes
Read the full story ›
Advertisement
The planning application to build a replacement heliport in Penzance has now been submitted.
Read the full story ›
Cornish rower Helen Glover knows her family will be behind her as she goes for another Olympic gold - they've travelled to Brazil too
Read the full story ›
Lewis Nicholls says he is "overwhelmed" by the kind messages he has received after proposing in front of thousands at the Eden Project.
Read the full story ›
Police are appealing for witnesses to come forward after three people were seriously injured in a car crash in Penzance.
It happened on Penzance Road in Pendeen on Saturday 25 June.
A silver coloured Honda Civic containing a 49 year old local female occupant was travelling away from Pendeen and for reasons yet to be established has strayed in to the opposite carriageway and collided with a red Peugeot 106 containing a 42 year old local female driver and a 69 year old male front seat passenger.
– Devon and Cornwall Police
All three people were seriously injured. Both drivers were taken to Derriford Hospital, one by air ambulance.
The front seat passenger of the Peugeot is currently being treated at Treliske Hospital.
Can you help?
Police from the Serious Collisions Investigation Team are appealing for witnesses to this incident to contact them on 101 quoting log number 647 of the 25th June 2016.
Advertisement
A number of colourful parades have wound through the centre of Penzance for the Mazey Day celebrations, which form part of the Golowan festival.
It celebrates the arrival of mid summer and is one of the biggest street events in the South West.
Organisers say it's a colourful community festival which blends Cornish tradition with contemporary imagery and ritual celebrating the traditional Feast of St John. Golowan.
One of the favourites was the parade involving children from schools in the area as well as local musicians.
A reduced service on Great Western Railway between London Paddington and Penzance is operating a train derailed in London last night.
The empty train caused damage to the signalling and the overhead wires after it derailed just outside London last night.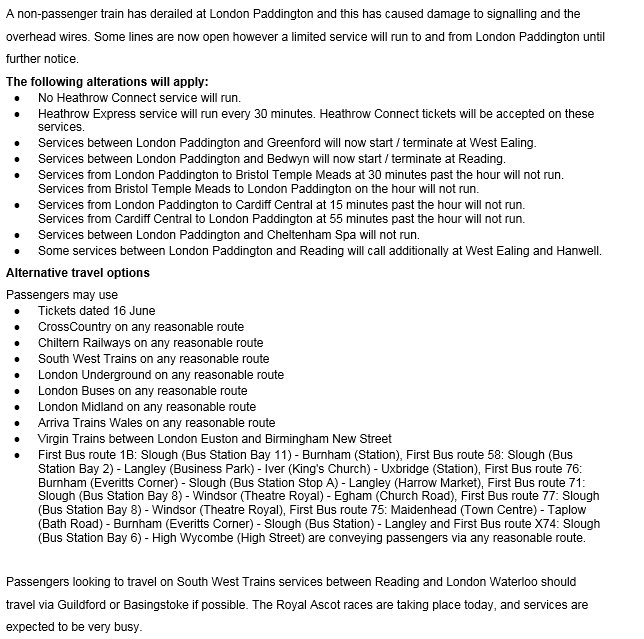 Sunday's spring tides and strong winds combined to create some exceptional conditions here in the West Country.
The Abbey slip in Penzance was submerged by the rising sea levels - but this driver was filmed risking his life by trying to drive across it:
At one point you can see the vehicle being moved by the tide.
This video was shot by Adam Lobb in Penzance - and thousands of people have already watched the footage Adam posted on Facebook.
He said he thought he was going to have to jump in to rescue the motorist after it pauses midway across to let a particularly big wave surge through.
"He thought the water was more shallow than it was, he's not some idiot that was going for a thrill, he just didn't expect it to be that bad."
This driver managed to make it across the path and away to safety.
However, Fire and Rescue services, as well as the RNLI, have warned drivers in thee past about the dangers of driving through flood and surface water.
The wild weather over the weekend prompted particular warnings about cars at the coast.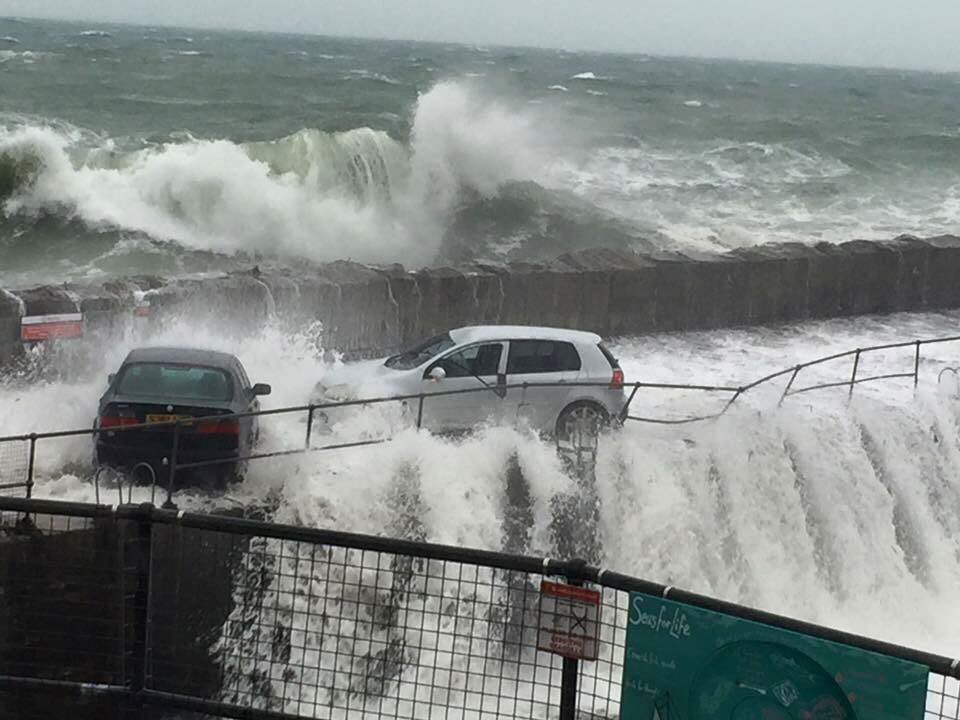 Load more updates