A British ventriloquist, who's appearing in a Devon pantomime at Christmas, has won this year's America's Got Talent.
43-year-old, Paul Zerdin claimed the title with his puppet Sam. He will star in Cinderella, at theTheatre Royal in Plymouth, alongside the fashion expert Gok Wan.
Our political correspondent Bob Constantine spoke exclusively to the wife of jailed Royal Marine Alexander Blackman, Claire, following the debate in parliament, which she said left her feeling "very positive".
Advertisement
The wife of jailed Royal Marine Alexander Blackman has been in Parliament today as MPs debated his case. Plymouth-based Sgt Blackman is serving an eight-year jail term, after being convicted of murdering a wounded Taliban fighter.
Claire Blackman has said she will not give up the fight to clear his name - and described today as 'a good step forward'.
Supportive MP Richard Drax described Sgt Blackman as a "decent man pushed beyond endurance", however today the MoD agreed to release a full report which accuses him of slipping to "unacceptably low standards".
A review has found that Royal Marine Alexander Blackman - who is in jail for the murder of a Taliban insurgent in Afghanistan - let professional standards "slip to an unacceptable low level".
The redacted internal report, released by the Royal Navy, said Sgt Blackman showed 'poor leadership' and 'moral disengagement' when he shot a wounded insurgent in 2011.
He is serving an eight-year jail sentence after being convicted of murder by a court martial.
His wife, Claire, is leading a campaign to free her husband, which has gained the backing of MP Richard Drax and author Frederick Forsythe.
Sgt Blackman allowed professional standards to slip to an unacceptable low level at CP Omar.

His poor leadership was a significant contributory factor in the way the insurgent was treated by other members of the patrol.

Sgt Blackman's rank was a significant contributory factor in preventing others within the patrol from questioning his orders or challenging his actions.

Group conformity and the patrols positive past experiences of Sgt Blackman may also have contributed.

Moral disengagement on the part of Sgt Blackman and the members of his multiple was a significant contributory factor in the handling and shooting of the insurgent.

The difficulty experienced by Sgt Blackman in changing from a mind-set which required him to kill an enemy to one which accepted having to administer first aid to an enemy in order to try and save his life, was a contributory factor in his treatment of the insurgent.
– Royal Navy internal report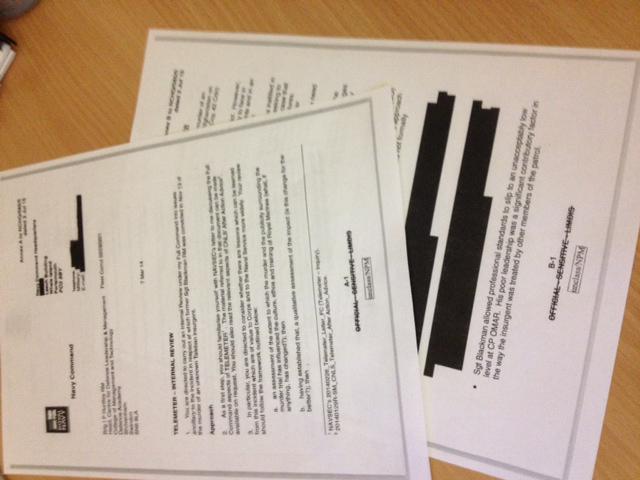 The first new mine in Britain for nearly half a century is celebrating its official opening tomorrow, as it ships its first consignment of tungsten ore.
The huge open-cast mine on the edge of Dartmoor near Plymouth is set to become one of the world's biggest producers of the super-hard metal
Advertisement
MPs will today get their chance to debate the case of Plymouth-based marine Alexander Blackman, also known as Marine A.
Sgt Blackman was convicted and jailed for the murder of a wounded Taliban fighter in Afghanistan. Supporters, including MP Richard Drax, say the verdict should be reviewed in the light of new evidence about combat stress.
The wife of a Plymouth-based Royal Marine convicted of murdering an injured Taliban gunman, has today thanked supporters who've backed a new campaign to reopen his case.
Sergeant Alexander Blackman was jailed after shooting the Taliban fighter in Afghanistan - the man had already been wounded in battle. A top lawyer has now been secured to examine Sergeant Blackman's case, and pressure is mounting ahead of a parliamentary debate tomorrow. His wife Claire says they will not give up.
Our political correspondent asks the question, what does a Corbyn victory mean for Labour in the West Country?
Read the full story ›
The Cornish charity Shelterbox says it's worried about what will happen to people fleeing to Europe in the winter.
Read the full story ›
Load more updates