An RNLI crew were met with some unusual tag alongs as they rushed to attend a boat fire.
A group of dolphins leapt to see what all the fuss was about as the Lizard lifeboat launched to the MFV Francine after it suffered a fire 32 miles south of Lizard Point.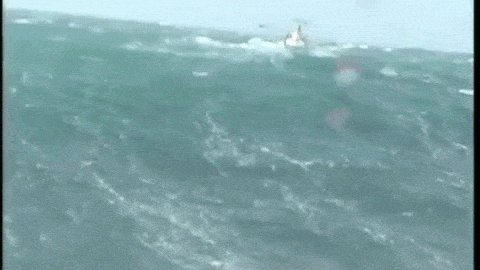 The Coastguard helicopter also responded and lifted three crew, suffering smoke inhalation, from the beam trawler.
They were flown to Royal Cornwall Hospital, while the MFV Francinne made its way to Newlyn.
RNLI volunteers spent more than 24 hours at sea amid high winds and big swells to rescue the crew of a cargo ship near North Devon.
Read the full story ›
Advertisement
A major air and sea was launched by the RNLI - to track down a blow up doll.
Both lifeboats, coastguard and the rescue helicopter were scrambled after an angler reported a body in the water near the Huer's Hut in Newquay.
They took part in a 90 minute sweep of the bay before discovering the cause of concern - an inflatable doll.
Alerted 6.38pm, 999 call from rock-angler reporting person in the water near the Huer's Hut. Both lifeboats launched https://t.co/bpqx6QqXLE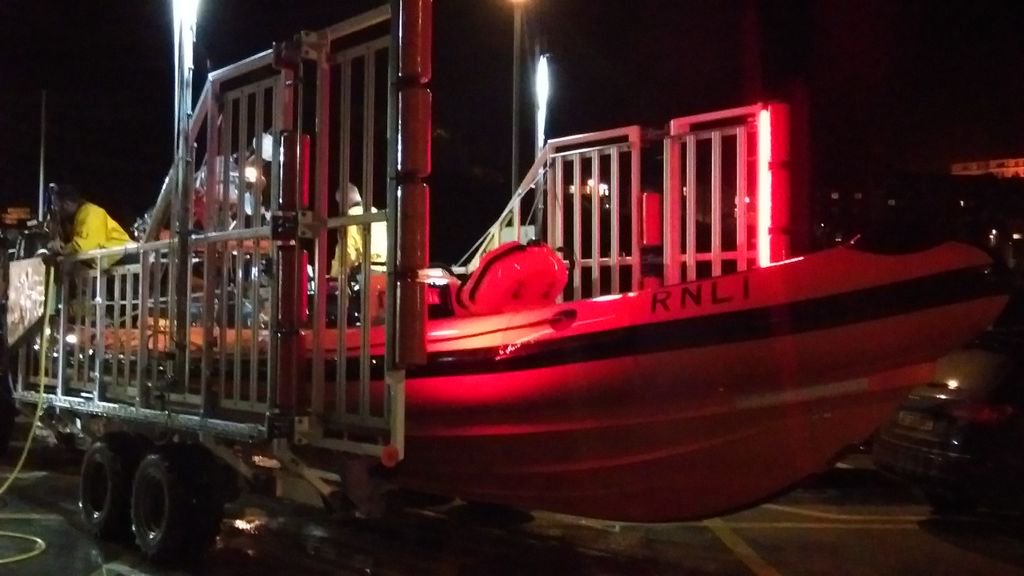 @newquayrnli Our @rnli crews searched for more than 90-minutes, along with Newquay coastguard rescue team and Coastguard rescue helicopter.
@newquayrnli Object found by helicopter and recovered by our @rnli volunteers. It was an inflatable doll, thankfully nobody in difficulties.
But despite the confusion the RNLI have urged people to report anybody in difficulty in the sea, no matter what the consequences.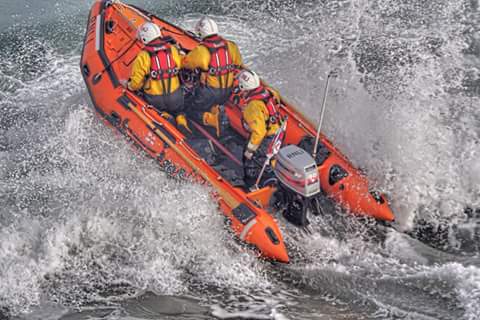 Volunteers from the RNLI in Dartmouth have joined services from across the country to help people caught up in floods in Cumbria.
Rescue teams helped to evacuate more than 300 people and are continuing to help in affected areas.
Two very brave Dart Lifeboat men, Chris Tracey and Yorkie Lomas are on their way up to Cumbria as I write this... https://t.co/g2Xoi88SLj
RNLI lifeguard patrols have now finished on the majority of beaches across Devon and Cornwall as the summer draws to a close.
But lifeguards will remain on duty into October on a number of the region's busiest beaches for those people wishing to get into the water in the autumn.
A fisherman pulled from Salcombe harbour has been named as 51-year-old Gary Steere.
Police say they are treating his death as non-suspicious.
Mr Steere, from Kingsbridge, is believed to have gone fishing early on Thursday and was reported missing at around midnight.
Both the Coastguard and a helicopter from Chivenor were involved in the search.
A body was discovered near Gara Rock at around 3.20am and was later taken to Derriford. Family have been informed and formal identifdication of the body has taken place.
– DEVON AND CORNWALL POLICE
Advertisement
A man's body has been recovered from the water near Salcombe after a family raised the alarm a shore fisherman hadn't returned.
The all-weather and inshore lifeboats were both launched from Salcombe RNLI at 2.10am and carried out a shore line search.
Sadly a casualty was recovered from the water at 3.26am.
ALB & ILB launched at 2.10am to reports of an overdue shore fisherman. A casualty was located at 3.26am & handed over to paramedics.
Chapel Porth and Porthtowan RNLI lifeguards were involved in three rescues in one day on Wednesday (12 August).
They rescued five young people, three who became caught amongst strong rip currents and two who were cut off by the tide.
Conditions at Chapel Porth have been challenging throughout the summer with a strong rip current and Wednesday was no exception.
The lifeguards patrolling Chapel Porth spotted a father and son drifting across the water on their bodyboards due to the strong rip current. Senior RNLI Lifeguard, Tom Evans, quickly responded on the rescue board and headed over to the scene.
On arrival he placed the young boy onto the rescue board and bought him safely back to shore, whilst the boy's father was assisted back by local surfer, Jimmy Pinfield. Both father and son walked away uninjured.
Over at Porthtowan beach, lifeguards Mark Evans and Kian Harris were patrolling the beach in the Inshore Rescue Boat (IRB) when they noticed two young children, just outside of the red and yellow flags, also caught amongst the rip current. They quickly placed the two children on board the IRB and bought them back to shore uninjured.
Later on in the day, Mark and Kian were driving the IRB towards Chapel Porth when they noticed two children unable to get back to Porthtowan due to the tidal cut off.
Both children were brought back to the shore safely and reunited with their father.
We want everyone who visits the beach this summer to have fun, but stay safe whilst doing so.

In order to do this, always listen to the lifeguard's advice and swim between the red and yellow flags.

If you become caught amongst a rip current on a bodyboard, stay with your board, wave one hand and the lifeguards will quickly come to assist.
– Drustan Ward,Lifeguard supervisor RNLI
Exeter school children had to cut their visit to a lifeboat station short after crews received an emergency callout.
The 48 children from Exminster Primary School were evacuated from the building when pagers sounded to alert volunteers of the incident. As they raced to the boat the school group cheered the team on as it launched into the sea.
The crews then raced to the scene where a 27ft motor cruiser was reporting difficulty having become entangled with a pot buoy. A floating rope, attached to a pot buoy, had wrapped itself around the steering mechanism.
Crews searching for a missing fishing boat in the sea off Plymouth have discovered some wreckage.
The alarm was raised last night by the father of one of the two people on board the scalloper, the JMT, They had gone on a fishing trip near Eddystone. Lifeboats from Fowey, Looe and Plymouth as well as the Royal Navy search and rescue helicopter from Culdrose
Load more updates