A woman and baby have been taken to hospital after the car they were travelling in crashed into a house in St Austell. It's thought the injuries are not life threatening
It happened on Carwollen Road around lunchtime today and it's thought no one was in the house at the time.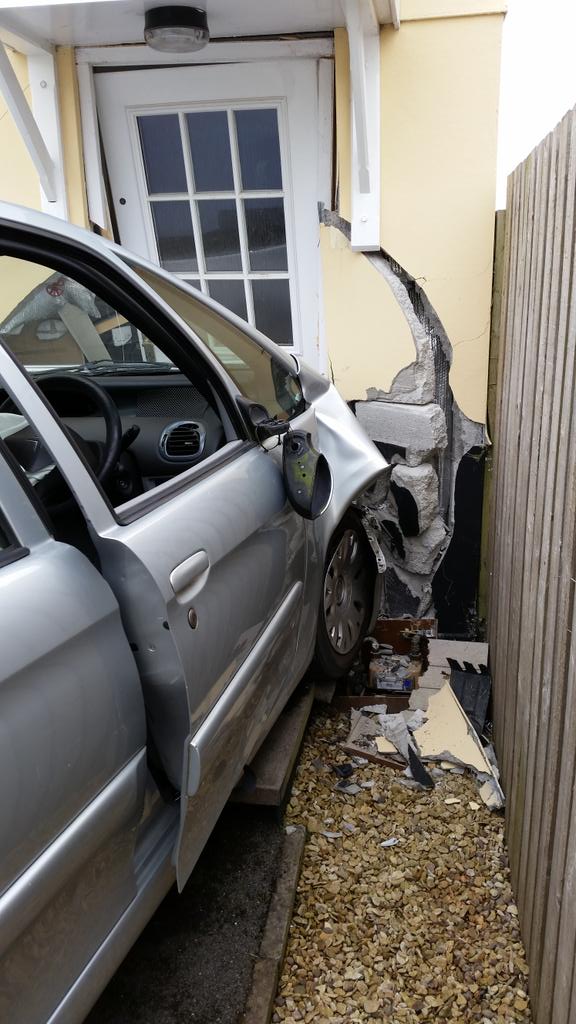 The collision caused a gas leak and engineers were called in to deal with the problem and remove the car.
West Country hospitals are being fined millions for failing to meet targets.
A&E waiting times and ambulance handover deadlines are among the problems which have cost Devon hospitals over £6.5m and the Royal Cornwall Hospital Trust, which has a £7m deficit, over a million pounds.
The nationally agreed targets are set every year by NHS England. Local clinical commissioning groups hold the hospitals to account by levying fines, reinvesting the money into schemes to improve services.
Derriford Hospital in Plymouth was charged £4.8 million, but received half back in compensation.
In 2014/15, we paid fines of £4.8m. We received £2.89m in compensation.

In recognition of the exceptional emergency pressures faced by the Trust, commissioners agreed to compensate the trust financially for a loss of income for planned operations that were unable to be undertaken and that emergency activity was costing more than the 50% of tariff paid.

NHS England required fines for performance to be applied by commissioners.
– Plymouth Hospitals NHS Trust
Advertisement
Two hospitals in the region currently have ward closures and restrictions in place due to an outbreak of Norovirus.
Read the full story ›
The Royal Cornwall Hospital has downgraded from black to red alert.
Bosses said the system remains under pressure, but the situation has improved and a decision was made to step down to red status.
A seven-day control centre in Truro remains in place where staff are continuing to create stability in the system and respond to pressures using real time information.
NHS Kernow says although services remain very busy the situation is continuing to improve.
Managing Director of the trust, Joy Youart, says she is hopeful they will be able to step down from black alert soon and continue to encourage the public to attend the most appropriate place for care.
Local health and care services remain very busy, but the situation continues to improve, and this has now been the case for several days.

Partners in the local system are working closely together to maintain the positive momentum, which will enable us to step down from the current 'black' status, when appropriate.

We are currently seeing fewer admissions to Royal Cornwall Hospital, with improved patient flow and discharge to care or home settings with the right packages of care.
– Joy Youart, Managing Director at NHS Kernow
Health services in Cornwall remain on black alert this morning.
Around 40 patients at the Royal Cornwall Hospital are waiting to be discharged with non-essential operations cancelled over the weekend.
Extra doctors have been working in A and E and the urgent care centre in Redruth at Camborne Redruth Community Hospital has been open longer to alleviate pressure.
Health trust managers will be meeting later at 10.30 am to review the situation.
Advertisement
Royal Cornwall Hospital has been placed on Black Alert for the second time this year as it struggles to deal with high numbers of patients and a lack of beds.
Managers at the hospital say a hectic Easter forced them to escalate the alert level - it means the hospital is one level down from having to close.
ITV's Kylie Pentelow spoke to Andy Virr Director of Emergency Medicine from the hospital.
The clinical commissioning group for Cornwall and the Isles of Scilly has released the following statement after it emerged that the Royal Cornwall Hospital was on "black alert" and dealing with unprecedented demand
There is currently high demand on services in the local health and social care system.

Our number one priority is to ensure patients receive high quality and safe care.

Partners in the local health and social care system are monitoring the situation and are working closely together to cope with the demand.
– Peter Stokes, Director for Integrated Communities at NHS Kernow
Mr Stokes said that unnecessary trips to A&E put a strain on NHS resources, and that everyone has a part to play in keeping hospital departments free for those with genuine medical emergencies.
He added "We're encouraging people to think about the most appropriate place to go for treatment if they become unwell as the local A&E is very busy."
"If you do fall ill, there are a range of local NHS services to help you make the right choice about where to go for health advice or the right treatment."
The NHS 111 service for non-emergency medical help. Available 24 hours a day, staffed by fully trained advisors and experienced clinicians.
Walk-in Centre for treatment of cuts, bruises, minor infections, stomach upsets, strains and skin complaints, without an appointment. Open 8am-8pm
Out of hours GP service call 111
Minor injuries units for ailments like cuts and sprains
Urgent Care Centres deliver GP-led urgent care services treating minor to moderate injuries and illnesses without an appointment
Pharmacists are experts in providing medical information and advice, including coughs, colds, and minor ailments
Royal Cornwall Hospital is back on "black alert" status following extreme pressures over the Easter weekend.
Black alert is a hospital's highest escalation level, where services are overwhelmed by high demand and staff struggle to admit and discharge patients.
People are asked not to go to the A&E in Treliske unless they are in urgent need of care.
Statement from the hospital to follow.
The Royal Cornwall Hospital has closed one ward because of Norovirus.
Hospital staff are urging people to use pharmacies and minor injury units wherever possible and also ask people not to visit if they have been unwell with sickness and diarrhoea.
Load more updates