Tributes have been paid to a seven-year-old girl who died after collapsing suddenly at Perranporth School.
Esmee Polmear was pronounced dead at the Royal Cornwall Hospital on July 1st.
Head Alistair Johnson has said the school is in shock.
"This is a terrible tragedy that has left the whole Perranporth School community shocked and devastated.

Our thoughts and sympathies are with the family and friends of Esmee. She was a bright, popular and fun loving member of our school who touched the lives and hearts of all who knew her. She will be terribly missed."
– Alistair Johnson, Head of Perranporth Primary School
A seven-year-old girl has died after collapsing at a school in North Cornwall.
It happened at Perranporth School yesterday lunchtime, 1 July. She was taken to Royal Cornwall Hospital where she was pronounced dead.
Police are investigating but say her death is not suspicious.
Today's sports day has been cancelled but no reason has been given.
.
Advertisement
A mass protest has been held at the Royal Cornwall Hospital over the privatisation of services.
Campaigners gathered at Treliske calling for an end to what they call the selling off of services.
They're handing in an 11,000 signature petition to board members today ahead of a key board meeting.
The Royal Cornwall Hospital's Trust will be discussing plans to use a private firm to help run pathology services. It says it would involve using a private laboratory, but staff would remain within the NHS.
One health campaigner Bernie Rowe, who suffers from Crohn's Disease told ITV News she has experienced a decline in care.
If I have to go in for bowel surgery I'm scared, I'm literally scared for my life, and that's no exaggeration when you look at how bad the cutbacks are, the staff don't have time, and the morale with the staff, they don't want to be harsh to patients, they don't want to be short with patients, they don't have the time to spend with them.
– Bernie Rowe
The Hospital have responded to the campaign.
We do understand the concerns of staff and of the public, and we understand those concerns in the context of outsourcing hotel services last year. We're absolutely clear about the benefits and the risks that come from each of the options, and we will be taking those into account and that will include reputation and that will include how our staff will feel impacted by those changes.
– Bill Shields, Royal Cornwall Hospital's Trust
A woman and baby have been taken to hospital after the car they were travelling in crashed into a house in St Austell. It's thought the injuries are not life threatening
It happened on Carwollen Road around lunchtime today and it's thought no one was in the house at the time.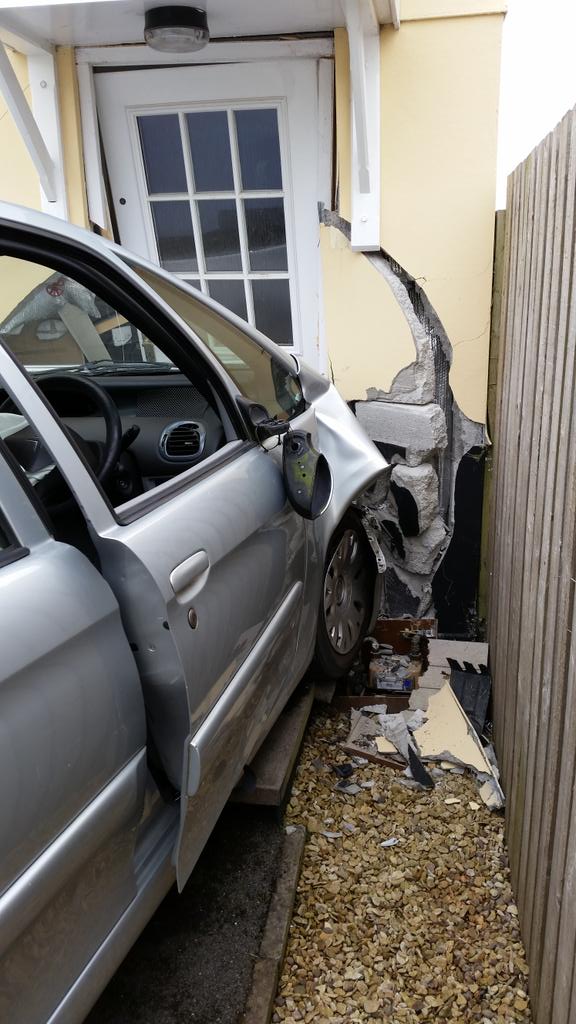 The collision caused a gas leak and engineers were called in to deal with the problem and remove the car.
West Country hospitals are being fined millions for failing to meet targets.
A&E waiting times and ambulance handover deadlines are among the problems which have cost Devon hospitals over £6.5m and the Royal Cornwall Hospital Trust, which has a £7m deficit, over a million pounds.
The nationally agreed targets are set every year by NHS England. Local clinical commissioning groups hold the hospitals to account by levying fines, reinvesting the money into schemes to improve services.
Derriford Hospital in Plymouth was charged £4.8 million, but received half back in compensation.
In 2014/15, we paid fines of £4.8m. We received £2.89m in compensation.

In recognition of the exceptional emergency pressures faced by the Trust, commissioners agreed to compensate the trust financially for a loss of income for planned operations that were unable to be undertaken and that emergency activity was costing more than the 50% of tariff paid.

NHS England required fines for performance to be applied by commissioners.
– Plymouth Hospitals NHS Trust
Two hospitals in the region currently have ward closures and restrictions in place due to an outbreak of Norovirus.
Read the full story ›
Advertisement
The Royal Cornwall Hospital has downgraded from black to red alert.
Bosses said the system remains under pressure, but the situation has improved and a decision was made to step down to red status.
A seven-day control centre in Truro remains in place where staff are continuing to create stability in the system and respond to pressures using real time information.
NHS Kernow says although services remain very busy the situation is continuing to improve.
Managing Director of the trust, Joy Youart, says she is hopeful they will be able to step down from black alert soon and continue to encourage the public to attend the most appropriate place for care.
Local health and care services remain very busy, but the situation continues to improve, and this has now been the case for several days.

Partners in the local system are working closely together to maintain the positive momentum, which will enable us to step down from the current 'black' status, when appropriate.

We are currently seeing fewer admissions to Royal Cornwall Hospital, with improved patient flow and discharge to care or home settings with the right packages of care.
– Joy Youart, Managing Director at NHS Kernow
Health services in Cornwall remain on black alert this morning.
Around 40 patients at the Royal Cornwall Hospital are waiting to be discharged with non-essential operations cancelled over the weekend.
Extra doctors have been working in A and E and the urgent care centre in Redruth at Camborne Redruth Community Hospital has been open longer to alleviate pressure.
Health trust managers will be meeting later at 10.30 am to review the situation.
Royal Cornwall Hospital has been placed on Black Alert for the second time this year as it struggles to deal with high numbers of patients and a lack of beds.
Managers at the hospital say a hectic Easter forced them to escalate the alert level - it means the hospital is one level down from having to close.
ITV's Kylie Pentelow spoke to Andy Virr Director of Emergency Medicine from the hospital.
Load more updates