A global sailing event held in memory of Dorset sailor Andrew "Bart" Simpson has been declared a world record.
More than 30,000 people from 60 countries took part in 'Bart's Bash', which was held to raise money for his Foundation.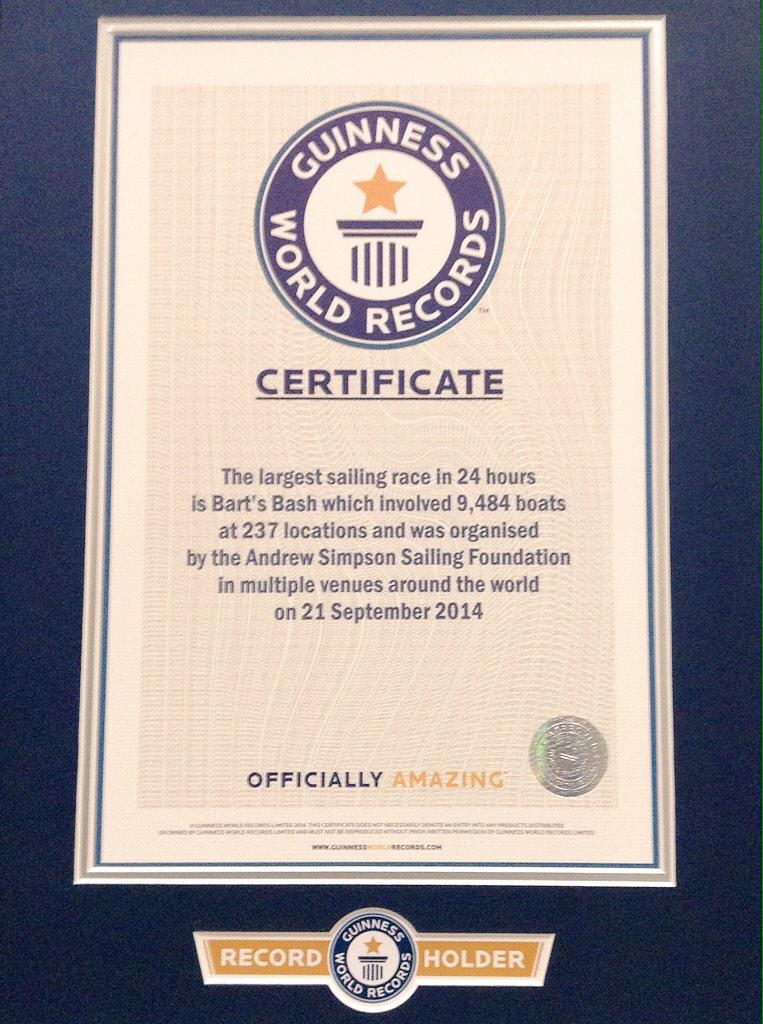 The Olympic gold medallist from Sherborne died in 2013 while training for the America's Cup.
Sir Ben Ainslie has announced his plans to bring the America's Cup trophy to Britain.
The four-time Olympic gold medallist, who grew up in Cornwall, helped Team Oracle USA to victory last year. He is now building a British team but admits he is uncertain whether he will be in the crew for the competition in 2017.
Advertisement
17-year-old Natasha Lambert has already sailed the channel, and is now sailing from the Isle of Wight to South Wales. Her dad, Gary, was an electrician. He taught himself sailing and electronics to convert the 21ft yacht, 'Miss Isle', for his daughter.
Natasha's sailing coach is onboard, but only as a passenger. He only steps in to reef the sails when it gets too blowy.
Her sailing is just fine actually, we've made it here so that shows it must be good enough. I will admit I take every opportunity to add a little bit of value if I can, a bit of coaching, and see if we can improve what she's doing while we're out on the water. But at the same time we're making passages, clocking up miles so there's an element of relaxing into to it, looking at the scenery and making sure the boat is ticking over.
– Phil Devereux, sailing coach
Natasha discovered a passion for sailing on a visit to the Calvert Trust. She's raising money for the RNLI, the Royal Yacht Association Trust, and round-the-world record breaker Ellen MacArthur's Cancer Trust.
A Devon sailor is preparing for the next leg of the Solitaire Du Figaro race after becoming the first Brit to cross the line in Plymouth yesterday evening.
Sam Matson, who comes from Ottery St Mary, was twelfth home in the gruelling cross channel race. It's his first time racing the Solitaire.
Olympic Modern Pentathlete Heather Fell is preparing to undertake a very different sporting challenge - the Clipper Round the World Yacht Race.
Fell, who's from Tavistock, won a silver medal for Great Britain at the Beijing Games and only recently retired. Now she's joining a crew for the remainder of the dangerous circumnavigation after a crash course in sailing.
A verdict of accidental death has been recorded at the inquest of Dorset sailor Andrew Simpson, who died during training for the America's Cup a year ago.
The Olympic gold medallist became trapped under the hull of his catamaran off San Francisco.
Advertisement
The inquest is taking place into the death of Olympic gold medallist Andrew Simpson from Dorset.
The sailor, known as Bart, drowned while training for the America's Cup in San Francisco Bay last year.
A foundation has been established in his name to encourage young sailors and the Andrew Simpson Sailing Foundation was opened, with the help of his young sons, on Portland earlier this month.
The Cornish sailor Ben Ainslie has helped launch a new sailing foundation in memory of his fellow Olympian Andrew Simpson, on the first anniversary of his death.
The four-time Olympic gold medallist joined friends and family of Andrew at the Weymouth and Portland Sailing Academy. Sally Simmonds reports.
The Andrew Simpson Sailing Centre has officially opened in Weymouth today.
It was launched at the Weymouth and Portland National Sailing Academy, with close friends Sir Ben Ainslie and Iain Percy OBE along with Paul Godison and Andrew's children cutting the red ribbon.
The centre hopes to deliver sailing tuition right through to advanced race coaching for all age groups.
Ben Ainslie said, "Today is a very poignant day, but also a really exciting one to be opening the Andrew Simpson Sailing Centre. It's fantastic to see what has been achieved in such a short space of time: and I'm sure the great man would be very proud."
Hundreds of young sailors have spent the last few days competing in the waters off Weymouth. The annual RYA Youth National Championships have been taking place at the National Sailing Academy with almost 400 racers from across the country competing.
Even Princess Anne has been to see them in action. Sally Simmonds went along to find out more.
Load more updates