Live updates
Regional Scrabble Dictionary
South West Scrabble Dictionary: Report
Claire Manning reports on a new Scrabble dictionary full of south west words
Devon Dialect For Scrabble
Have you ever heard of a gleany? No? What about a zowpig? No?
Apparently they are old westcountry words that despite falling out of fashion may now be brought back into use thanks to a new official scrabble dictionary that's set to be published.
As new words emerge, often at the cost of traditional dialects, Scrabble says it is keen to bring some older, endangered words back to the attention of the next generation. Claire Manning has more.
Advertisement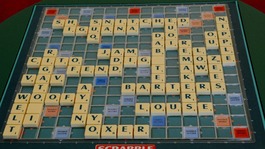 Scrabble lovers could soon be racking up double-digit scores with Devon words like quaazy, zowpig and gleanies.
Read the full story
Back to top