Watch a video of Landewednack Primary School in Cornwall transformed to a winter wonderland.
It has that eerie quiet of snow before the first person sets foot on it.... let alone a whole class!
Pupils from Landewednack primary school on the Lizard have had a day to remember after snow fell overnight.
The winter wonderland came courtesy of Twitter's @thetwofairies, who go around the country carrying out random acts of kindness. In this case, snow is very unlikely to fall near the school, which is at the most southerly tip of the UK and the air is too salty.
See the children's reaction to their snow surprise:
Advertisement
Children arriving at Landewednack primary in Cornwall had the surprise of their lives today - snow had fallen overnight transforming the Victorian building into the perfect Christmas card.
The magical transformation is the work of a Twitter group @thetwofairies who specialise in random acts of kindness. You can see their mark on the side of the school.
By the wonders of modern technology, sorry, the wave of a wand, it was actually snowing as the pupils arrived.
It's a big surprise. Our school is the most southerly in the country and the air is very salty so we never get snow. Some of the younger children have never seen snow but this is the real thing - you can even throw snow balls.

The children will come back from half term ready to start their winter project. Short of a trip to the North Pole this is the next best thing.
– Louise Jones, Head teacher, Landewednack CP School
Two fairies who have taken to spreading their magic across the country have turned their attention to Landewednack CP School, the southernmost school in Britain where it never snows - except today.
The sea, the hills; Cornwall, you're enchanting! But no time to surf - your wishes need granting! #FollowTheFairies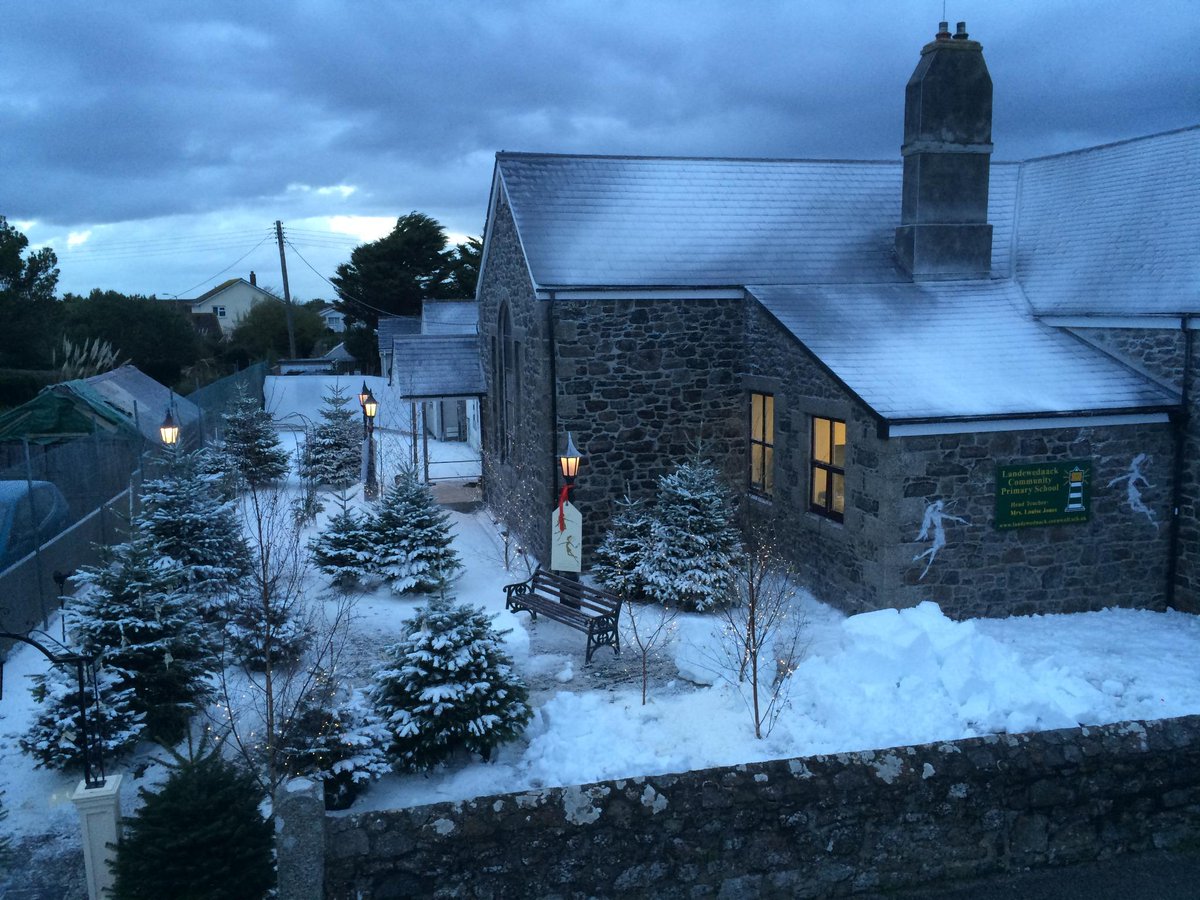 As Dartmoor residents woke up to a blanket of snow, our weatherman Alex Beresford explains what's going on, and what's on the way.
Read the full story ›
Advertisement
It's been a glorious day of blue skies and bright sun across the region, which makes it easy to forget this time last year we were facing blizzards and bitingly cold winds.
They marked the start of the longest spell of cold weather we'd seen in a generation. It was a rude shock after a series of mild wet winters. John Andrews has been looking back at the cold snap and its aftermath.
There's plenty of rain around this week, but no snow, although local councils are certainly preparing for it.
Today in Gloucestershire Ken Goodwin has been to see the huge salt reserves the county has ready, should the skies decide to dump the white stuff on our roads.
Load more updates