Taunton Foodbank is appealing for people to donate more food as their supplies have dwindled. They say increasing numbers of families have been referred to them for food and they've been feeding children in the holidays that would normally receive free school meals. The volunteers that run it say without their help crime would increase as people would either starve or steal.
There's been a big rise in the number of people relying on the Taunton foodbank.
Organisers say their stocks are already low because families have not had access to free school meals during the summer holidays. Some people have even walked the seven miles from Wellington and back because they are so desperate for help.
Advertisement
A Facebook group has been set up to warn parents about the dangers of discarded needles around Taunton.
A six year old girl had to undergo medical tests after accidentally jabbing herself in the leg with one of the discarded needles.
Chelsea Scarlett set up the group and members have taken photos of syringes they've seen left in public places.
The parents a girl who was stabbed by a needle left in a playground in Taunton say they want more to be done to protect children.
Nick and Caz Smith's daughter Milly found a bag of used needles in a public toilet. She punctured her leg accidentally.
Both they and other parents in the town want the council to do more to stop needles being left in reach of children.
There are lengthy delays the M5 in Somerset which has been closed southbound between junction 24 for Bridgwater and 25 for Taunton. It's due to an earlier accident involving two lorries . Drivers are being asked to go via the A38. Avon & Somerset Police have tweeted this photo asking motorists to avoid the area.
M5 remains closed J24/25 for emergency services to deal with earlier RTC. Diversions in place. Please avoid area. http://t.co/a8SoNi4clq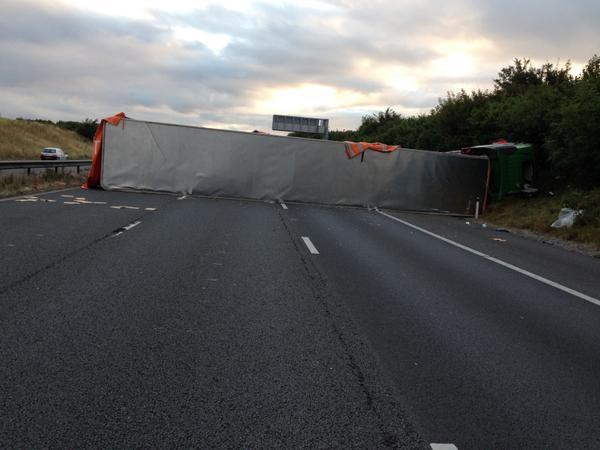 We've had Gorillas in Torbay and Exeter, but the latest fibre glass figures to draw the crowds are dragons!
Taunton Deane is placing 36 colourful models around the borough. The idea is to draw in more visitors and raise money for local charities.
Our Somerset correspondent David Woodland watched the first dragons fly into place:
Advertisement
Thousands of people are expected in Taunton today to watch legendary rocker Rod Stewart perform a charity gig. Last minute preparations are being made at Somerset's county cricket ground for the event.
The concert is raising money for Somerset-based St Margaret's Hospice.
With heavy traffic expected in the area, Somerset County Council is providing extra park and ride bus services from both Taunton Gateway and Silk Mills sites.
Two seals who have been recuperating at the West Hatch Wildlife Centre in Taunton after being washed up in the winter storms will be released today.
A large number of seals have been treated at wildlife centres across the south west after the bad weather - and most have now been returned to the wild.
A further attempt will be made today to break the deadlock over plans to evict 45 families from homes owned by the Crown estate in Somerset.
Bridgwater MP Ian Liddell-Grainger is meeting the organisation's Chief Executive urging a rethink on plans to sell the homes and invest the money elsewhere.
A meeting between officials of the Crown Estate, who are threatening to evict 45 tenants from homes in Somerset and Taunton Deane MP Jeremy Browne, has failed to produce a compromise.
The Estate, whose income goes to the Treasury, insists it must sell the homes to raise money for investments elsewhere.
Load more updates