Tom Daley has said the Olympic diving pool being a mysterious shade of green helps them dive as they "know which way is up".
Read the full story ›
Advertisement
Tom Daley has been inundated with hilarious Photoshopped pictures after he asked his fans to help him design a new Twitter cover picture.
Read the full story ›
Tom Daley and Dan Goodfellow have secured their place at the 2016 Olympics after combining for a bronze medal at the Diving World Cup.
Read the full story ›
With hundreds of us gathering our ingredients and prepping our pancakes, local athlete Tom Daley has been cooking up a storm of batter in the kitchen.
He's been documenting his pancake-making day - but can you beat his staple sweet pancake of chocolate and strawberries?
Sorry, this content isn't available on your device.
Email us your pancakes to westcountry@itv.com.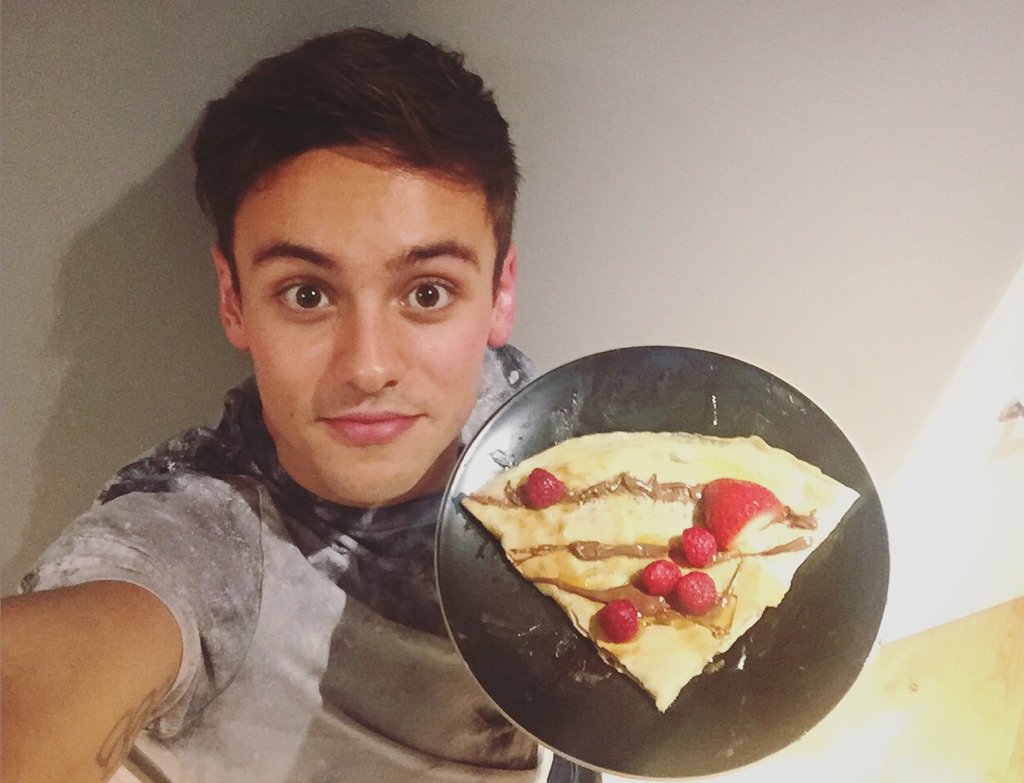 Plymouth Olympic diver Tom Daley has been sharing his top tips to get in shape and stay fit.
He's been uploading lifestyle videos YouTube and offering health and fitness advice.
Sorry, this content isn't available on your device.
Advertisement
Plymouth diver Tom Daley has created a lot of interest by posting a picture on Instagram of him cooking.
The image shows the Olympic bronze medallist frying a full English breakfast in a specially segmented frying pan.
It's clocked up more than 47,000 likes with some fans wanting to get their hands on the gadget. Tom's fiance, Dustin Lance Black, has posted his own picture showing him about to tuck into the finished result.
Plymouth's Tom Daley has won a bronze medal in the 10 metre platform final at World Diving Championships in Russia.
Daley qualified third for this evening's final, high on confidence after winning gold in the mixed team event on Thursday. It's the first medal Daley has won since his, and at the time Britain's only-ever, individual diving World Championship gold medal in 2009, when he was just 15.
Since then his other major success was a bronze at the London 2012 Olympic Games.
The medal shows he is on course to compete in Rio next year.
Plymouth diver Tom Daley has scooped a gold medal in the team event at the World Aquatics Championships.
He was competing alongside fellow British diver Rebecca Gallantree in Russia.
Daley's fourth dive scored a near perfect ten with most of the judges.
It's the first time Britain have claimed two medals at a World diving championship event.
No, your eyes aren't playing tricks on you, there really is a person under there - and yes, it really is Tom Daley!
The Plymouth diving champ transformed himself into the ocean predator ahead of Shark Week at the beginning of August. The striking piece of body art took two specialists four hours to complete, and runs the full length of his body. The Olympic diver's five-foot-nine frame was covered from head to toe in a water-based paint, with the design created by British body painting artist, Emma Fay.
I've always been really fascinated by sharks. They're incredible marine animals, but not always in the news for the right reasons.

Sharks play a vital role to the health of the ocean. They keep fish populations balanced and protect habitats. Without sharks, the health of the ocean ecosystem would completely change.
– Tom Daley
Tom created a video documenting his whole day.
The athlete teamed up with SeaWorld Parks & Entertainment to create the shark along the full length of his body.
Sharks' greatest threats come from humans. Millions of sharks are killed each year for their fins and as commercial fishing bycatch. Ocean pollution and a decrease in food supply also are threatening many species of sharks.
Load more updates