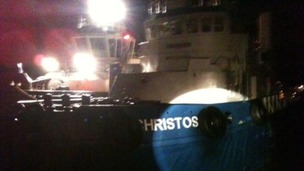 Crew members are rescued from a damaged tug that was taking on water off Torbay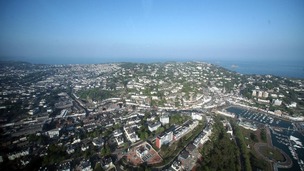 Parking charges in Torbay have been cut in a bit to encourage more shoppers to the area.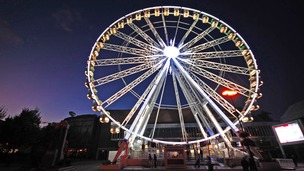 A 60 metre high observation wheel opens for business in Torquay. It's hoped it will attract more visitors to the resort.
Live updates
Police are appealing for witnesses after a serious accident in Torbay this morning.
Emergency services were called to Torbay Road shortly after 3 am. A car had hit two pedestrians, one of whom, a man in his 40's, is currently in a serious condition in hospital.
One man who is believed to be the driver of the vehicle, is in police custody and a witness is helping with enquiries.
Parts of Exeter and Torbay are being over-run with gorillas. Thirty life-size models painted by artists have created a unique art trail.
It's partly to mark the 90th birthday of Paignton Zoo, but it also has another serious side, as Jeff Welch has been finding out:
Advertisement
Torbay Council has reassured the public that the brown bloom on areas of local sea water is caused by algal bloom, and not by sewage.
The council received several complaints from concerned members of the public.
We are extremely pround of the fact that Torbay officially has some of the cleanest bathing waters in the country, having been awarded four Blue Flags and ten Seaside Awards.

This wonderful weather is understandably attracting many people to our beaches, and it is vital that we get over the message that our bathing waters are perfectly safe.

In fact samples taken from the sea confirm that the water quality is excellent.

Of course some people will be worried when they see water looking a little muddy or sludgy in appearance, but this is definitely not sewage as some people have suspected.
– Cllr Ray Hill, Torbay Council
Along with other coastal waters elsewhere, we sometimes experience problems with algal bloom.

The problem usually occurs in the spring, but the warm weather we are currently enjoying has encouraged the further growth of algae which, following the natural cycle, is now dying.

The onshore breezes are creating accumulations of the algae in the sea which, as it degrades, is beginning to smell.

Its smell and appearance does suggest sewage, but we are reassuring everyone that it is not that.

This is non toxic, naturally occurring, and it will soon clear.
– Derek Singleton, Resorts Service Manager, Torbay Council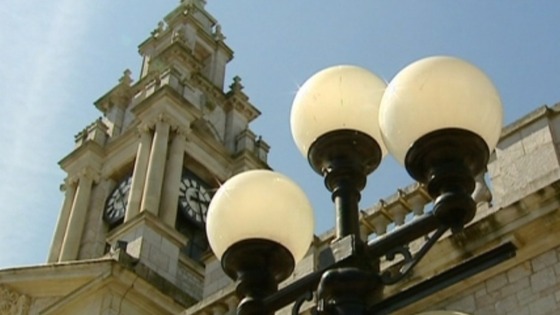 Torbay council is offering funding of up 4 thousand pounds to people wanting to invest in the town. They've put aside 1 million pounds as part of the Growth Fund. It's hoped it'll encourage more people to set up businesses to create new jobs and help the local economy grow.
High premature death rates
A new report has identified Plymouth and Torbay as the places with the highest rates of avoidable premature death in the south west.
According to Public Health England, social deprivation and poor lifestyle choices are largely to blame.
Artist avoids jail for child sex offences
Torbay MP Adrian Sanders has criticised the sentencing of a renowned Cornish artist Graham Ovenden who was found guilty of committing sex offences against young girls.
The 70-year-old artist from Bodmin, was convicted of seven charges relating to three children, but a judge in Plymouth suspended his sentence on account of his age.
Mr Ovenden says he will appeal against the conviction, but today the issue was raised at Prime Minister's questions by Mr Sanders:
Advertisement
Torbay welcomed 1,000 German tourists today from a round-the-world cruise.
The English Riviera Tourism company has been working hard to bring cruise ships to the bay.
The Artania is the first of seven this year.
ITV News West Country was there:
Torbay sea wall breach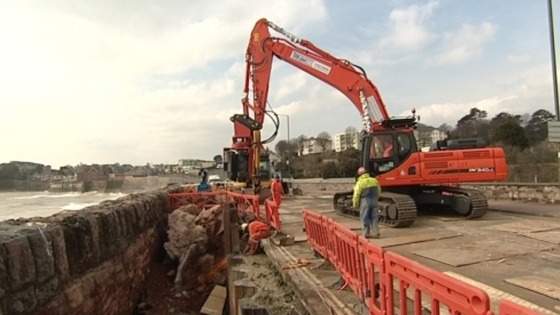 The latest stage in work to repair the busiest road in Torbay starts today. Livermead Road in Torquay was flooded by the rough sea over Easter after the sea wall was damaged. Rocks will be placed in front of the wall to protect the road from future flooding.
Torbay sea wall breach
Raw sewage is no longer being pumped into the sea off the coast of Torquay.
South West Water says it has finished repairs to a key sewer which had been damaged when part of the sea wall collapsed at Livermead on Easter Monday.
While the sewer was being repaired, thouands of gallons of raw waste was diverted into the sea through the emergency overflow system.
The public had been warned not to swim at three local beaches on the English Riviera.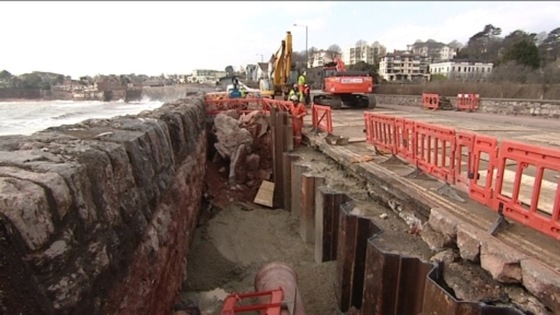 Little Oddicombe landslide
Load more updates
Back to top