South West MPs have been lobbying for almost a month - the Department for Transport has finally confirmed the funds.
Read the full story ›
A commitment to build a new line is to be postponed by decades, leaving no immediate replacement to the storm-battered line at Dawlish.
Read the full story ›
Advertisement
A number of trains were cancelled, or had routes and timetables altered, this morning because of flooding on the line at Dawlish.
CrossCountry trains, who were the only provider effected, say it is down to the type of train they use, which can experience technical issues if hit by waves.
The Voyager engine is not used by Great Western Railway.
Due to sea flooding the railway between Exeter & Plymouth the following service alterations will apply: https://t.co/flBjkOxrOV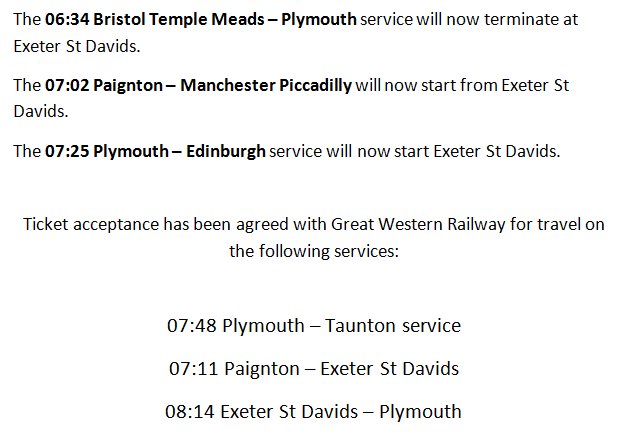 One of the main roads into St Austell is to be closed for two weeks while Network Rail carries out works to a level crossing.
Read the full story ›
Rail passengers will face an average ticket price rise of 1% from January. It will be the lowest rise since 2010.
Read the full story ›
Teddies lost on First Great Western trains across the West Country need your help.
Cuddly toys have broken out of the lost property vaults at Bristol Temple Meads train station in a bid to be recognised by their owners.
Should you believe one of the soft toys is yours then email teddyrescue@firstgroup.comdescribing the lost bear, highlighting any distinctive features, the direction of escape (where they were lost); their name, your name, full address and contact details.
First Great Western launched Teddy Rescue in November 2014 as a way of reuniting lost toys with their owners but the train company have been unable to reunite a single bear or cuddly toy with their original family.
Lost bears and other cuddly toys not reunited with their real owner within three months will embark on other adventures with a Children's charity.
Advertisement
Members of the Rail, Maritime and Transport (RMT) union at First Great Western began a 24 hours strike at 4am today (Friday March 27th) over a row about the dismissal of a colleague.
The dispute include guards, train drivers and managers in Penzance.
The announcement comes in the same week the rail company was awarded a 42-month extension on its franchise by the Government.
It is clear from the two disputes we are engaged in that there is a culture of bullying and intimidation of staff rife within the money-spinning racket which is the First Great Western operation.

RMT will not allow this culture to go unchallenged and the union will defend both our individual members and the principle of workplace justice. The union remains available for talks in both disputes.
– Mick Cash, RMT General Secretary
First Great Western is reassuring passengers strike action will not impact its services.
We can confirm that a member of staff was recently dismissed for allowing the doors of a train to remain open while in passenger service, and failing to report the incident to anyone for over a month.

The member of staff was not an RMT member at the time of the incident, and we are surprised that they have decided to support these actions, which put his safety, and the safety of his colleagues and our passengers at risk.

The RMT has a track record of taking a strong stance on the safety of its members and passengers, and today's action seems inconsistent with those messages. We do not expect this action to impact services for customers, and continue to talk to the RMT about this issue.
– First Great Western
The Department of Transport has announced plans to improve rail services into and out of the south west. It's also announced an extension of the rail franchise for First Great Western until April 2019.
The Government says it'll mean more trains into Devon and Cornwall, faster journeys between Penzance and Paddington and the introduction of 369 new carriages through the roll-out of new hi-tech Intercity Express Programme trains built by Hitachi.
"I am determined that passengers in the West, Thames Valley and South Wales get a railway that is fit for the 21st century. This is a fantastic deal which will give them more seats, more services and brand new fleets of modern trains.

"This government knows the importance of our railways. That is why they are a vital part of our long term economic plan, with over £38 billion being spent on the network between 2014 and 2019."
– Patrick McLoughlin MP
Due to safety checks being made between Penzance and Par, lines are blocked. Services may be cancelled or delayed by up to 30 minutes.
The Bodmin and Wenford railway took delivery of a new engine today, whose working life was spent in the China clay pits around St Austell.
Denise, as she is known, is in need of a little bid of TLC - but there's no shortage of volunteers ready to restore her to her former glory, as John Andrews found out.
Load more updates