Great Western Railway has been rated second worst in the country for delays, according to a passenger survey.
In a list compiled by the consumer association Which?, Great Western Rail also placed 17th out of 22 railway companies for customer satisfaction.
The company did well in some survey areas:
But rated 3* average for seating availability, punctuality and overall condition of the train.
There were also some areas where customers had only left a 2* rating:
Great Western Railway say their keen to gain a better understanding of the findings from Which? and say other reports have rated them higher.
Our recent National Rail Passenger Survey report produced by independent rail watchdog Transport Focus, scores us at 84% and a statistically significant +3 rise on the last wave.

This score, the highest GWR has achieved in ten years of operating the Great Western, clearly shows our commitment to Building a Greater West and delivering the improvements we know our customers want to see.

We welcome the impact made by the conversion of some first class carriages, providing vital extra capacity, and Network Rail's work in the last six months to drive down infrastructure related delays.

We are only too aware of how important it is to maintain good punctuality and we are doing everything we can to help NR continue this good work.

We are keen to work with Which? to gain a better understanding of their methodology, and it is good to see that in their own survey we have seen a 5% improvement in overall score in the last two years.
– Spokesperson, Great Western Railway
South West MPs have been lobbying for almost a month - the Department for Transport has finally confirmed the funds.
Read the full story ›
Advertisement
A commitment to build a new line is to be postponed by decades, leaving no immediate replacement to the storm-battered line at Dawlish.
Read the full story ›
A number of trains were cancelled, or had routes and timetables altered, this morning because of flooding on the line at Dawlish.
CrossCountry trains, who were the only provider effected, say it is down to the type of train they use, which can experience technical issues if hit by waves.
The Voyager engine is not used by Great Western Railway.
Due to sea flooding the railway between Exeter & Plymouth the following service alterations will apply: https://t.co/flBjkOxrOV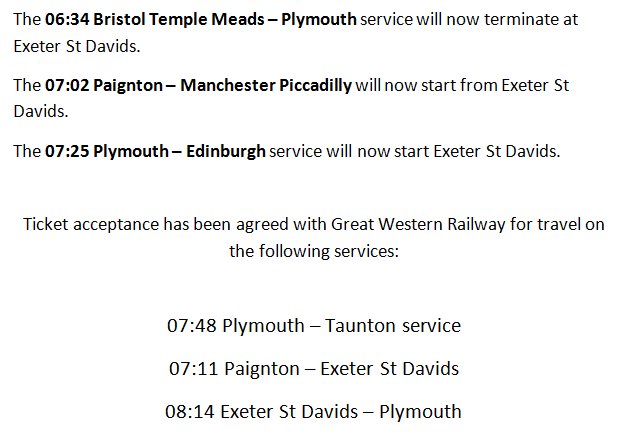 Network Rail has revealed that the biggest ever upgrade to the region's rail network will be up to four ye​a​r​s​ late.
Read the full story ›
One of the main roads into St Austell is to be closed for two weeks while Network Rail carries out works to a level crossing.
Read the full story ›
Advertisement
Network rail carries out repairs to train lines over the festive period. From tomorrow half the lines will open.
Read the full story ›
Rail passengers will face an average ticket price rise of 1% from January. It will be the lowest rise since 2010.
Read the full story ›
Rail passengers will face an average ticket price rise of 1% from January. It will be the lowest rise since 2010.
Read the full story ›
Teddies lost on First Great Western trains across the West Country need your help.
Cuddly toys have broken out of the lost property vaults at Bristol Temple Meads train station in a bid to be recognised by their owners.
Should you believe one of the soft toys is yours then email teddyrescue@firstgroup.comdescribing the lost bear, highlighting any distinctive features, the direction of escape (where they were lost); their name, your name, full address and contact details.
First Great Western launched Teddy Rescue in November 2014 as a way of reuniting lost toys with their owners but the train company have been unable to reunite a single bear or cuddly toy with their original family.
Lost bears and other cuddly toys not reunited with their real owner within three months will embark on other adventures with a Children's charity.
Load more updates